I love a great meal prep option. I spend most Sunday afternoons prepping food for the week because I truly feel that a sold meal prep session helps improve your week! You eat more deliciously, and it reduces the stress throughout the week of trying to decide what to eat.
The Crunch Curry Chop Salad has become one of my go-to favourite meal prep options. It's full of lots of great ingredients, and the addition of cooked quinoa and chickpeas gives this salad the extra boost to eat it like a meal!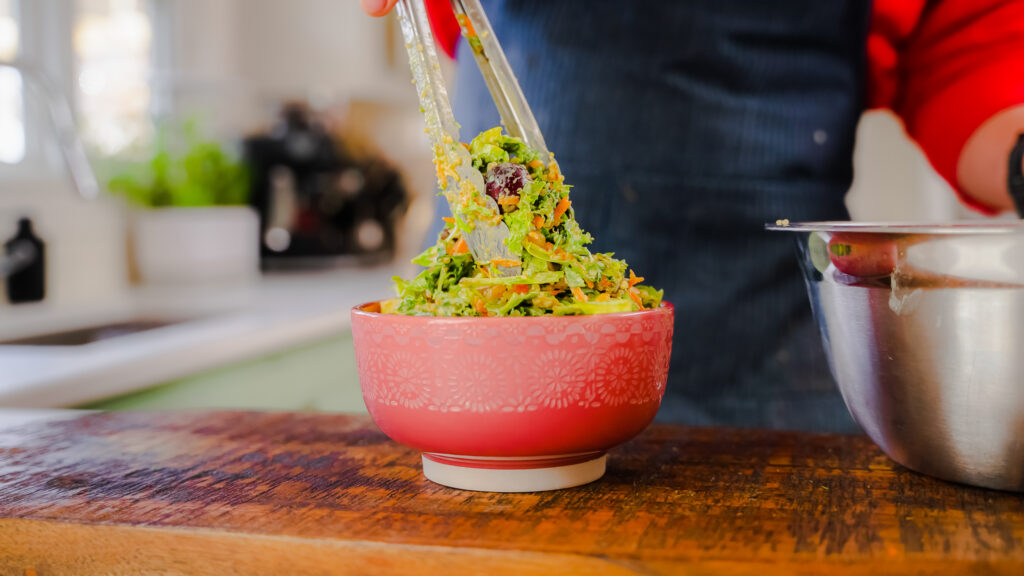 Let's Breakdown the Ingredients!
This addicting salad is full of flavours and fun textures that you will not get enough of. This recipe is packed with vegetables, fruits, nuts, legumes, and more!
This Crunchy Curry Chop Salad is nutrient-dense with vegetables such as carrots, red peppers, mixed greens and kale.
I love adding carrots to my recipe as it is an excellent source of vitamins and minerals and add a slightly sweet and earthy to each dish. Red peppers are the most nutritious of all the bell peppers and have a sweet, citrus flavour. Mixed greens and kale are filled with nutritional vitamins and minerals that add an earthy and slightly bitter taste to the recipe.  
The apple and red grapes add a natural sweetness and crisp texture to the salad. Meanwhile, the cashew adds a mild, creamy and rich texture and nutty flavour.
This recipe has a ton of protein that will help you feel filled as if you've eaten a meal. With the addition of the legume, chickpeas blend well with the earthy and nutty flavours already in this salad! Cooked quinoa also has that nutty flavour with a touch of sweetness.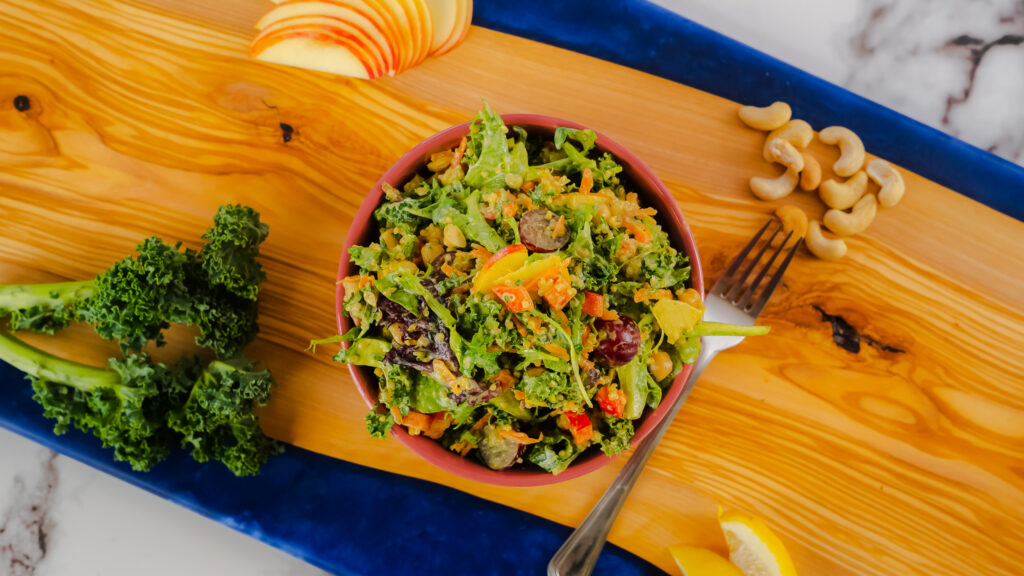 Curry Yogurt Dressing
This salad packs a big punch of flavour. The dressing itself is perfect for salads or even just as a dip for raw veggies. It's the kind of thing I love having in the fridge as it makes eating vegetables that much easier and more delicious! You can check out the full recipe for this Curry Yogurt Dressing here!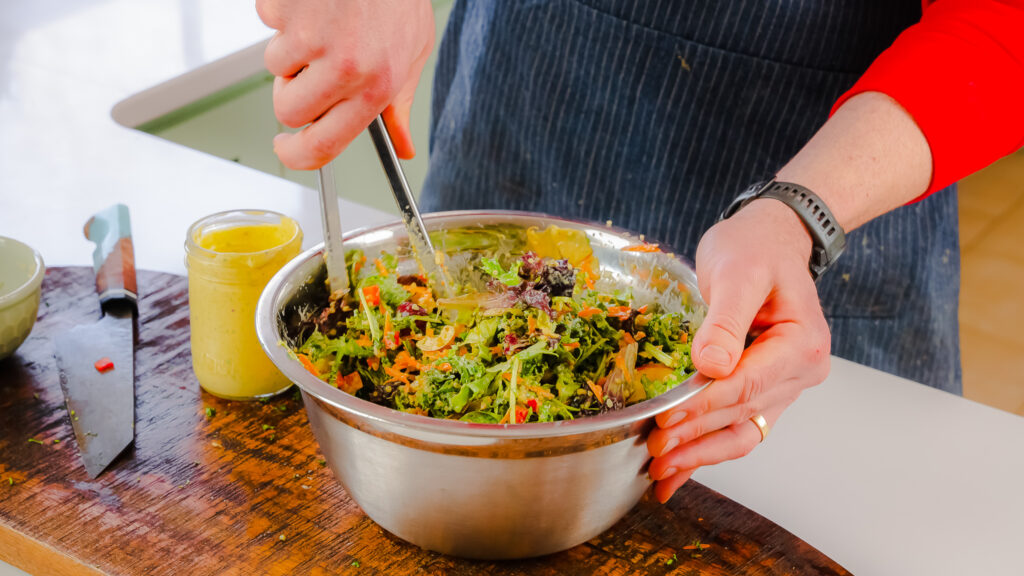 Storing Salad
This recipe makes a hefty serving of salad! So storing in an airtight container will allow it to stay fresh for up to three days before the lettuce starts to get soggy. 
Other great meal prep options
At certain times of the year, I get on BIG meal prep kicks. I have a few great recipes you should check out if you haven't before. Check below!
Addicting Crunchy Curry Chopped Salad
Print Recipe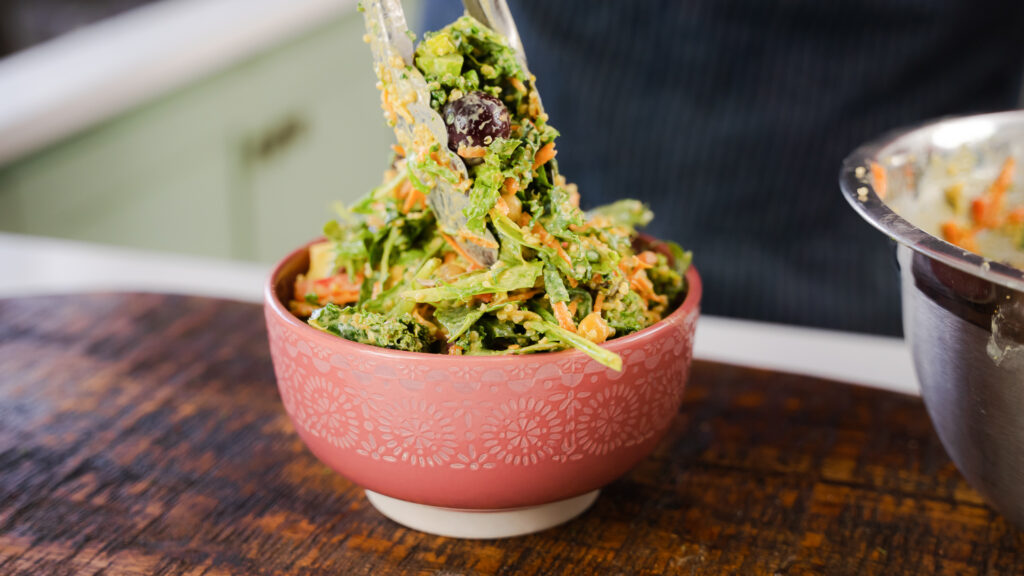 Ingredients
3/4

cup

Curry Yogurt Dressing

Link to dressing above.
Salad
1

large

carrot, shredded

1

cup

kale, roughly chopped

1/4

cup

cashews

1/2

apple, sliced

I like honey crisp or granny smith

1/2

cup

red grapes, sliced

1/2

cup

red pepper, diced

2

cups

mixed greens

1/2

cup

cooked quinoa

1/2

cup

canned chickpeas

1/4

cup

chopped cilantro (or your fav herb)
Instructions
In a large bowl mix together all ingredients and toss together. Enjoy immediately or the next day for a fuelling lunch!
Print Recipe
(Visited 40,508 times, 1 visits today)