This vegetarian chilli is wildly delicious, and I can guarantee you will not miss the meat one little bit! I am so happy my wife has been requesting a vegetarian chilli for the last couple of weeks, and now I can share it with all of you!
It is filled with tons of veggies, beans, and big flavours – it is the perfect weeknight meal or easy potluck option to bring with you for a game day. You are 100 per cent going to want to give this one a try. It's healthy, filling and satisfying!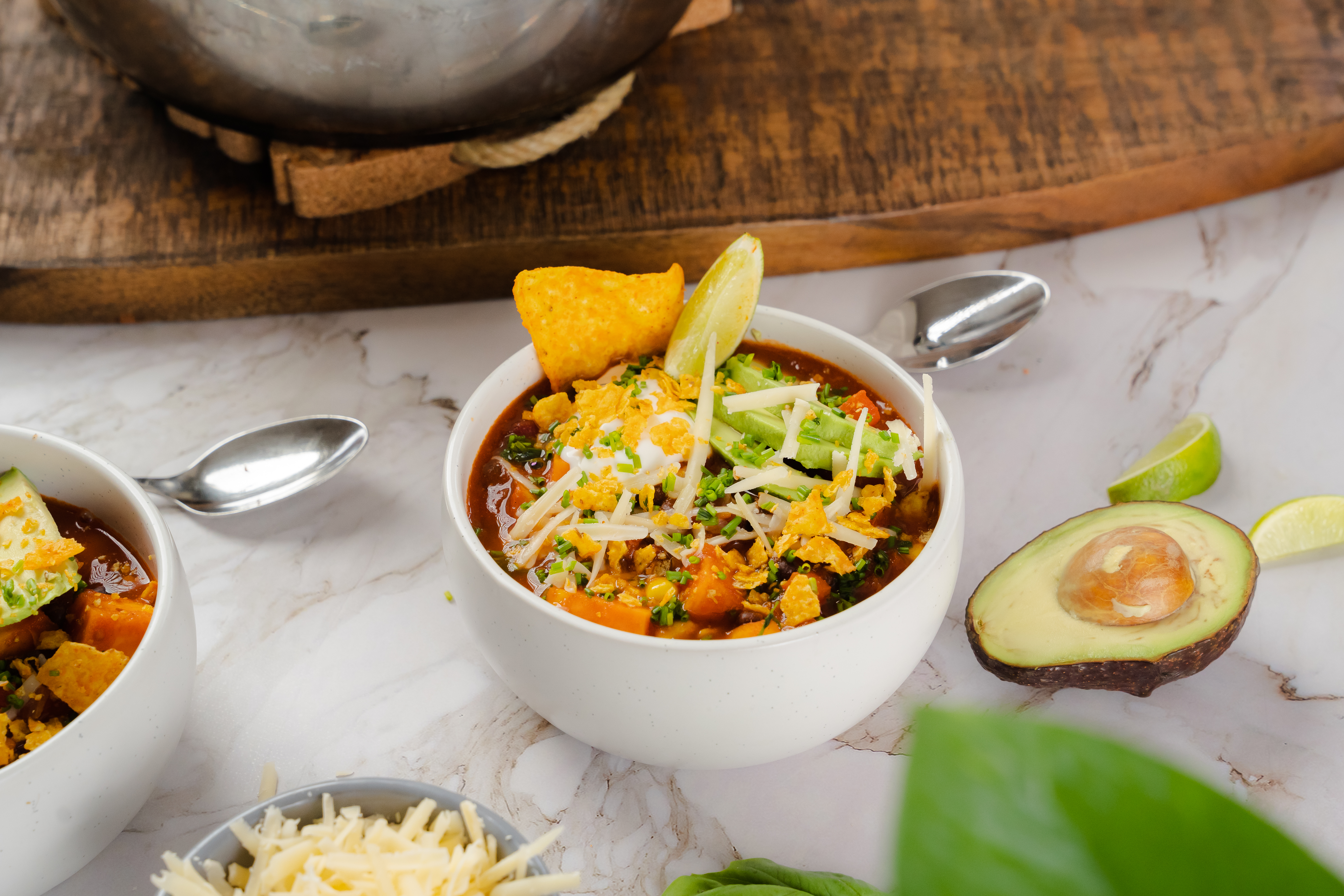 I have really been trying to focus on veggie-forward recipes and have fallen in love with cooking with beans, which there are two types in this recipe! Obviously, you can get creative with this recipe and add in additional beans or swap in some of your favourites.
We eat with our eyes first when it comes to food, so I wanted to use brightly coloured vegetables that would pop! With that being said, I love the bright colours of oranges, yellows and reds that this dish has.
This recipe is really the perfect meal that you can use any of your left behind vegetables that are kicking around your fridge. Chop up some kale, diced up carrots, whatever you got might as well be tossed in–no need to through away perfectly good food!
This recipe has no meat and dairy (if you omit the sour cream and cheese as a topping), it can be 100 per cent vegan as well!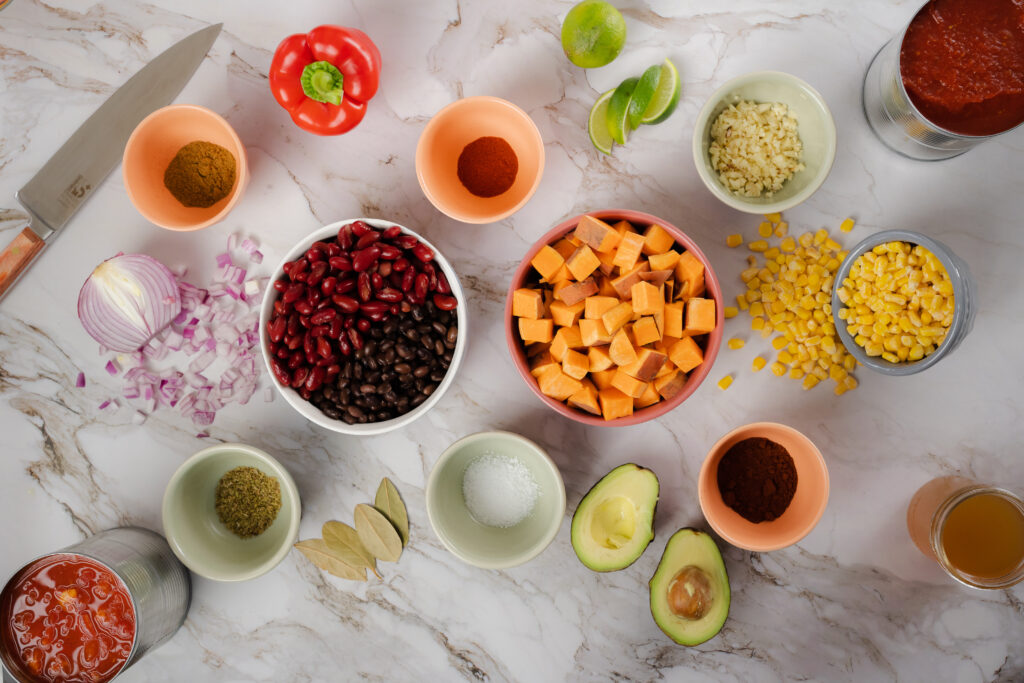 Let's Breakdown the Ingredients!
This recipe uses fairly basic pantry stapes, meaning you most likely have a lot of the ingredients already!
In this recipe, I used both red kidney beans and black beans. They are both a great way to add plant-based protein that is full of fibre.
A ton of vegetables are used to give this dish extra flavour and textures. I personally used sweet potatoes, onions, red peppers, corn and tomatoes.
The sweet potatoes add a mild, starchy, sweet flavour and help thicken the chilli. The onions, red peppers, and corn all add a slight sweetness to the recipe. This recipe used canned diced and crushed tomatoes to help combine all the ingredients in a thickened sauce.
There are a ton of spices such as chilli powder, smoked paprika, garlic powder, dried oregano, bay leaves, and cumin used in this recipe to heighten the flavour. All of the spices have different flavours to help balance out each other.
Chilli powder is often mild to moderately spicy depending on the amount of cayenne pepper in the mixture. To balance out the spice of the chilli powder, I added smoked paprika to balance out the spice with a smokey flavour. Garlic powder helps enhance the garlic flavour in the dish. Dried oregano and bay leaves add a bitter flavour to the chilli, while cumin adds a warm, nutty flavour.
Vegetable stock is used to help enhance the flavours of the spices and vegetables and help thicken the chilli as it cooks.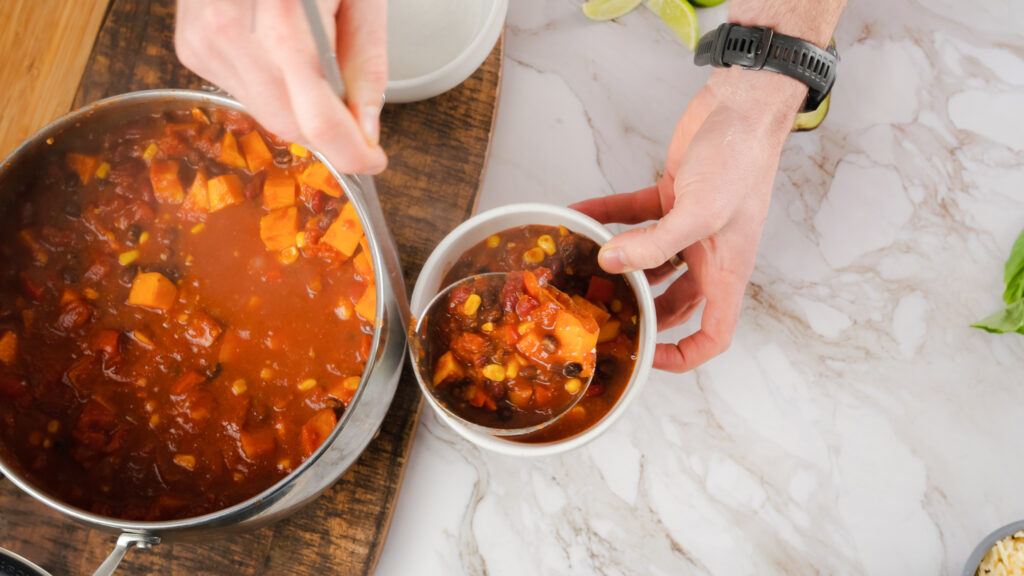 Fun ways to serve your Vegetarian chilli
I love amping up my chilli with fun toppings. You can take this in a million different ways, but below is what I serve with my chilli as toppings to bring the whole dish to the next level. Also, this makes things interactive which is so fun for family dinners or when you are having guests over.
Cheddar Cheese
Lime wedges
Sliced Avocado
Fresh cilantro
Sour cream
Pickled Jalapenos
Crushed up Doritos (regular tortilla chips work too.. but Doritos are SO fun)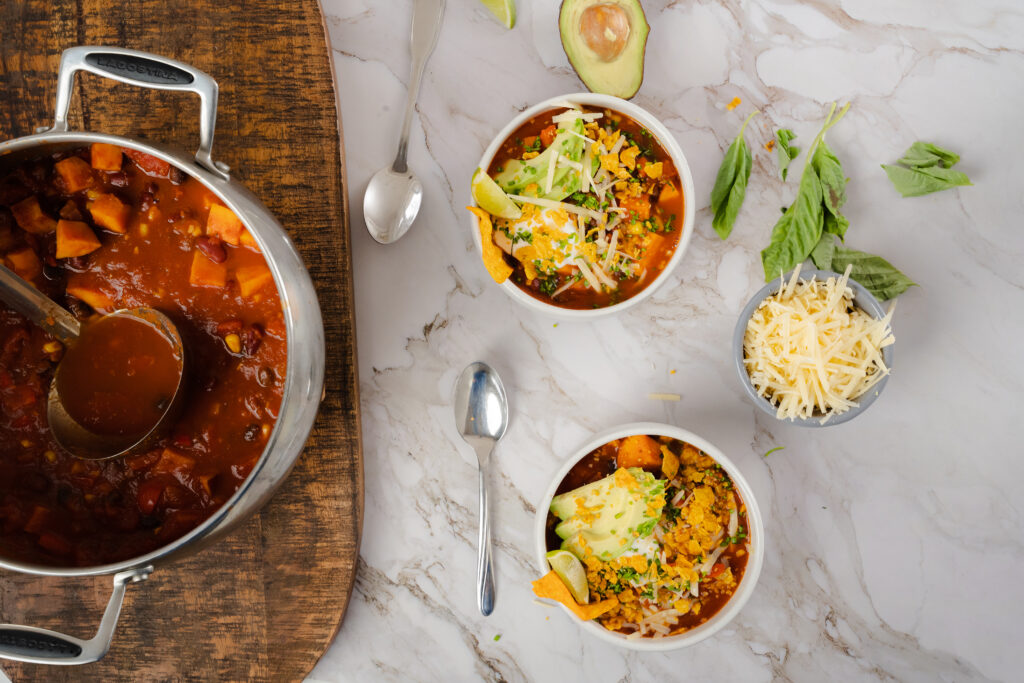 Tips for Nailing This Recipe
Place an oiled pot over medium heat and saute the garlic and onion until soft.
Add in the sweet potatoes, peppers, or any vegetables you are using – I opted to put the corn and beans in later. Saute those veggies with sauteed garlic and onion.
Next, add in all the spices and stir. This allows them to "wake up" and develop a deeper flavour.
Add in the crushed and diced tomatoes, along with the stock. Stir and bring the mixture to a light simmer. Cover and allow it to bubble away for about 20 minutes until the sweet potatoes are soft.
Add in the beans and corn once the sweet potatoes are soft, then stir.
Season with salt and pepper last, and serve with the toppings of your choice.
Amazing Vegetarian Chilli
Print Recipe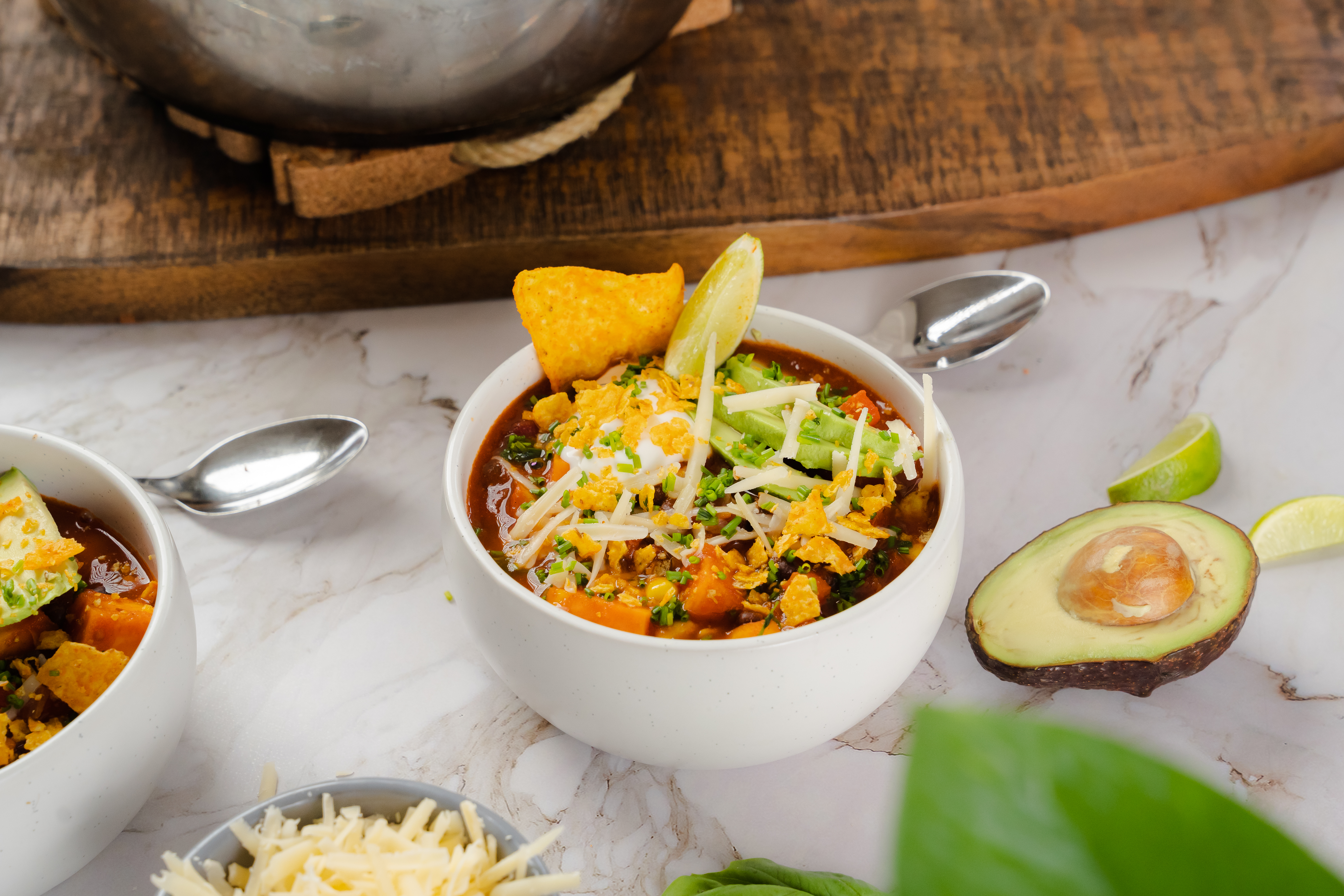 Ingredients
1

tbs

olive oil

4

cloves

garlic, minced

1

red onion, diced

1

red pepper, diced

1

large

sweet potato, diced

1

cup

frozen or canned corn

1

15 oz can

black beans

rinsed

1

15 oz can

red kidney beans

rinsed

1

28oz can

crushed tomatoes

1

28oz can

diced tomatoes

2

cups

vegetable broth

2

tbs

mild chilli powder

1

tbs

cumin

1

tsp

dried oregano

1 1/2

tsp

smoked paprika

1

tsp

garlic powder

3

Bay Leaves

2

tsp

salt

adjust to your taste
Garnishes
Lime Wedges

Shredded Cheddar Cheese

Sliced Avocados

Sour Cream

Fresh Cilantro

Crushed up Doritos or tortilla chips

Pickled or fresh jalapeños
Instructions
Place a lightly oil pot over medium high heat. Once at temperature add in garlic and onion. Saute until soft.

Add in sweet potatoes, red pepper, and spices (chilli powder, garlic powder, smoked paprika, cumin, oregano, bay leaves). Mix together and allow the spices to "wake up". Let the veggies saute for about 3-4 minutes.

Pour in crush tomatoes, diced tomatoes, and stock. Bring mixture to a simmer, then cover and turn temperature to low and allow to cook for about 20 minutes or until the sweet potatoes are soft and the sauce has slightly thickened.

Once sweet potatoes are soft, add in the beans, and corn. Stir and allow them to warm up. 2-3 minutes.

Thats it! Serve with all sorts of fun toppings and fixings!
Print Recipe
(Visited 13,572 times, 5 visits today)