You know those nights where you really don't feel like cooking but you do want something tasty that is fairly good for you? Well this is my go to dish for nights like that. Tasty, easy to make, lots of protein, and a great way to sneak some veggies in.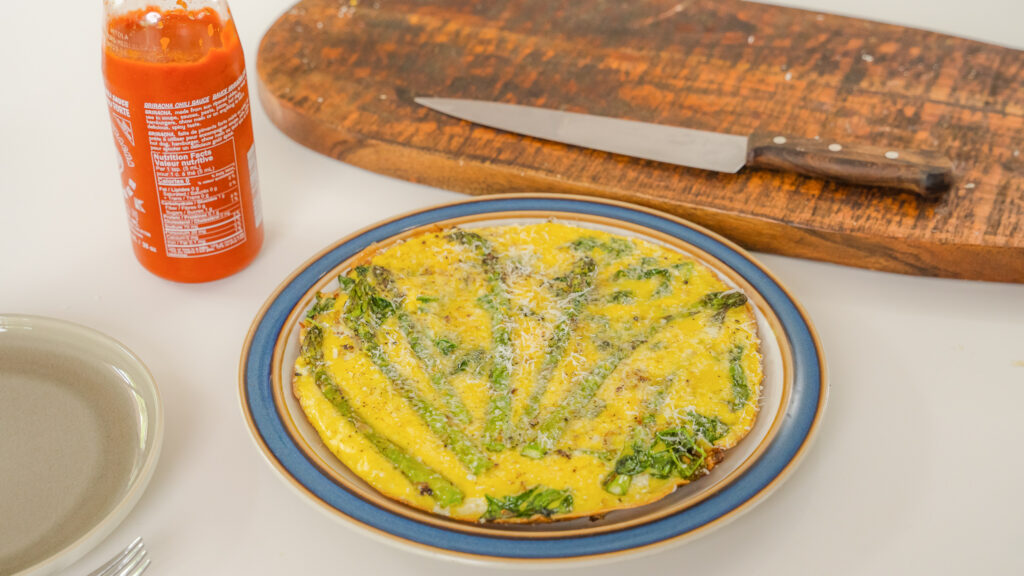 The perfect anytime meal
What I also love about this dish is that is can be eaten for any meal. Breakfast, lunch, brunch, dinner, anytime. It's also great anytime of the year. Super versatile dish that you can switch up depending on what vegetable you have in the fridge or what is in season!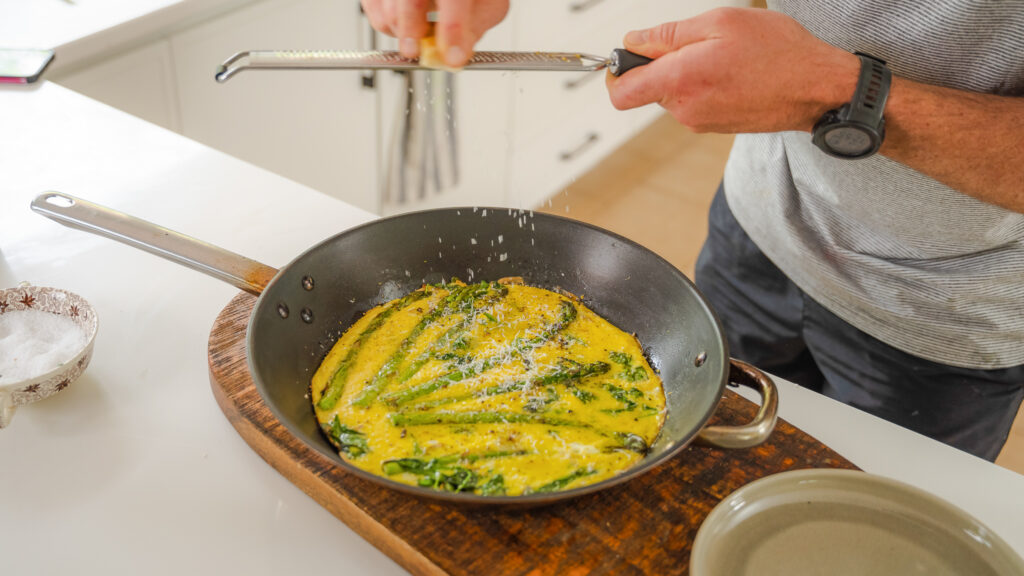 Let's breakdown the ingredients!
Nothing fancy here folks. Basically you are going to need 6 eggs for this size of a frittata. If you are feeding more people you could easily crack in another couple eggs and it shouldn't alter cooking times that much.
I always love adding in shredded potato into my frittatas to act as a base. The potato is the first thing in the pan and I like to let it sit flat on the pan to crisp up a little bit. I suggest that you rise the shredded potato under cold water and pat it dry with a paper towel before frying. This will help things crisp up!
As I mentioned above, you can take this dish in any direction depending on what veggies you have on hand. Give the time of year I had fresh asparagus on hand and wanted to use that, but feel free to choose your own adventure. Cherry tomatoes, broccoli, peppers.. there really isn't a bad answer here.
To finish the dish I like to drizzle on some olive oil, zest on lemon zest, parmesan, salt, and black pepper.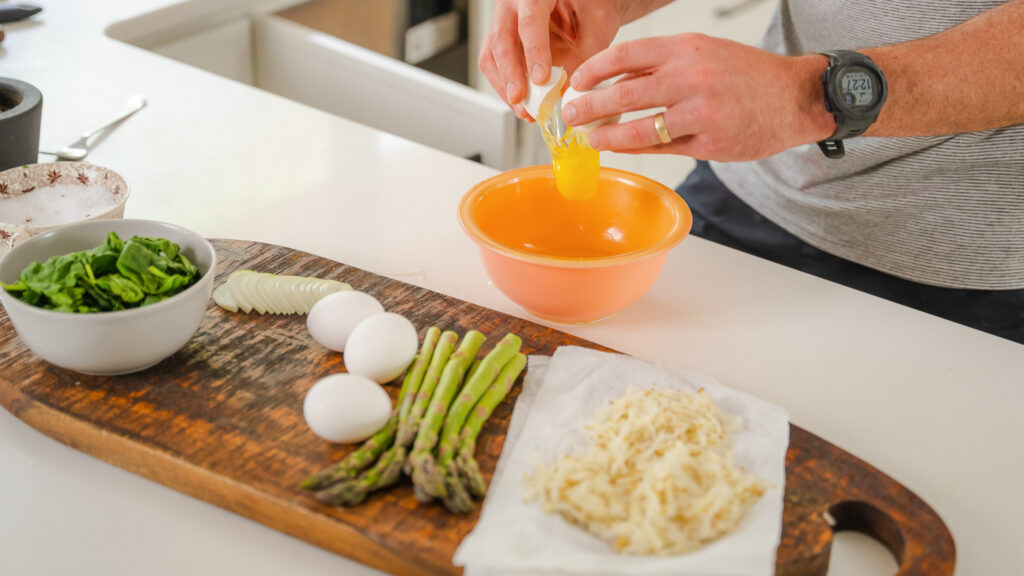 Asparagus & Spinach Frittata
Print Recipe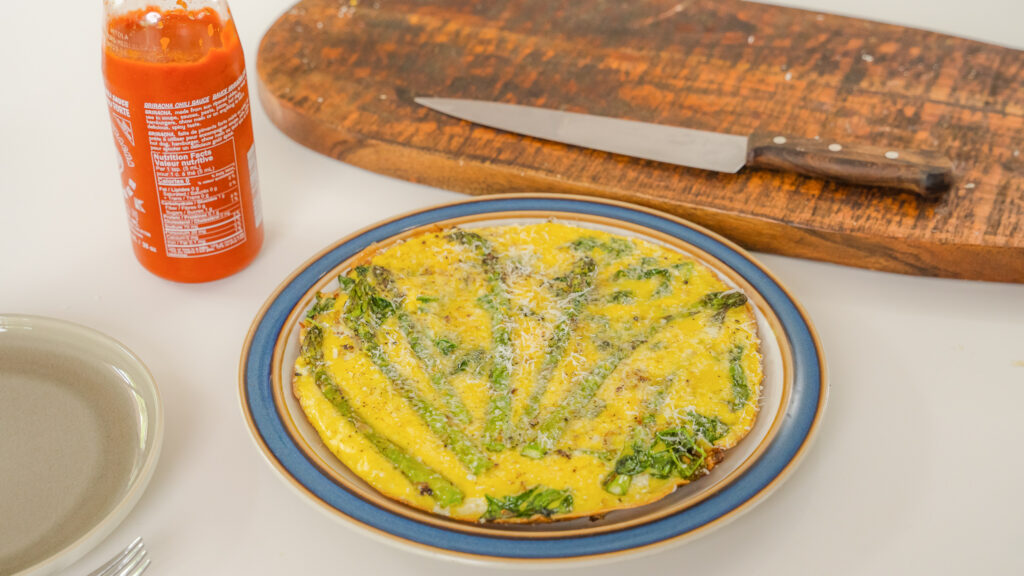 Ingredients
6

large

eggs

scrambled in a bowl

1

small

potato, shredded using cheese grater. rinsed and dried.

1

cup

spinach

1/4

white onion, sliced

6-8

stalks

asparagus

1

tbs

butter

1

tbs

olive oil

1

tsp

salt
Topping of frittata
Olive oil

salt

black pepper

parmesan
Instructions
In a bowl scramble up 6 eggs using a fork.

Using a cheese grater, grate a small potato and then rinse under water and dry with a paper towel.

place a large non stick, oven safe pan over medium high heat. Once temperature as been reach drop in the butter and olive oil. After about 30 seconds toss in the shredded potato, onion, and asparagus. Saute for about 5 minutes.

Drop in the spinach and stir. Using a spoon, organize the asparagus to all point in the same direction. Not necessary, but does make it look nice. No pour in the scrambled eggs. Let the eggs bubble away for about 3 minutes. Now pop the entire pan into the oven for 10 minutes. After ten minutes remove from the oven. If there is runny egg still visible, cook for another 1-2 minutes.

To finish the dish top with olive oil, salt, black pepper, and grated parmesan. Enjoy at any time of the day!
Print Recipe
(Visited 4,058 times, 1 visits today)