This sando screams party food. Whether the game's on or you just feel like getting messy with your friends, you can't go wrong with this bad boy. The trick is the pickle brine; once you down a jar of your favourite gherkins, make sure to save that briny gold.
Buffalo-fired chicken with blue cheese. 50% tang, 50% crunch
Print Recipe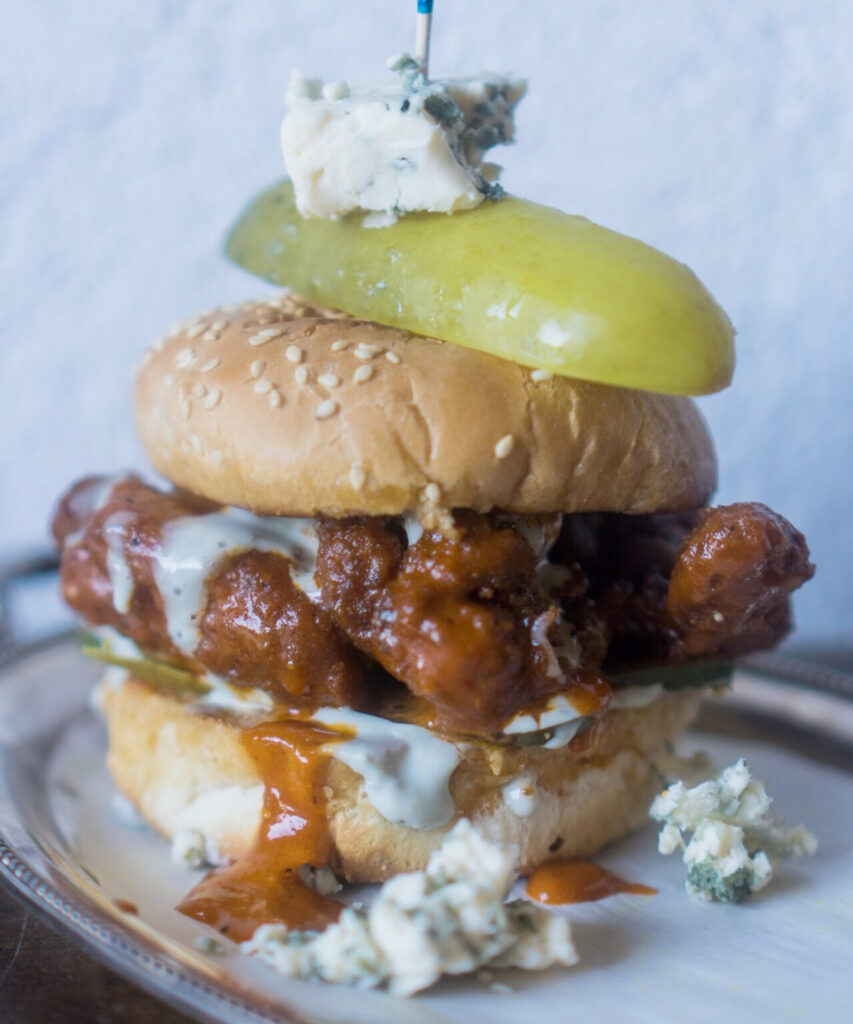 Ingredients
1

cup

salted butter

1½

cups

favourite hot sauce (we like Frank's)

3

large cloves garlic, smashed

½

cup

blue cheese

½

cup

cream

12

chicken thighs (boneless skinless)

4-5

cups

pickle juice

4

cups

all-purpose flour

4

cups

buttermilk

4

tbsp

cayenne

2½

tbsp

sweet paprika

4

tbsp

sumac (optional)

12

burger buns

1

bottle

dill pickles

6

cups

canola oil

salt

pepper
Instructions
Remove chicken from the package and submerge in enough pickle juice to fully cover the thighs. Leave submerged in the fridge for at least 2 hours or overnight.

Remove from the brine and transfer to a different container and submerge in buttermilk. Allow to hang out submerged in the fridge for no more than 24 hours and no less than 4 hours.

In a medium sauce pan over medium heat melt 1 cup butter. Crush 3 large cloves of garlic. Remove the garlic skin and toss the garlic in the pan. The heat should be low enough to soften the garlic, but not adding any colour to the butter or garlic. Cook until fragrant, about 3 min. Slowly pour in the hot sauce, constantly whisking to fully emulsify the sauce. Allow to reduce slightly to the point where you can drag a spoon through the pan leaving a streak.

Remove from pan and keep refrigerated for up to a week. Before using, slowly heat in a pan or in a microwave, whisking to emulsify again.

In a large bowl combine blue cheese and cream mix until slightly runny. Season with black pepper and set aside in the fridge for up to 1 week.

Combine all dry ingredients in a large bowl.

Remove your chicken from the buttermilk, season each piece with salt and pepper. Toss each thigh in the flour mixture making sure to fully coat. Once tossed, let rest on a wire rack until oil is heated.

In a large deep pot, heat 6 cups of oil to 325F. Fry 2-3 thighs at a time. Each should take 10-15 min depending on size, or to an internal temp of 165F.

Remove from heat, allow access oil to drain. Toss your fried chicken in the buffalo sauce until fully coated.

Toast buns, slice pickles, place 2 chicken thighs on each sando. Pour about 1 1/2 tbsp of blue cheese sauce and enjoy.
Print Recipe
(Visited 641 times, 1 visits today)