This kind of tofu recipe would impress even the most dedicated meat-eaters! It's spicy, crispy, and oh so crave-able. You will absolutely want to give this crispy Buffalo Popcorn Tofu a try!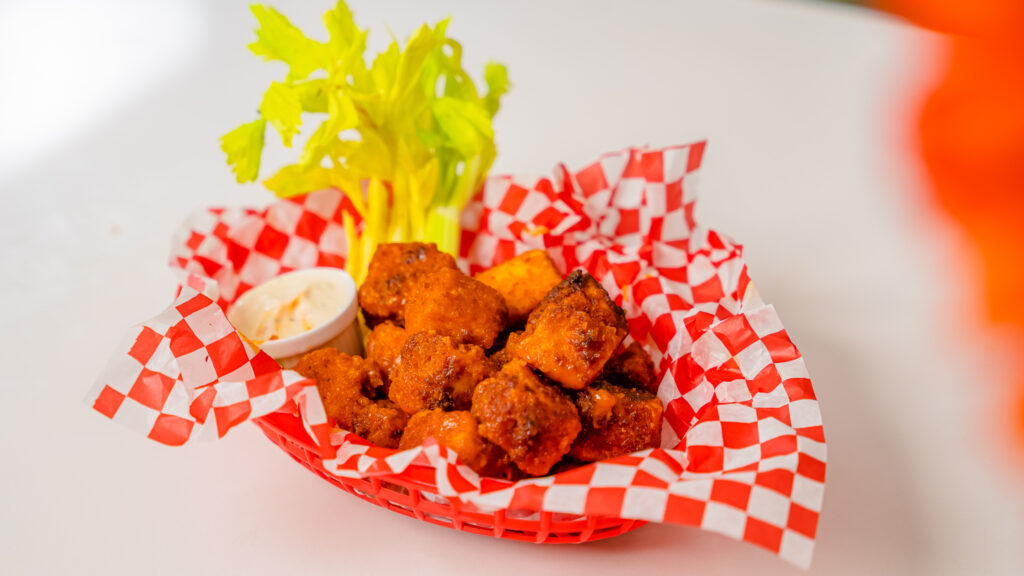 Let's Breakdown the Ingredients!
This Buffalo Popcorn Tofu is simple to make and extremely delicious. Here are some ingredients I used to make this meatless recipe!
There are many different types of tofu, but I've used extra firm tofu for this recipe. Extra-firm tofu has less water in it, making it easier to hold a stable shape and pan-fry!
The dry spices give this dish a punch of flavour with salt, celery salt, black pepper, smoked paprika, panko crumbs, and cornstarch. This recipe uses both regular salt and celery salt to help enhance the dish's flavours. The celery salt has a slight aroma of celery, giving a mildly peppery bite and grassy flavour.
Black pepper adds a spicy, woody, and warm taste, while smoked paprika has similar flavours to the black pepper, it has a more intense woodsy smoke flavour. The panko crumbs and cornstarch both add a crispy texture to the tofu popcorn.
To make the perfect buffalo sauce for this recipe, I used Franks Red Hot sauce, butter and lemon juice. Franks Red Hot sauce is made from aged cayenne pepper, which adds a spicy taste to the dish. Butter adds a soft, rich, and creaminess to the buffalo sauce, and the sourness of the lemon helps balance the spiciness of the dressing.
Buffalo Popcorn Tofu
Print Recipe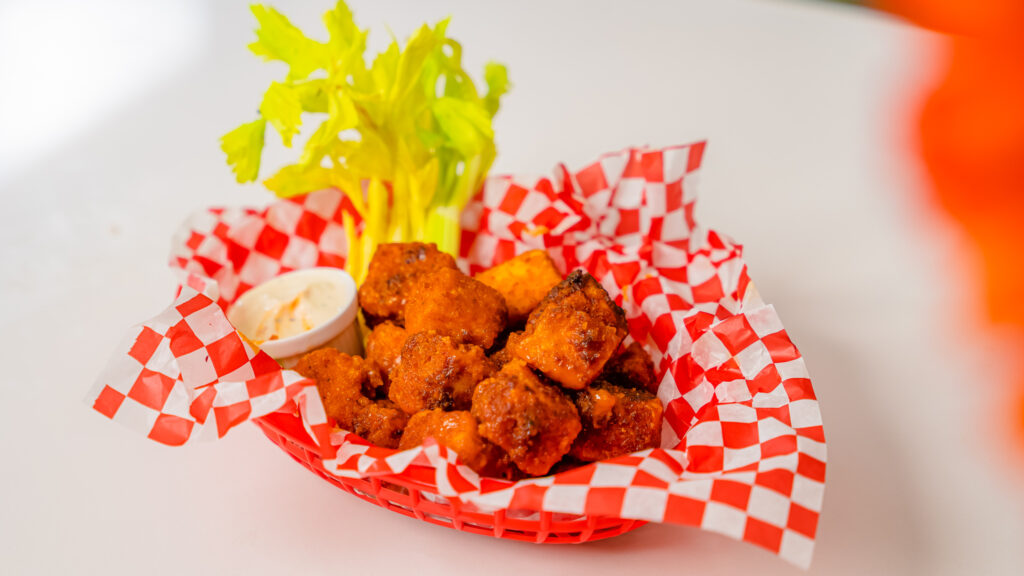 Ingredients
1

block

extra firm tofu, drained & cut into cubes

1

tsp

salt

½

cup

panko crumbs

½

cup

cornstarch

1

tbsp

smoked paprika

1

tsp

black pepper

1

tsp

celery salt
BUFFALO SAUCE
½

cup

franks red hot sauce

1

tbsp

butter

juice of half a lemon
Instructions
Place a frying pan over medium high heat and add in 1 cup of canola oil. Let the oil come up to temp. Ideally 365 degrees

While the pan is heating up, mix together the panko crumbs, salt, cornstarch, paprika, black pepper, and celery salt.

Lightly drizzle 1 tbs of franks red hot sauce over the tofu blocks, and then drop the cubes into the panko mixture and coat. Allow the tofu to sit in the panko mixture for around 5 minutes.

Once pan and oil is hot, carefully drop the coated tofu into the hot oil and let fry until all sides are golden brown and coating is very crispy.

While tofu is frying, mix together frank red hot sauce, melted butter, and lemon juice.

Once tofu is remove from oil, let rest on paper towel and season with a pinch of salt.

Place tofu cubes in a large bowl and pour over the hot sauce mixture. Toss until fully coated.

Serve with ranch dip, celery sticks, and a cold beer.
Andy's Notes
Tips for nailing this recipe
I tossed the tofu blocks in a bit of hot sauce before putting them in the cornstarch panko mixture. This allowed more of the dry ingredients to stick to the outside of the tofu
You want to let the tofu bites fry long enough to really get crispy. Don't rush that process and make sure your oil is hot enough. Ideally around 365 degree F.
Sprinkle the bites with spice right after they come out of the fryer. I used smoked paprika, but you can use whatever flavour you love.
Print Recipe
(Visited 6,221 times, 1 visits today)