I love a good scone. When I am at a coffee shop and have an entire display case to choose from, scones are more than likely going to be my top pick. One of the perfect treats to enjoy with a coffee. What I additionally love about scones is their versatility. You can really take the flavouring in any direction you choose. Below I show two different options, one sweet and one savoury using some of my favourite Cows Creamery products (check out their website and use code ANDY15 for 15% off).
Tips for nailing these scones
Use frozen grated butter. It makes the difference trust me. If you are looking for flaky, soft scones, the use of frozen butter makes a big impact on the end result.
Don't over crowd the baking sheet. I learned this one the hard way. The scones will spread a wee bit while baking. Give them some room to stretch!
Brush scones with cream or milk before you place them in the oven to bake. This will give you the lovely golden crust.
Get creative with the flavouring. I opted to go for a cheddar and chive and a chocolate scone, but you can take this in a million different directions. Use the below as the mast scone recipe and then let your creativity guide you!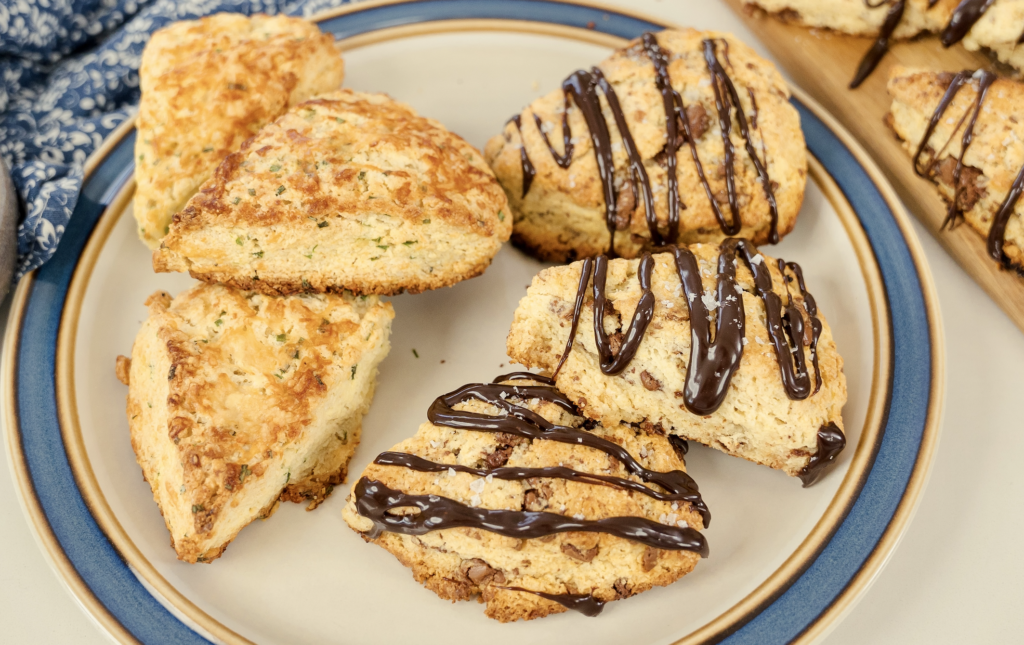 Master Scone recipe
Print Recipe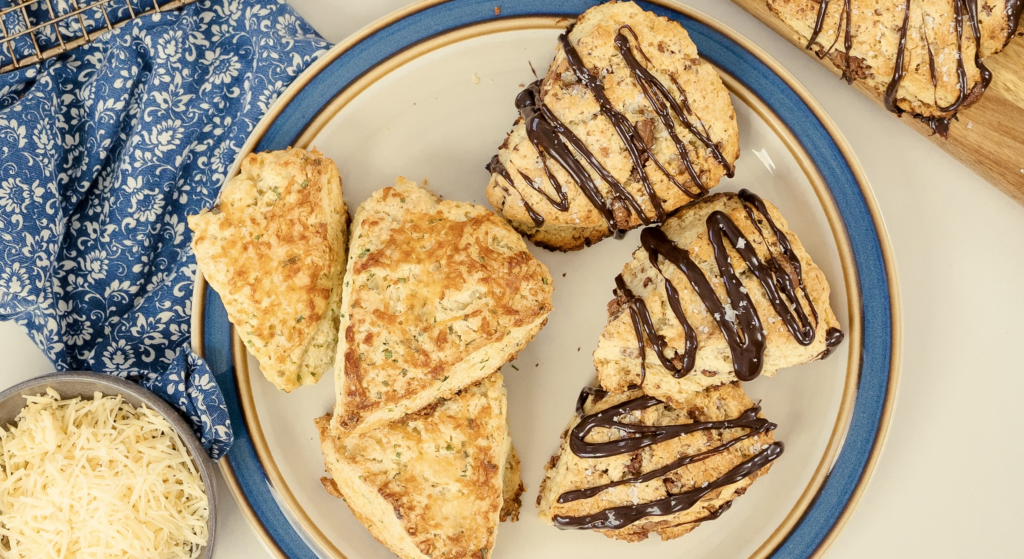 Ingredients
2

cups

Flour

1/4

cup

sugar

1/2

tsp

salt

2 1/2

tsp

baking powder

1/2

cup

frozen butter, grated with box grater.

1/2

cup

buttermilk

can you whole milk + 1 tsp vinegar

1

large

egg

1

tsp

vanilla
Flavour option #1 Chocolate
1 1/2

cups

chopped milk chocolate

For inside scones

1

cup

milk chocolate

melted and drizzled
Flavour Option #2 Cheddar & Chive
1 1/2

cups

smoked cheddar cheese

1

cup

finely sliced chives
Instructions
Per heat the oven to 400 degrees and prepare a baking sheet with parchment paper.

In a large bowl whisk together flour, sugar, baking powder, and salt.

Using a box grater, grate the frozen butter and dump into the flour. Toss with your hands to ensure the butter is fully coated in flour. Really try to keep the butter cold as much as possible. If you get delayed, pop the whole bowl in the fridge to keep it cool.

Next up, pour in the buttermilk, egg, and vanilla. Mix together to combine. Do not over mix. Once you have a shaggy dough, pour onto the counter and using your hands bring the dough together into a ball. Now form an 8 inch circle and and cut into 8 equal size wedges. Place onto the prepared baking sheet.

Before sliding the try into the oven, I highly suggest brushing the tops of the scones with a little bit of cream or buttermilk. This will help make golden brown tops.

Bake for 25 minutes or until golden brown.

Remove from oven, allow to cool for 10 minutes and then dig in!
Print Recipe
(Visited 13,267 times, 2 visits today)