I have learned something since diving head first into the world of baking: everyone loves cake! I don't know if it's a nostalgia thing or what, but it's a fact of life, as sure as the sun rising.
This is my favourite cake to make. It's bright, tangy, but not too sweet. A great spring and summer cake. I wouldn't classify it as easy, as there are some technical components, but give yourself some time and go for it.
C.R.E.A.M. Cake Rules Everything Around Me. This is a doozy. Vanilla cake, mascarpone whip, lemon curd, blueberries.
Print Recipe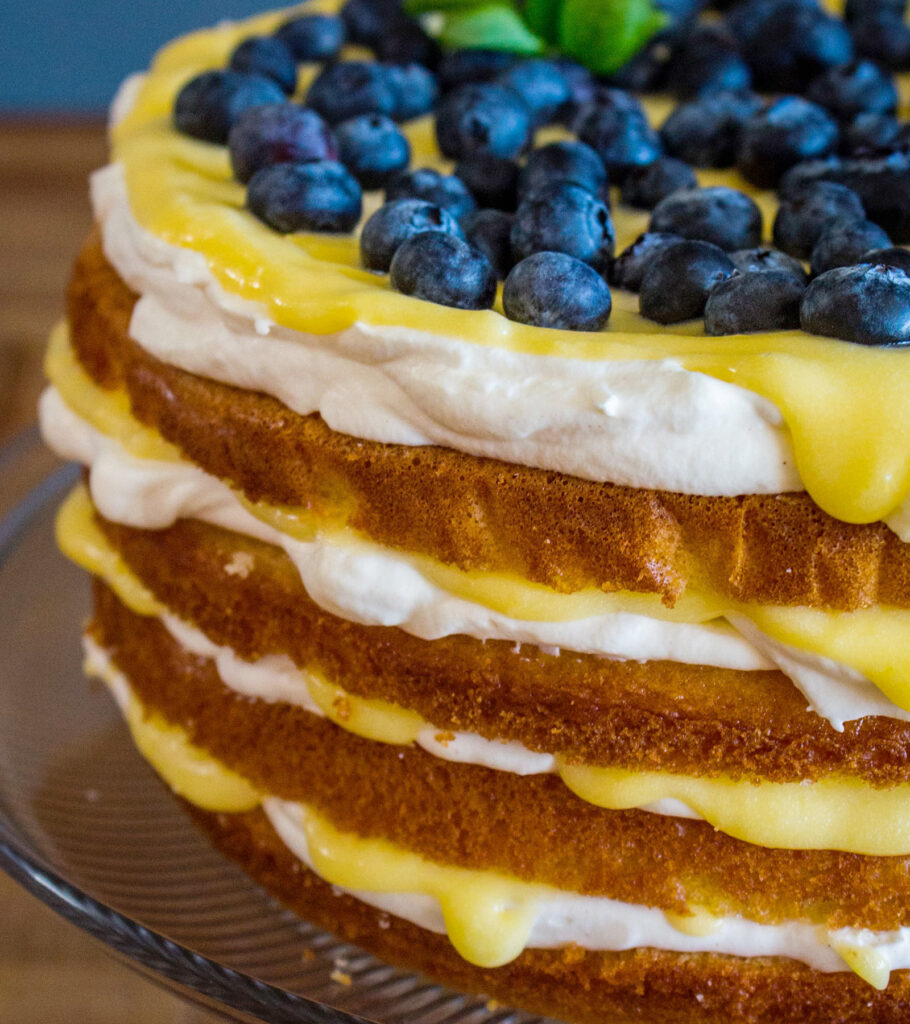 Ingredients
Vanilla "no fail" cake
3

cups

all-purpose flour

1

tbsp

baking powder

1

tsp

salt

4

eggs

2

cups

sugar

1

tbsp

vanilla extract

¾

cup

vegetable or canola oil

1¼

cup

milk
Lemon Curd
150

ml

lemon juice

3

whole eggs

1

egg yolk

150

g

sugar (3/4 cup)

1

pinch

salt

1

cup

cold butter, cubed
Mascarpone Whip
2

cups

whipping cream

¼

cup

icing sugar

1

cup

mascarpone cheese
Instructions
The Cake
Pre-heat oven to 350C. Spray and parchment line 2 eight-inch round spring-form cake pans.

In a bowl sift flour and baking powder. Add salt.

In separate bowl whisk eggs with sugar until pale yellow. Add vanilla, oil, and milk. Mix until total homogeneous.

Mix dry ingredients into wet until completely combined but DO NOT OVER-MIX.

Divide evenly between the two cake pans. Use baking scale to be exact.

Bake for about 40 minutes or until cake tester comes out clean. Do not open oven during the bake. You run the risk of deflating the whole thing!

Allow cakes to cool completely. Using a knife, cut cakes in half horizontally. Take your time. You can also freeze cakes for up to a month at this point.
Lemon Curd
In a small sauce pot, over medium heat, combine lemon juice, eggs, yolk, sugar, and salt. Continue to whisk until mixture thickens and begins to create large "bull frog" bubbles. Once this happens, remove from heat and add in cubed butter, a few pieces at a time. Continue to whisk until full incorporated.

Pour curd onto a parchment lined baking sheet, cover in plastic wrap, and place in fridge until cooled.
The Whip
Add all ingredients into mixer with whisk attachment. Mix on medium high until soft peaks form, about 3 minutes.
Assembling this bad boy.
If you made it this far, well done. The worst is behind you! Now comes the fun part! In front of you make sure to have your 4 pieces of cake, curd, mascarpone whip, and a 1/2 pint of fresh blueberries. Starting at the bottom (obviously) lay down one layer of cake and smear the mascarpone whip over liberally. Repeat with lemon curd. Continue this for all three layers and top of cake. When you have gotten to the top add on the fresh blueberries. And that's it – you made it!

This is a really fun cake which is almost universally loved. Give it a try and let me know what you think!
Print Recipe
(Visited 2,359 times, 1 visits today)