There are very few dishes more quintessentially Nova Scotian than the Cape Breton Oatcake. While it may be made from simple ingredients, I find them so incredibly satisfying to have with a nice cup of tea. Give these a try – I hope you enjoy them!
Cape Breton Oatcakes
Print Recipe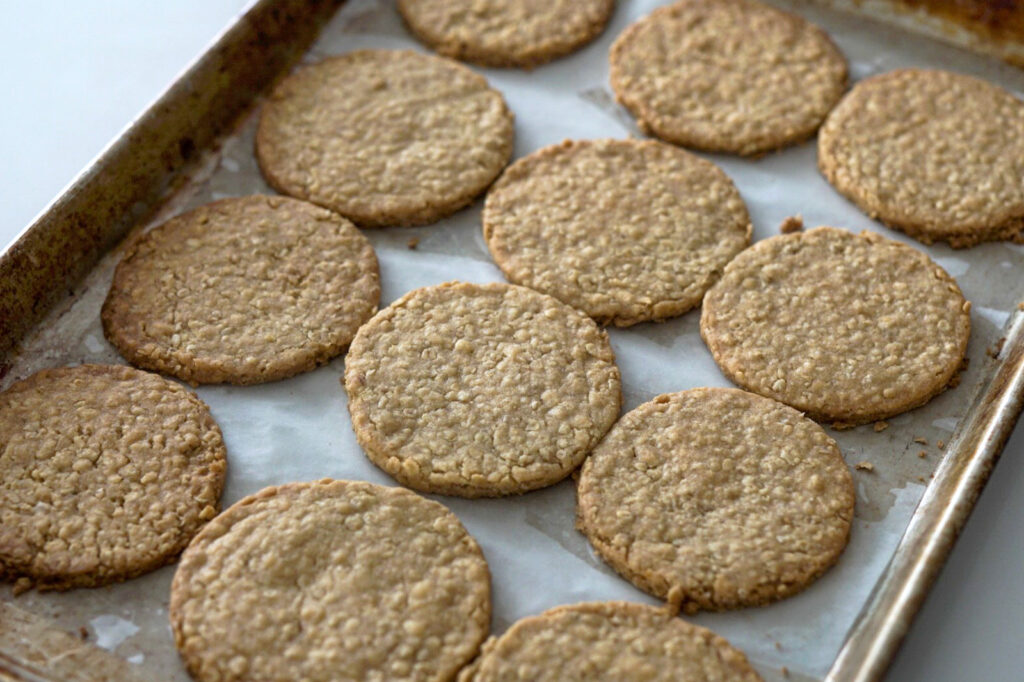 Ingredients
1½

cups

AP flour

2

cups

quick oats

¼

tsp

cinnamon (optional)

½

tsp

salt

½

tsp

baking powder

1

cup

brown sugar

1

tsp

maple syrup

1

cup

butter
Instructions
Pre-heat oven to 350F and line a baking sheet with parchment paper.

Okay, first things first; let's mix together the dry ingredients. Into a large bowl mix together flour, oats, baking powder, cinnamon, and salt. Whisk to ensure there are no clumps.

Next up, in a separate bowl using a hand mixer, cream together the butter, brown sugar, and maple syrup. Be sure not to rush the process as your want this mixture to get as smooth as possible. I generally mix with the hand mixer set to high for around 4 minutes.

From here, add the dry ingredients into the butter mixture and mix to combine. If using the hand mixer be sure to mix on low. You want everything to be combined, but not over-mixed.

Pour the mixture onto a lightly floured surface. The mixture will be crumbly, so I make sure to push the mixture together with my hands. Using a rolling pin, roll out the dough until it's quite thin; generally around 1/4 inch thick. Then using a cookie cutter or a cup, cut out oatcakes and place on the prepared baking sheet.

Place the oatcakes into the oven for 12-15 minutes. You want the edges to be turning a nice brown. Once done, remove from oven and let sit on baking sheet for 5 minutes.

The next part is up to you! Enjoy these oatcakes as is, or spread on melted chocolate, delicious preserves, or butter.

Pour a cup of tea and enjoy!
Andy's Notes
A couple of tips on nailing these oatcakes
Make sure you really mix together the butter and brown sugar. Don't rush this process.
When you dump the mixture onto the counter surface, it's going to feel quite crumbly. Be sure to push the mixture together with your hands in an effort to bring it together. If the mixture still feels too crumbly, wet your hands under the tap and form the dough into a ball. It should come together as you roll out the dough.
Get creative with the way you enjoy your oat cake! I love chocolate, butter, jams.
Print Recipe
(Visited 549 times, 7 visits today)