Churros are so fun. Is it a donut? A sweet breadstick? However you classify them, they are delicious.
I remember the first time I tried a churro. I was in Spain for my uncle's wedding when I was a kid, and my sister and I were super picky and not eating anything. That all changed when we were at a bar with my Dad and Grandad and they dropped these sugary donut sticks on the table with a huge bowl of creamy hot chocolate. GAME OVER!
Another fun fact with this recipe is that the dough is a classic choux pastry which is used to make eclairs, profiteroles, crullers and many other classic French desserts. Give churros a try and if you nail it, move on to the next choux based recipe. Good luck!
Churros anyone?
Print Recipe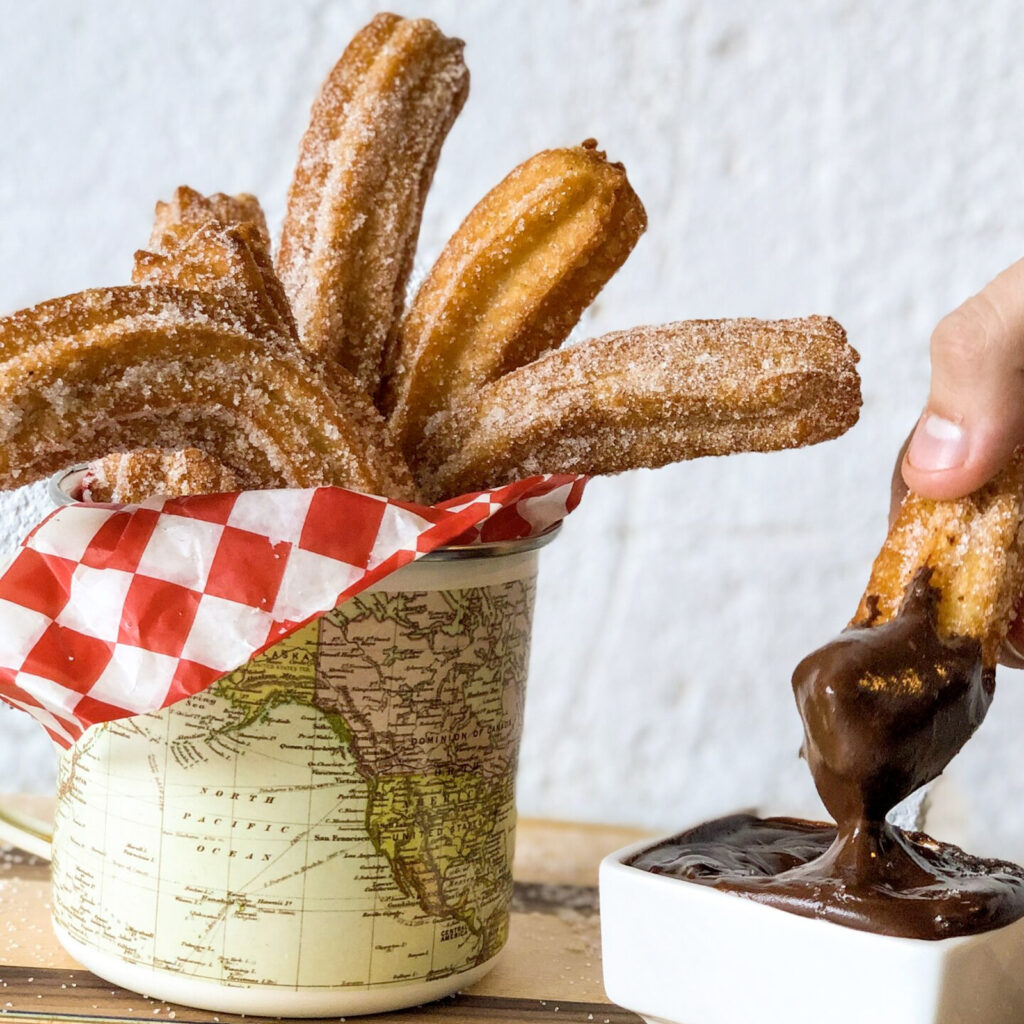 Ingredients
1

cup

flour

1

cup

water

6

tbsp

butter

2

large

eggs

2

tbsp

sugar

1

tbsp

cinnamon

1

tbsp

kosher salt

1

cup

sugar for dusting

¾

cup

semi sweet chocolate

¾

cup

35% cream

2

litres

canola oil
Instructions
In a pan over medium heat add water, butter, and sugar, bring to a boil. Add salt, vanilla and flour. Mix until flour is completely incorporated and no dry spots remain. Cook for 30 seconds, Remove from pan and allow to cool for 10min.

Heat oil in a large heavy bottomed pot to 360F. While heating, and only once your paste has cooled, add eggs one at a time. Combine fully before adding your second egg. Your mix will be coated in the egg and will take some time to incorporate it. Add cinnamon.

Transfer your paste into a piping bag with a medium star tip. If your tip is too big you run the risk of undercooking the middle of the churro, and we don't want anything to do with that!

Pipe directly into the fryer. Try not to let the oil touch the tip or the plastic bag. Fry two 5 inch tubes at a time for 5 min. or until all sides are golden brown. Remove from oil and toss in extra sugar.

In a small pot, warm cream right to the point before a boil. Pour over your chocolate and mix until creamy. Dip your hot churros in your warm chocolate and call it a day.
Print Recipe
(Visited 2,024 times, 1 visits today)