I've had lentils sitting at the back of my cupboard for far too long. It's time to use them. I am so happy I hauled them out to make this amazing creamy Coconut Apple Dal. From great spice notes balanced with the lovely sweetness of the apple and coconut milk, this is a wonderfully approachable dish for even those not so adventurous eaters.
This was my first attempt at this dish, a true fridge forage, and I have to say I am very happy with the results. Next time you have an Indian dal craving, be sure to give this recipe a try. You will love it!
Coconut Apple Dal. Your newest weeknight go-to meal.
Print Recipe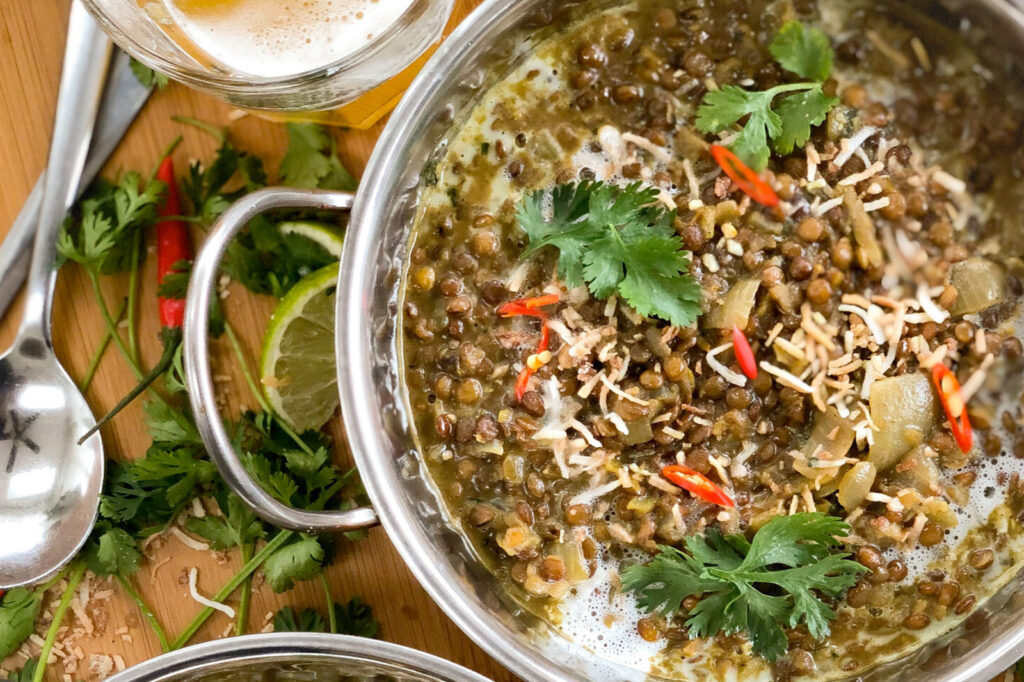 Ingredients
2

tbsp

coconut oil

1

white onion, diced

3

cloves

garlic, minced

1

inch

ginger, minced

1

tbsp

chopped cilantro

2

small

apples grated with cheese grater, or cubed

1½

cups

black lentils

1

can

coconut milk

2½

cups

stock

5

tsp

cumin

½

tsp

cinnamon

1

tsp

ground fenugreek seeds

3

pinches

salt

1

pinch

black pepper

splash of maple syrup

¼

tsp

cayenne chilli powder

½

cup

chopped cilantro leaves

2

tbsp

coconut milk (for finishing)

1

tsp

toasted coconut (for finishing)
Instructions
Place a pot over medium high heat and add in the oil. Once oil has reached temp, drop in the spices and prepare to take in the amazing smells; really one of the best things about cooking and living generally. After about 15 seconds add in the onions, ginger, garlic, cilantro and stir…again., enjoy the smell. Saute until the onions are translucent.

Next up, add in the lentils and the grated apple. Stir everything together and then add the coconut milk and stock. Turn heat up to high and bring mixture to a boil. Reduce and let simmer for around 30 minutes. Make sure to stir every once in awhile so lentils don't burn on the bottom. Toss in the second amount of freshly chopped cilantro right before removing from heat.

Spoon dal into a bowl and finish with toasted coconut and fresh coconut milk. Enjoy the hug that is this dish.
Print Recipe
(Visited 1,767 times, 1 visits today)