This lentil curry salad is one of my most made recipes on the blog. It has a huge amount of flavour from fresh, zippy, sweet, spicy…just a little bit of everything. Beyond being healthy and tasty, making, eating, and sharing this dish is so satisfying! If I was to select one recipe on my website for someone to try, it would be this one. Really really love it.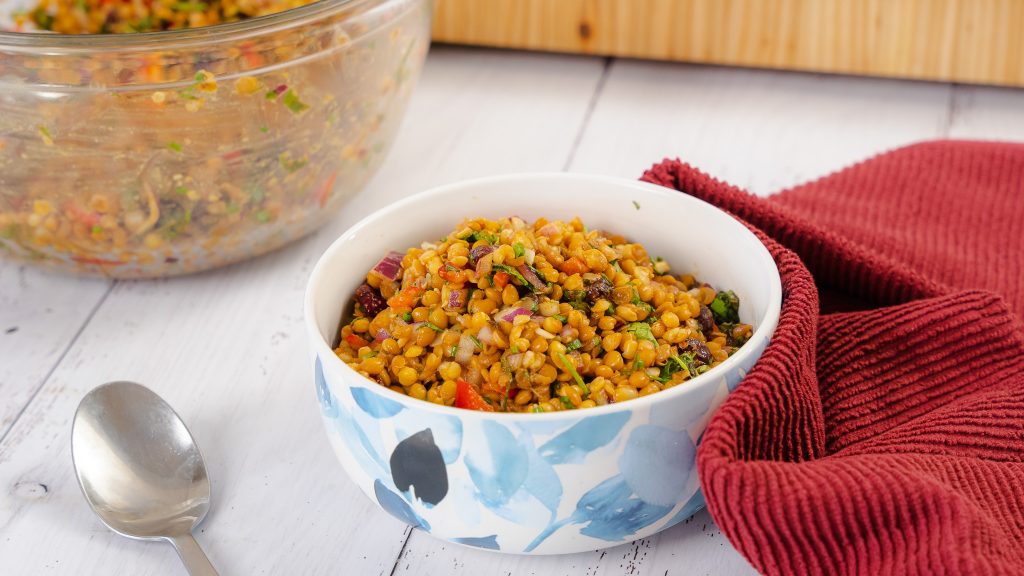 Lentil Curry Salad
This Lentil Curry Salad takes only 10 minutes to whip, and it can be served as a salad or dip. It is perfect for any last-minute potluck invites, holiday dip to serve with tortilla chips or for your weekday lunches. This recipe also makes for a great meal prep dish that can last from five to seven days in the fridge.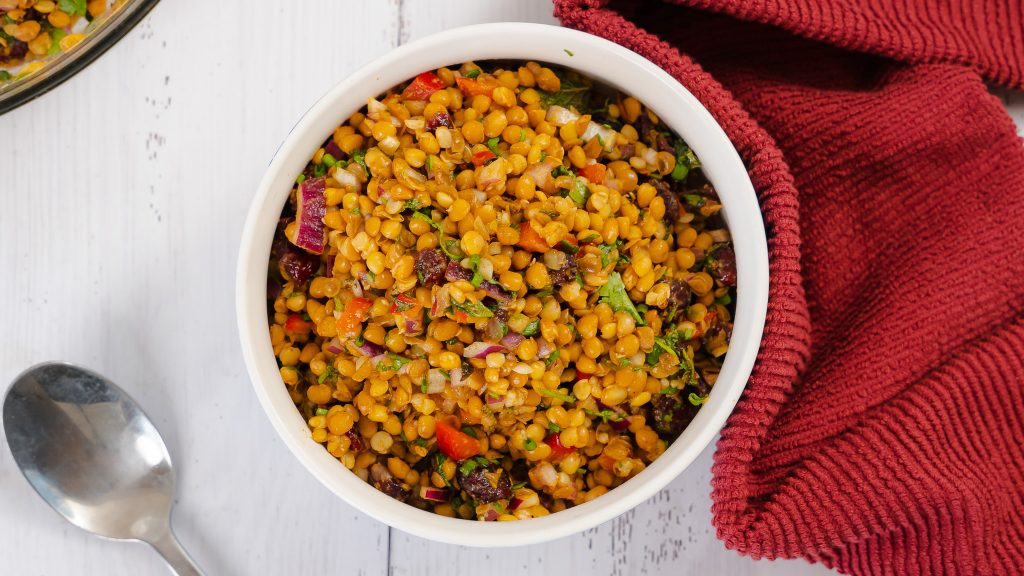 Meal prep, potluck, or dip
I love the versatility of this Lentil curry salad. It is one of the best meal prep options I have ever eaten. Packed with flavour and stays in the fridge for 5 days, easily. I like to make a big batch and then store in individual containers to make lunch easy to grab and go. This is also an amazing option to bring to a potluck. I really havent ever met anyone who doesn't like this dish so I can guarantee it to be a hit! Lastly, and my favourite, is serving this with some Tostitos scoops as a dip. Let me tell ya! The crunch, spice, freshness, texture!! It's a real ride!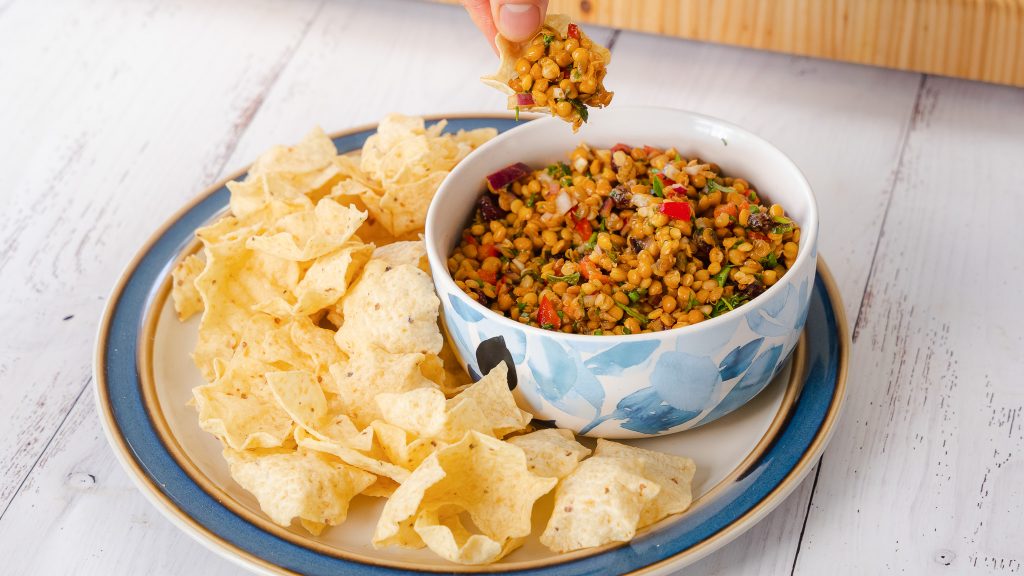 Let's Breakdown the Ingredients!
This recipe is packed with amazing flaovurs and nutritious vegetables and fruits in one dish. There are a ton ingredients in the recipe, but this healthy delicious dish is so easy to make in less than 30 miutes!
One of the main in this recipe are lentils. Lentils are rich in fibre, folate, and potassium which are great for the heart, managing blood pressure and cholesterol. It is also a great source for iron and vitamin B1.
A large part of this recipe that impacts the delicious flavours are the spices used. The uses of cumin and cinnamon adds a warm, slight sweet and nutty flavour. The curry powder gives a unique flavour combination of sweet and savoury.
This dish adds both vegetables and dried fruit such as red onion and red peppers, and dried cranberries for flavour, texture and for health benefits. Red onion is high in vitamin C which is an antioxidant, while red peppers are rich in vitamin A. The dried cranberries adds a sweet, chewy texture to the dish.
The lentil curried salad adds a lot of fresh flavour to the dish with lemon and the herbs cilantro and mint. The lemon juice and zest adds a sour citrusy taste, while cilantro adds a tangy citrus flavour and mint adds a sweet peppermint flavour!  
The use of wine vinegar and honey both gives a stubble sweetness to the recipe. Wine vinegar also has a clarifying acid and adds a fruity flavour to the recipe.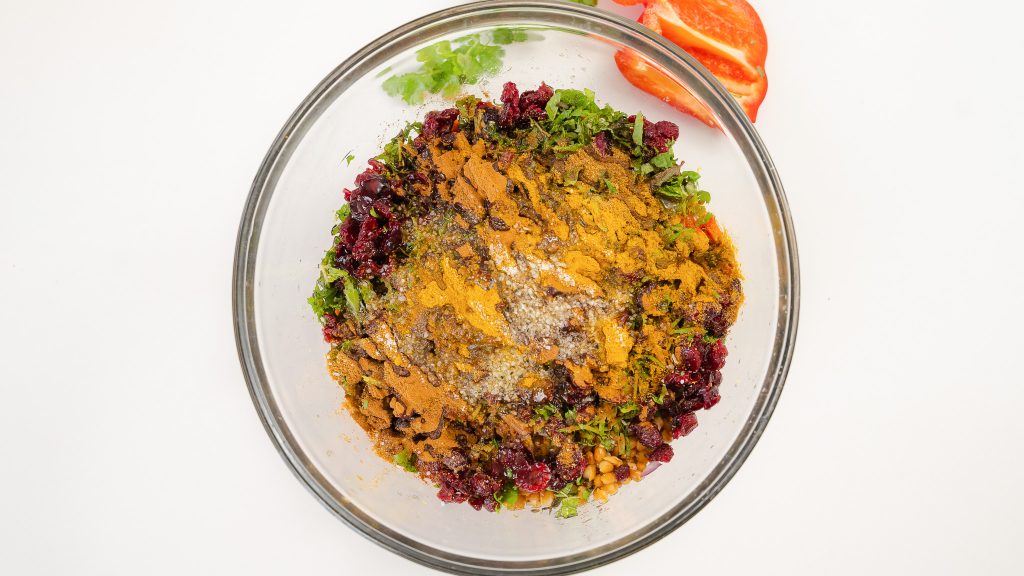 Lentils
You can use canned or dried lentils to make this recipe. I personally used canned, it helps keep the cost down and removes the step of soaking and lightly boiling the dried lentils. What is also amazing about lentils is that there is 18g of protein for every one cup!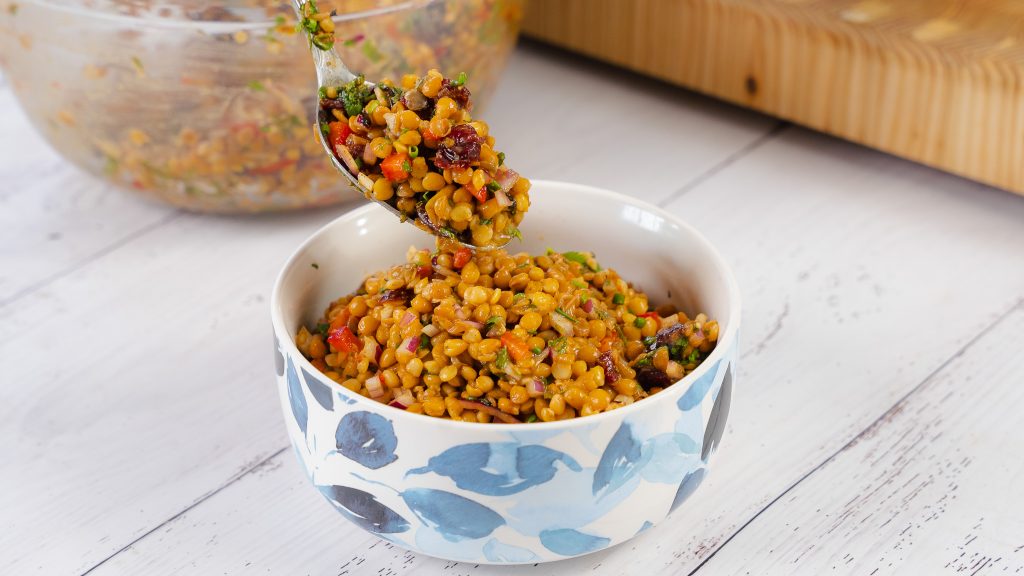 Other salads you might enjoy!
Curried Lentil Salad
Print Recipe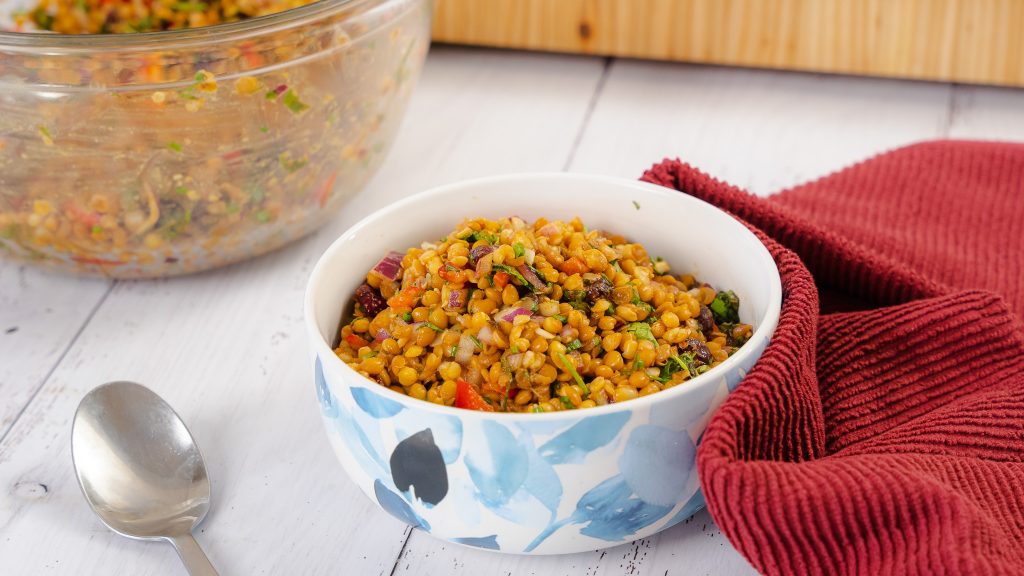 Ingredients
2

cans

lentils – well drained

½

cup

diced red onions

⅓

cup

diced red peppers

¼

cup

fresh cilantro, chopped

¼

cup

fresh mint, chopped

¾

cup

dried cranberries

zest from 1 lemon

juice from 1 lemon

3

tbsp

red wine vinegar

1

tbsp

honey

1

tsp

cumin

1

tsp

cinnamon

1

tsp

curry powder

2

tsp

salt

1

tsp

olive oil
Instructions
Combine all ingredients into a bowl. Mix and serve! Salad will stay in the fridge for up to 7 days.
Print Recipe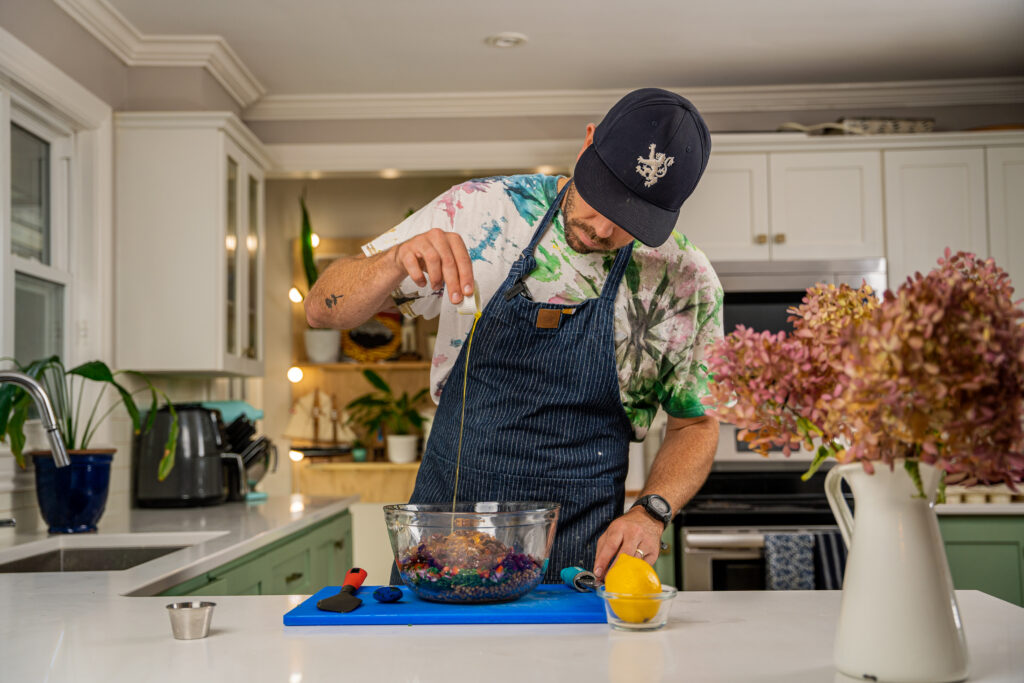 (Visited 70,349 times, 54 visits today)