If you're a fan of deep fried dill pickles, but don't want a heavy deep fried treat every time, this easy Dill Pickle Dip if for you. Simple ingredients that come together in seconds and are sure to impress everyone at the party, picnic or weekly movie night. Serve it up with a side of your favourite potato chips and you have yourself a winner folks!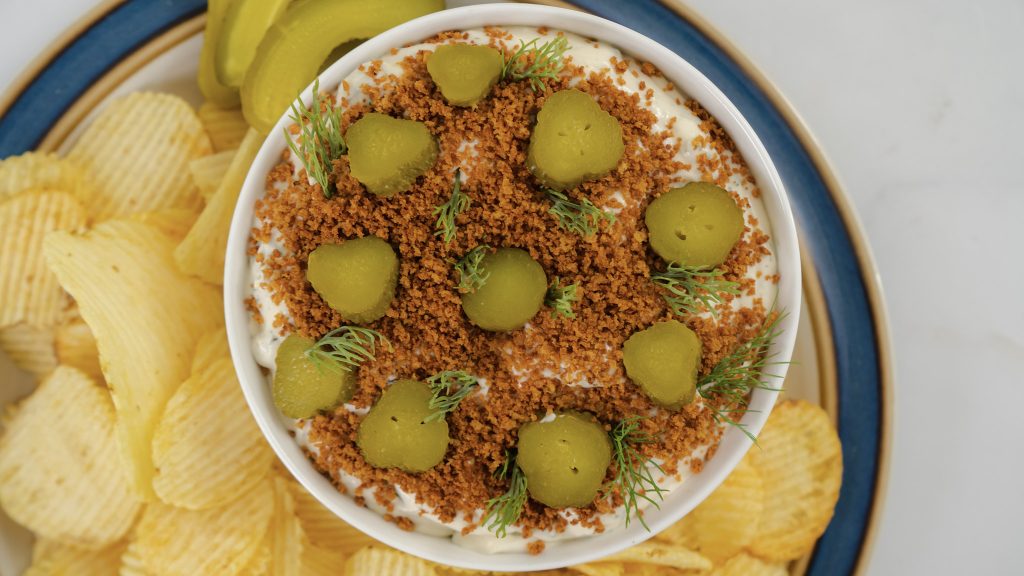 Keys to nailing this Dill Pickle Dip every time
Temper your cream cheese– If you want a dip thats soft, creamy and won't fight you when you try to whip it, make sure you pull your cream cheese out of the fridge for a a bit (30min-1hr). This is going to make sure all of the ingredients get distributed evenly and your dip will be the right consistency!
The smaller the dice the better.- If you're looking to get an even taste of pickle in each bite, make sure to dice on the smaller side. A smaller dice will distribute the briny goodness throughout the dip.
The right chip matters- We love a good old fashion Ruffles Wavy, great flavour and dip stable! But use whatever you have on hand or like the best!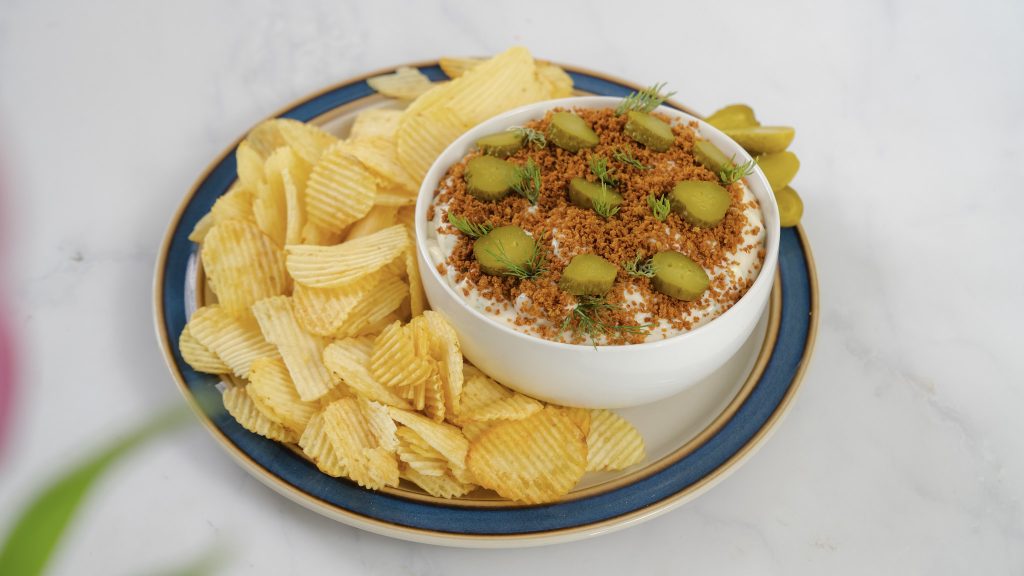 Key ingredients for this Dill Pickle Dip
This one is simple, but choosing good ingredients just makes it so much better.
Cream cheese– A good quality cream cheese can be the difference between creamy and smooth or lumpy and wet.
Dill pickles- You want to find a brand that's: Crunchy, salty and packed will dill flavour. Whole pickles work best vs pre sliced ones that might have a bit more water and might not be as crunchy.
Sour cream- You always need a bit of tang and smoothness in these kinds of dips. If it was just cream cheese, it would firm up in the fridge, not optimal for dipping a chip!
Fresh Dill– With something like this on the heavy/creamy side, a little bit of fresh herbs like dill goes a really long way.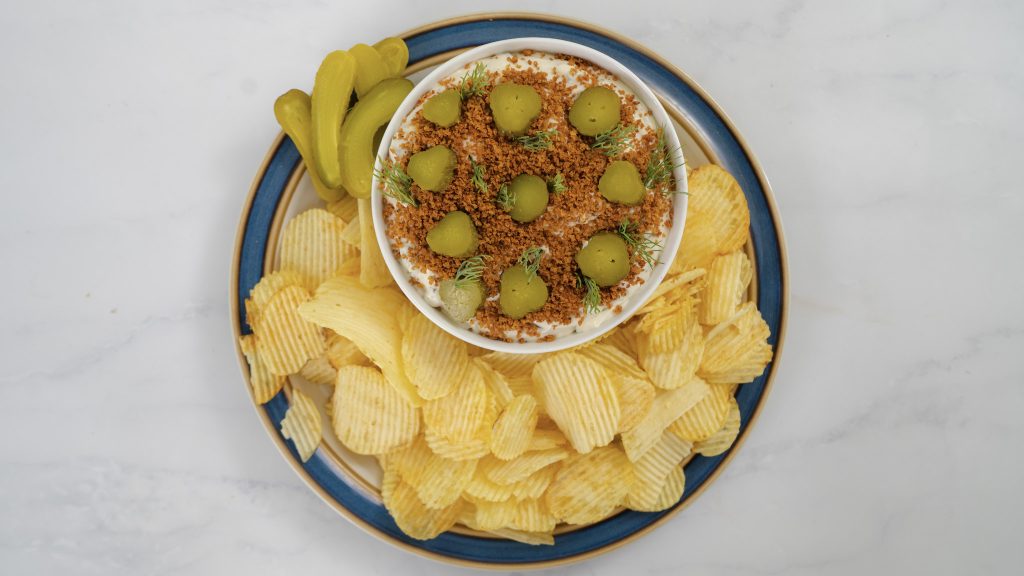 It's all about the panko crunch
A very important part of the recipe; the chips give a great crunch, but the panko adds toasty flavours and a crispy texture we love. When toasting your panko, remember these few steps:
Make sure your butter is fully melted. This will make sure each little crumb gets even coated and no one misses out on the toast.
Don't over crowd your pan. If you're making a larger batch, keep it to 1/2 cup. Too much in one pan could mean some burn before others get a chance to brown.
Get ready to remove from heat. These breadcrumbs can go from perfect to burnt in a matter of seconds, so keep you heat low and your eyes peeled!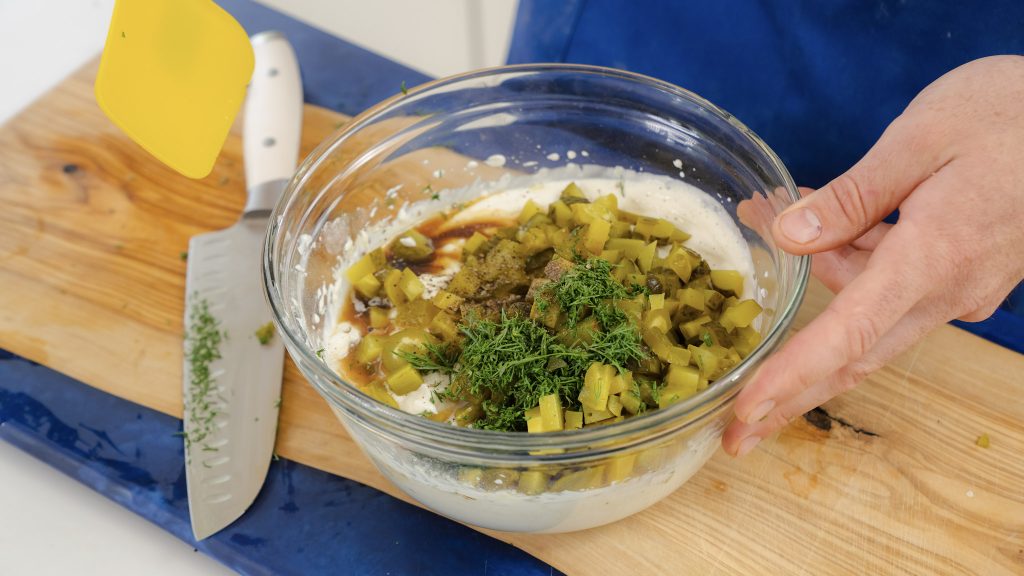 Other recipes to check out
If you like this one, here's a few other party spread knockouts we think you need to try!
Rosemary Whipped Feta with Honeyed Lemon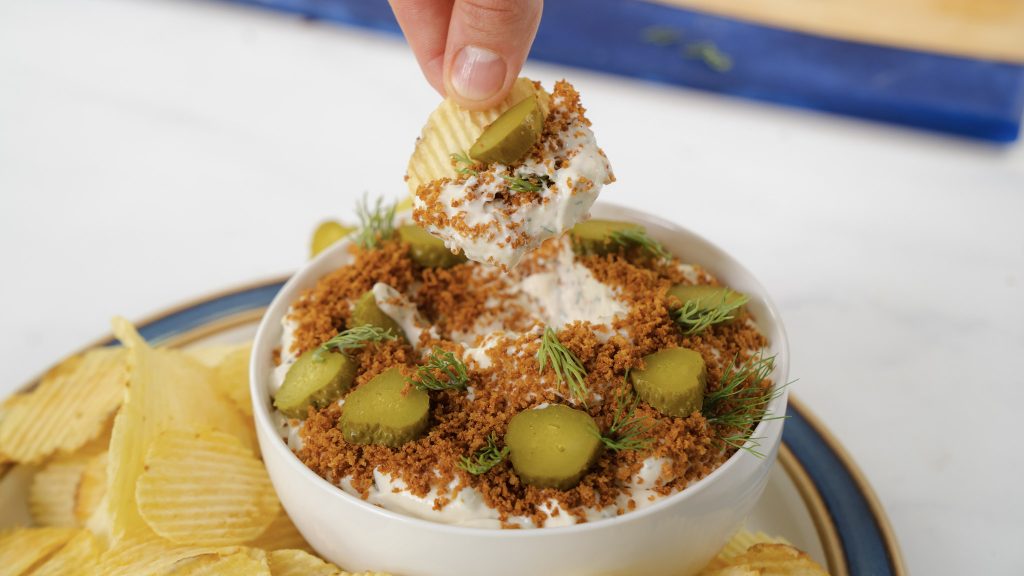 Dill Pickle Dip
Print Recipe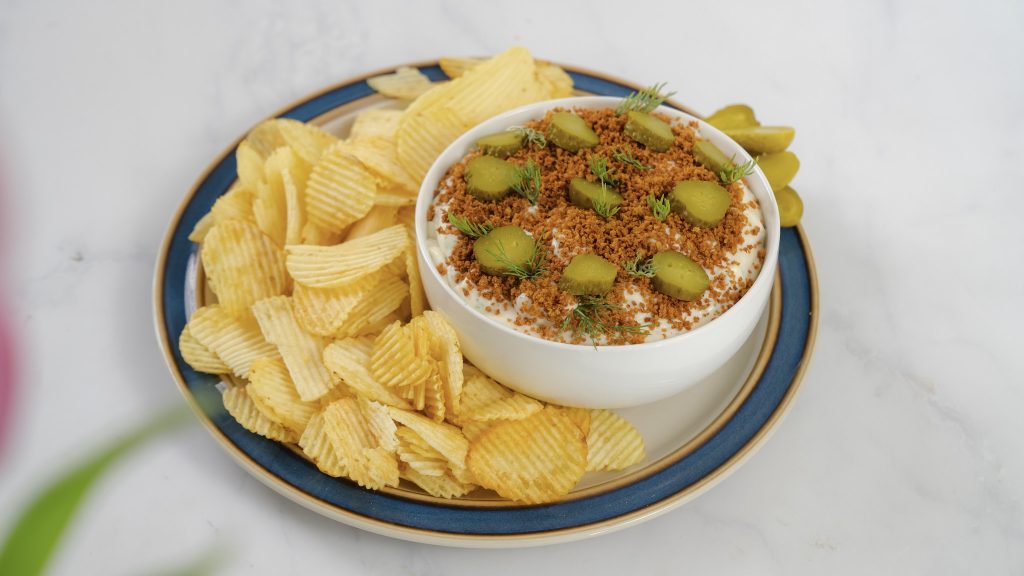 Ingredients
8

oz

Cream Cheese

Room temp

450

ml

Sour Cream

1

tsp

Garlic Powder

1

tsp

Onion Powder

2

tbs

Fresh Dill

Roughly chopped

2

tbs

Ranch Seasoning

1 1/2

Large

Dill Pickles

Diced thick

1

tbs

Worcestershire Sauce

1

tbs

Dill Pickle Brine

1

tsp

Black Pepper
For the Panko Crumb
1/2

cup

Pank Breadcrumbs

2

tbs

Butter

Chopped Dill Pickles

Chopped Dill
Instructions
Into a bowl add softened cream cheese, sour cream, garlic powder, onion powder, and ranch seasoning. Using a hand mixer, mix until smooth. Next add in the fresh dill, diced pickles, worcestershire sauce, and pickle brine. Using a spatula fold everything together and place into your serving bowl.

Place pan over medium heat and melt butter. Once butter is melted pour in the panko crumbs and toast for 2 minutes or until they are golden brown. Remove from heat.

Garnish your dip with lots of golden brown panko crumbs, slices of dill pickles and fresh dill. Serve with favourite potato chips and enjoy!
Print Recipe
(Visited 14,708 times, 15 visits today)