I've done English muffins a handful of times and I always find it such a cool thing to make. There isn't anything exciting about the dough-making process. It's basically like any other bread dough, but the way you cook it, that's where it gets exciting. Unlike other breads that go in the oven, English muffins are cooked in a pan or on a griddle that has had cornmeal sprinkled on it. It cooks like a pancake! But 11 minutes per side, so a lot longer than a pancake!
English muffins are amazing vessels for brunch. Whether for Eggs Benny, a classic breakfast sandwich, or like I did, with smoked salmon, it's perfect!
This recipe isn't difficult, but it definitely takes some time. The good thing is that the English muffin, once made, will stay well in a tightly sealed container and freezes well.
English Muffins. The perfect breakfast sandwich vessel
Print Recipe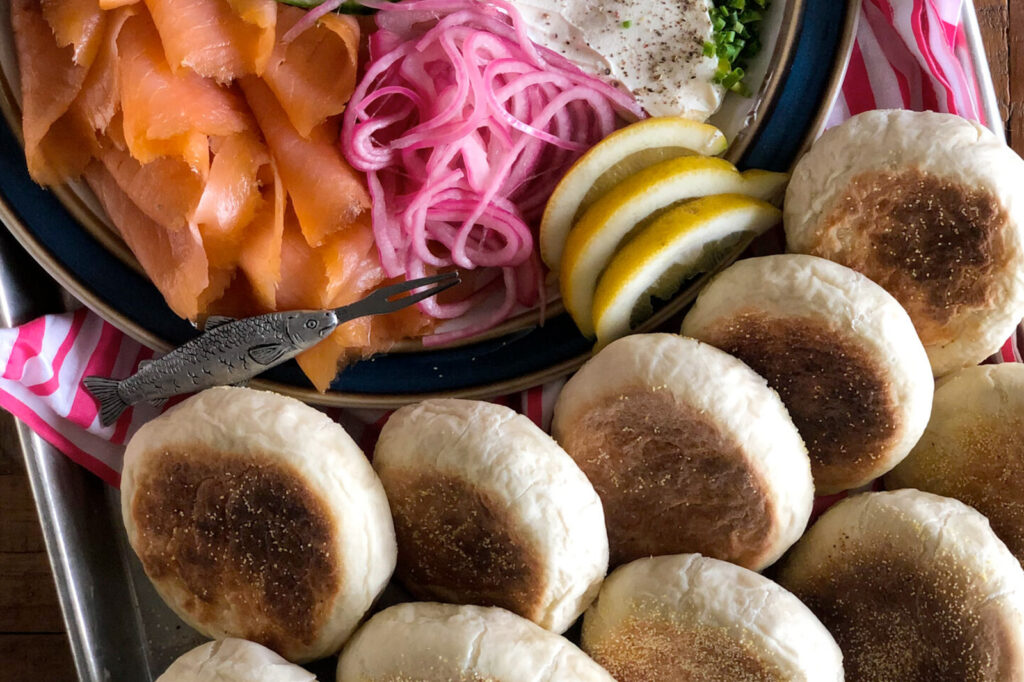 Ingredients
2

tsp

active yeast

1

tsp

sugar

3

tbsp

very warm water, more than lukewarm

1¾

cups

whole milk

3

tbsp

butter

1

tbsp

honey

4½

cups

flour

1½

tsp

salt

5

tbsp

cornmeal
Instructions
Here we go! In a small bowl add the yeast, water, and sugar. Let it rest for 5-10 mins or until mixture starts to bubble.

Next up, in a small saucepan add milk, butter, and honey and turn heat to medium. Let heat until butter melts. That's it. Once it's melted pull off heat.

In the bowl of your mixer, add 2 1/2 cups of flour and the salt. Attach the dough hook and turn mixer on low. Next, start slowly streaming in yeast mixture. Once that is all in, slowly pour in milk mixture until incorporated.

Add in rest of the flour and once dough has formed, turn the mixer on high and let it beat away in there for 5-8 minutes.

After the dough has been worked, shape into a ball and place in a lightly oiled bowl. Cover with towel and find a cozy place for it to relax. Let rest until it doubles in size, approximately 1 hour.

After dough has doubled in size, punch down and flop it onto a lightly floured surface. Cut the dough into 12 equal segments. (About 80 grams each if you have a scale)

Roll each piece of dough into a ball. This is best done by anchoring the heal of your hand and your fingertips against the counter with the dough ball in the middle of your palm. Move your hand around in a circular motion placing minimal weight on the dough itself. Keep doing this until a smooth ball forms. Pinch any seams that are open. If dough seems too dry I like to slightly wet my hand under the tap and return to rolling.

Once all the balls are formed, push down on them to create hockey puck shapes that are about 1/2 inch think. Place them on a sheet pan that has been sprinkled with corn meal. Let the pucks rest on the sheet, covered, for 40 minutes or until they have doubled in size.

Using a pan or an electric griddle over medium low heat, sprinkle more cornmeal onto the pan and then place the dough pucks in the pan. Cook for about 12 minutes per side.

Let cool on a rack. And congrats! You just made English muffins. That's pretty cool!
Print Recipe
(Visited 3,201 times, 2 visits today)