These amazing breakfast bites have a brownie texture that tastes way more sinful than they actually are. These blondies are packed with mashed sweet potatoes, oats, and coconut flour, these are a great gluten-free snack packed with energy.
Gluten Free Sweet Potato Blondies
Print Recipe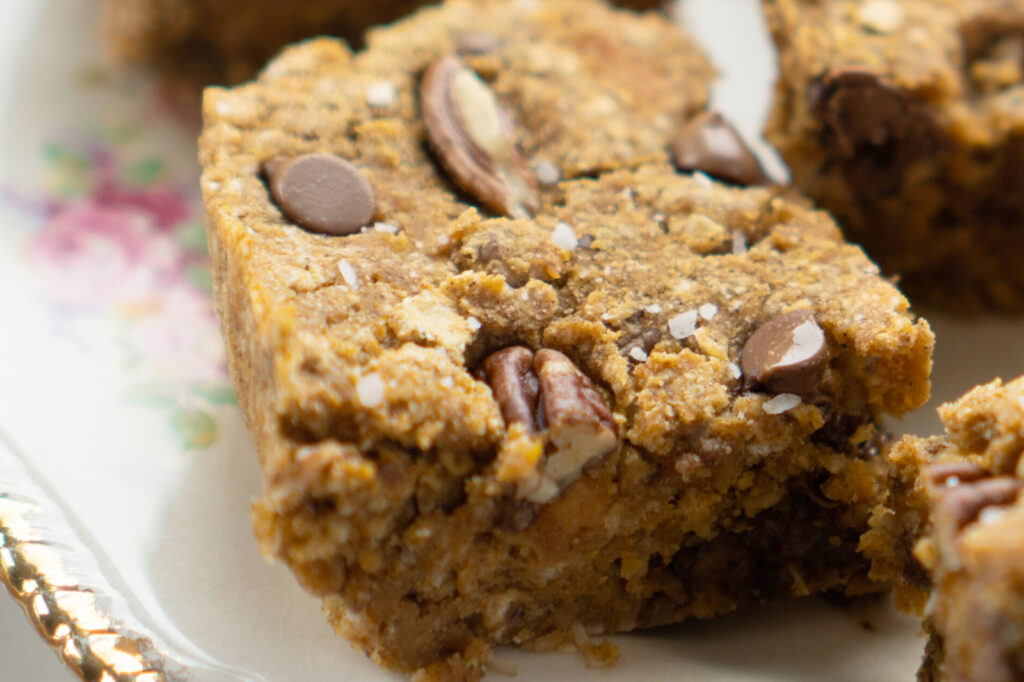 Ingredients
Wet Ingredients
1½

cup

mashed sweet potatoes

4

tbsp

maple syrup

¼

cup

brown sugar

1

tbsp

vanilla

1

egg

4

tbsp

olive oil
Dry Ingredients
1½

cups

rolled oats

⅔

cup

coconut flour

1

tsp

baking soda

½

tsp

baking powder

2

tsp

salt

2

tsp

cinnamon

⅔

cup

roasted chopped pecans

¼

cup

shredded coconut

½

cup

chocolate chips
Instructions
Preheat oven to 350 and grease & line a 8X8 brownie pan with parchment paper.

In a large bowl, mix together the wet ingredients until smooth (mashed sweet potato, maple syrup, brown sugar, vanilla, egg, and olive oil).

Once the mixture is smooth, add in the dry ingredients. Add the oats, coconut flour, baking soda, baking powder, salt, cinnamon, pecans, coconut, and chocolate chips. Mix until combined.

Using a spatula, pour the mixture into the prepared brownie pan. Use the spatula to push down the mixture.

Place pan in the oven and bake for 20-25 minutes.

Remove from oven, let fully cool, and then slice into 9 pieces. Enjoy!!!
Andy's Notes
Ingredients you will need.
Mashed Sweet Potatoes – This nutrient-dense secret ingredient is the star of this baked good. If you can plan ahead and bake your sweet potatoes the day before it makes the prep time that much shorter. The sweet potatoes also give the blondie a lovely colour. 
Maple Syrup – I love baking with Maple Syrup as it gives a lovely amount of sweetness and can help reduce the amount of added sugar. Also, I am Canadian and I have to use maple syrup as much as possible. It's in our constitution.
Brown Sugar – I don't go overboard here; just add in ¼ cup. This gives a caramelized flavour to the blondie and helps give the top a nice crust.
Vanilla – Adds to the flavour 
Egg – Eggs help with moisture and also help with the rising. If you want to substitute a vegan flax "egg" you are welcome to do so!
Olive oil – Any time you bake you are going to want to incorporate fat. Olive oil is a healthy fat and also has great flavour. Try to use the best quality you can get. 
Quick Oats – I love cooking with oats. Quick, healthy, gluten-free.
Coconut flour – A great flour alternative and I love the sweet flavour that comes from it. 
Baking soda and baking powder – Helps with the rising!
Salt –  Always use salt in both savoury and sweet cooking!
Cinnamon – I am a big fan of cinnamon. It takes so many baked goods to the next level! 
Shredded Coconut – I love the texture that shredded coconut adds. If coconut is not your jam, no worries, just omit.
Toasted Pecans – Great for texture and flavour
Chocolate chips – I mean, do I really need to explain!?
Tips for nailing this Blondie
Bake the sweet potato the day before. It will end up saving you time and gives the potato long enough to cool fully. 
Use fresh baking soda. Has your baking soda been hanging in the fridge for the last year? You will taste old baking soda. Try to buy new baking soda every 3-4 months and keep it in the cupboard for baking. 
Really pack the mixture into the lined baking pan. This will make the squares stick together better. 
Line your baking pan with parchment paper. 
Print Recipe
(Visited 4,696 times, 1 visits today)