You don't need a full recipe to walk through how to make a quesadilla. Really it's just putting shredded cheese on a tortilla, folding it in half, and pan frying it until the cheese melts. But if you want a little help on how you can take this delicious meal to the next level, well I got you. Let's make an easy super satisfying meal that you will want to put on weekly rotation!
This recipe is an amazing way to use up leftovers. By putting together some cooked chicken, black beans, herbs, any vegetables you have, cheese, and a bit of hot sauce, you are in really good shape for a quick and delicious meal. For me, it's all about packing as much flavour as possible into the tortilla. Don't get too hung up on the exact ingredients I have below. This is the kind of meal that you can use whatever you have on hand.
Healthy Chicken Quesadilla
Print Recipe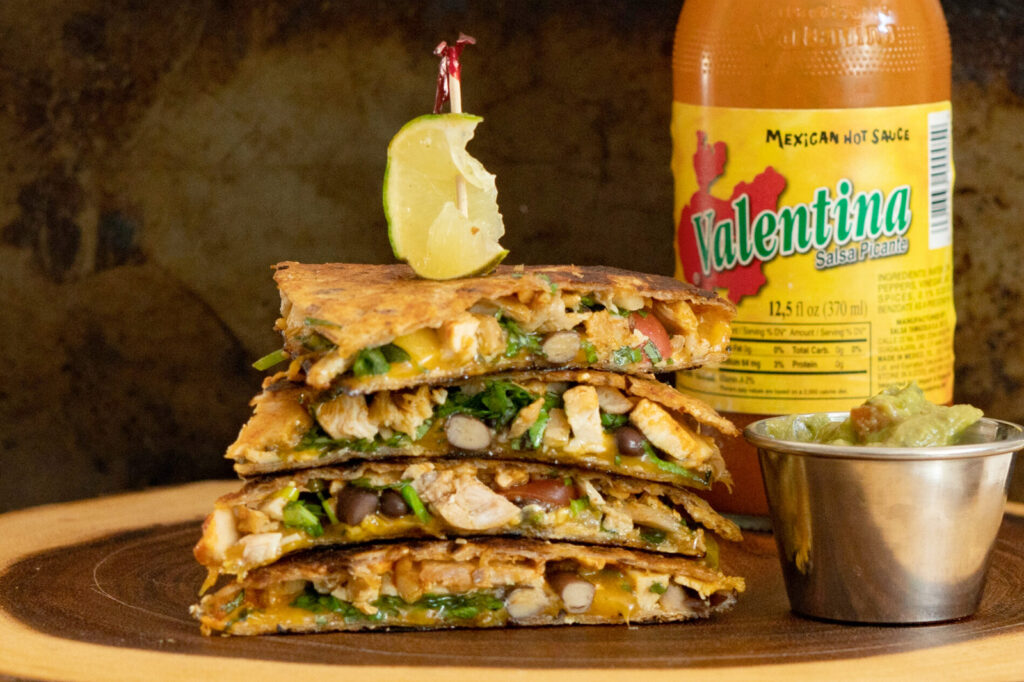 Ingredients
1

large flour tortilla

½

cup

chopped cooked chicken (or any protein you have)

1

tbsp

favourite hot sauce

2

tbsp

chopped fresh basil

1

tbsp

chopped fresh cilantro

2

2 cherry tomatoes, sliced

⅓

cup

shredded cheddar cheese

¼

cup

canned black beans (rinsed)

1

tsp

canola oil for frying
Instructions
Lay the tortilla on a flat surface and smear the hot sauce on one half.

Layer on the chopped chicken, tomatoes, herbs, beans, cheese, then fold the tortilla in half over the ingredients. Using your hand, press down on the quesadilla to get the stuffing nice and compact.

Place a nonstick pan over medium-high heat and add the canola oil. Once the pan is hot, carefully lay the quesadilla onto the pan and let fry until perfectly golden, around 2-3 minutes. Flip and brown the second side.

Remove from pan, slice, and enjoy!!!
Andy's Notes
Quick tips on how to nail your quesadilla
Use a large tortilla. I generally buy flour tortillas, but if corn is more your style that's all good too.
Layer the flavours. I always start with hot sauce, chicken, tomatoes, herbs, beans, cheese. Feel free to add in spices that you love as well!
Get a lightly oiled pan nice and hot before placing the quesadilla into the pan. This will avoid the tortilla from getting soggy and will result in a crispy crunchy crust.
Planning ahead: Quesadilla = perfect meal prep
Beyond being a great way to use up ingredients in your fridge, with a little planning these quesadillas are perfect for meal prep. On Sundays, I will make 6 of these easy quesadillas and let them fully cool before wrapping in tin foil. Pop them in the freezer and then whenever you need a quick meal, throw them in the oven for 15-20 minutes at 400 and boom! Ready to eat with zero effort! The ultimate Dad hack right there!
Print Recipe
(Visited 5,526 times, 1 visits today)