My wife and I are always looking for quick and healthy ways to increase our protein intake especially in the morning. These delicious energy balls are SLAMMED with energy and have about 10 grams of protein per ball. Easy snack to grab on your way out the door. Also bonus is that my kids like them!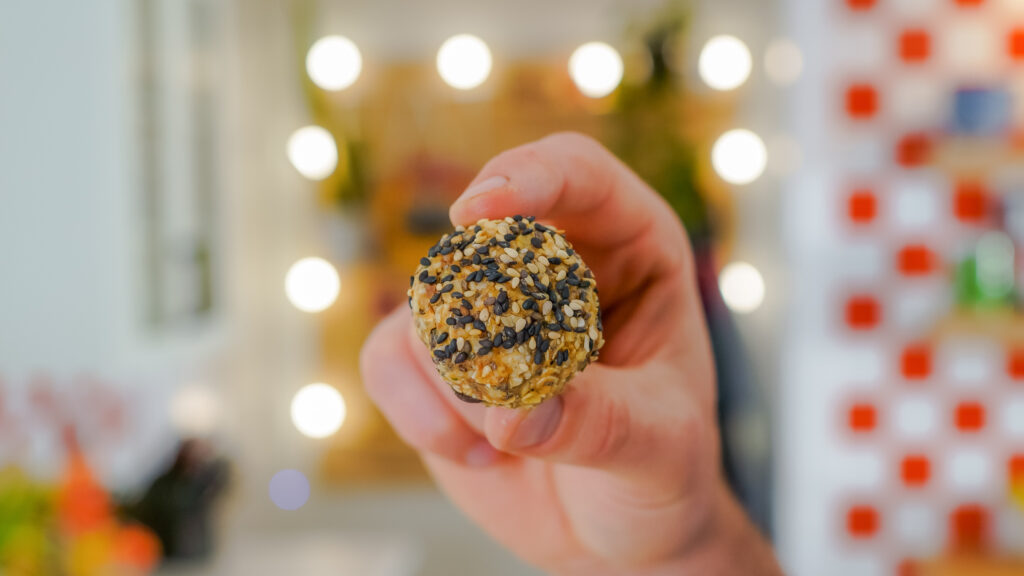 Making these High Protein energy balls is really easy and they don't require much prep at all. Dump all of the ingredients into a bowl and give it a mix. That easy. From there, roll the dough into golf ball sized balls, store them in an airtight container and you are good to go!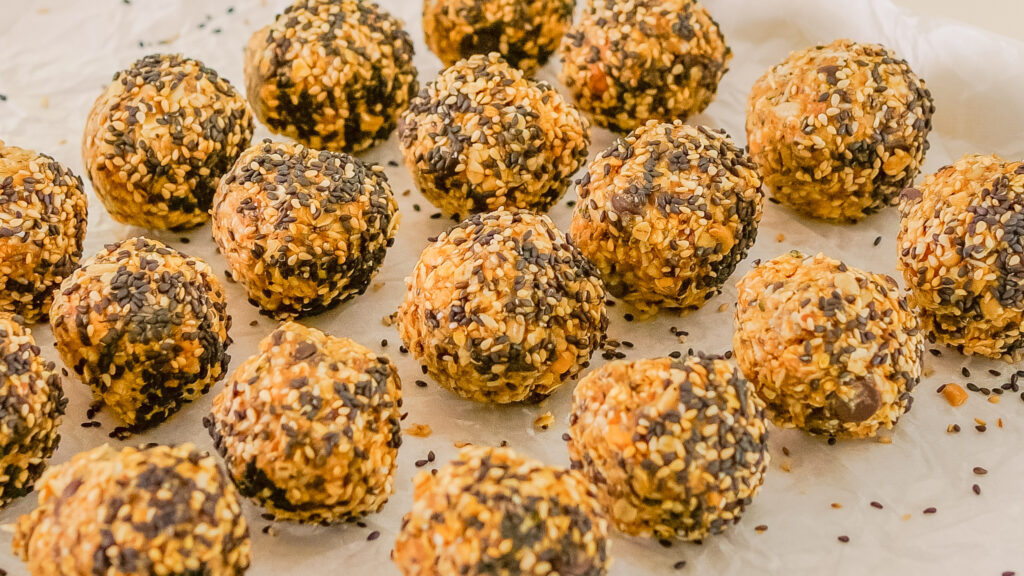 Tips for nailing these energy balls
Nothing complicated with these. I would suggest using a natural peanut butter for these in an effort to keep the sugar content down. Another tip would suggest is lightly dampening your hands with water to help stop the dough from sticking to your hands.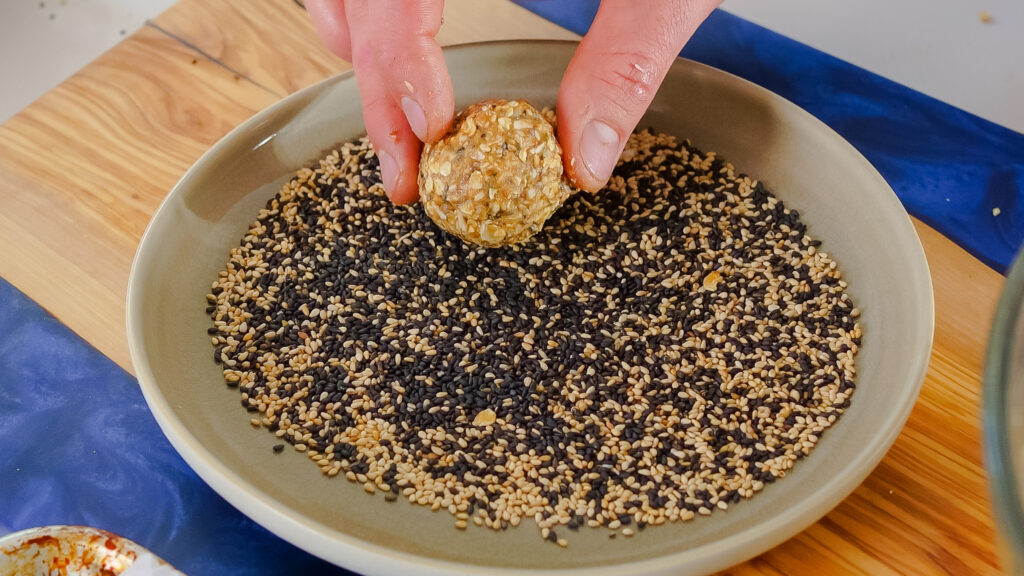 Let's breakdown the ingredients!
When making these high protein energy bites, I wanted to really slam in a ton of healthy nuts and seeds without adding too much sugar. I tossed in chia seeds, hemp hearts, sun flower seeds, unsweetened coconut, flax seeds, and toasted black and white sesame seeds.
The binder I used is natural peanut butter, specifically I am currently obsessed with FATSO brand (no affiliate with them). I also tossed in maple syrup, vanilla, and chocolate chips for flavour. Feel free to get creative here and make them your own!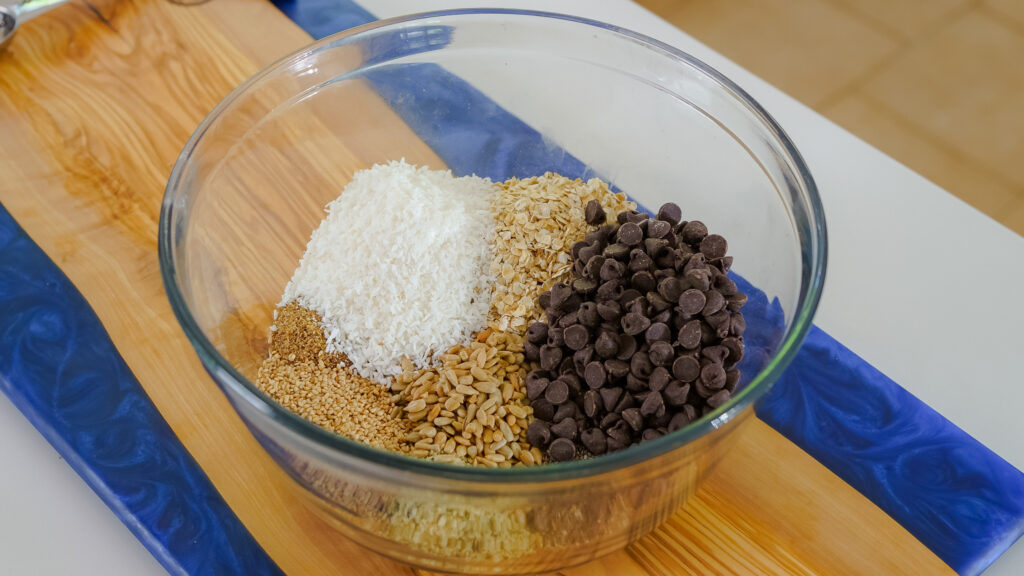 High protein energy bites
Print Recipe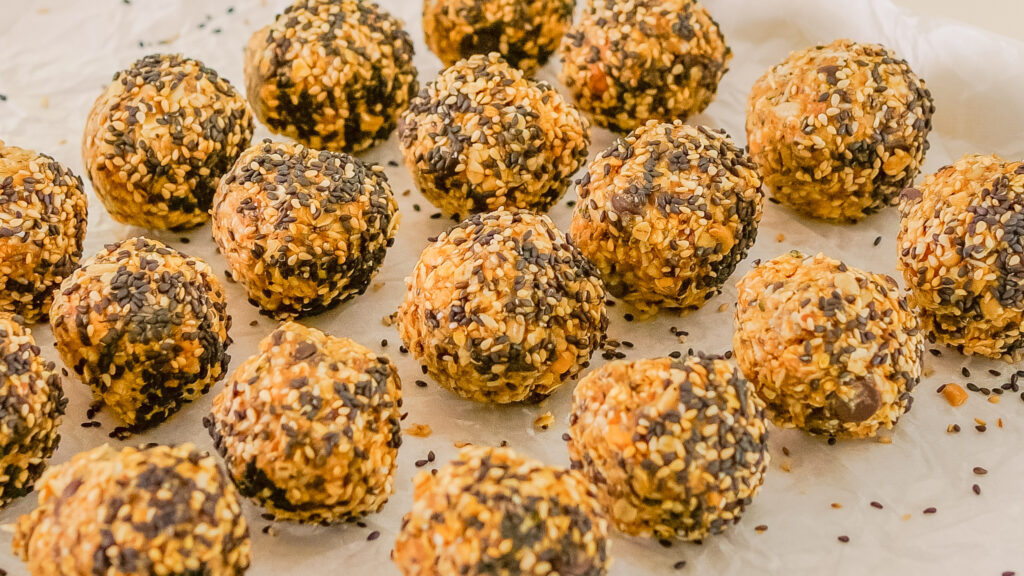 Ingredients
1

cup

natural peanut butter

1/3

cup

maple syrup

Honey works too

1

tsp

vanilla

1 1/2

cup

oats

3

tbs

chia seeds

1/4

cup

ground flax seeds

1/'4

cup

sunflower seeds

1/4

cup

hemp hearts

1/2

cup

unsweetened shredded coconut

1/2

cup

dark chocolate chips

1/4

cup

Black and white sesame seeds
Instructions
In a large bowl mix everything except for the sesame seeds together. Once you have incorporated all the ingredients together roll the dough into roughly 22 balls. Once balls are formed roll them through the sesame seeds. Place in air tight container in the fridge or cupboard. Enjoy!
Print Recipe
(Visited 35,090 times, 7 visits today)