Arguably the top dog in the world of carbs, the almighty bagel is an indulgent treat that is ultimately satisfying. Chewy, toasty, delicious. While it may seem intimating, don't let that little voice inside your head stop you from attempting this relatively easy treat. YOU CAN DO THIS!!
Homemade Bagel Recipe you have been dreaming about.
Print Recipe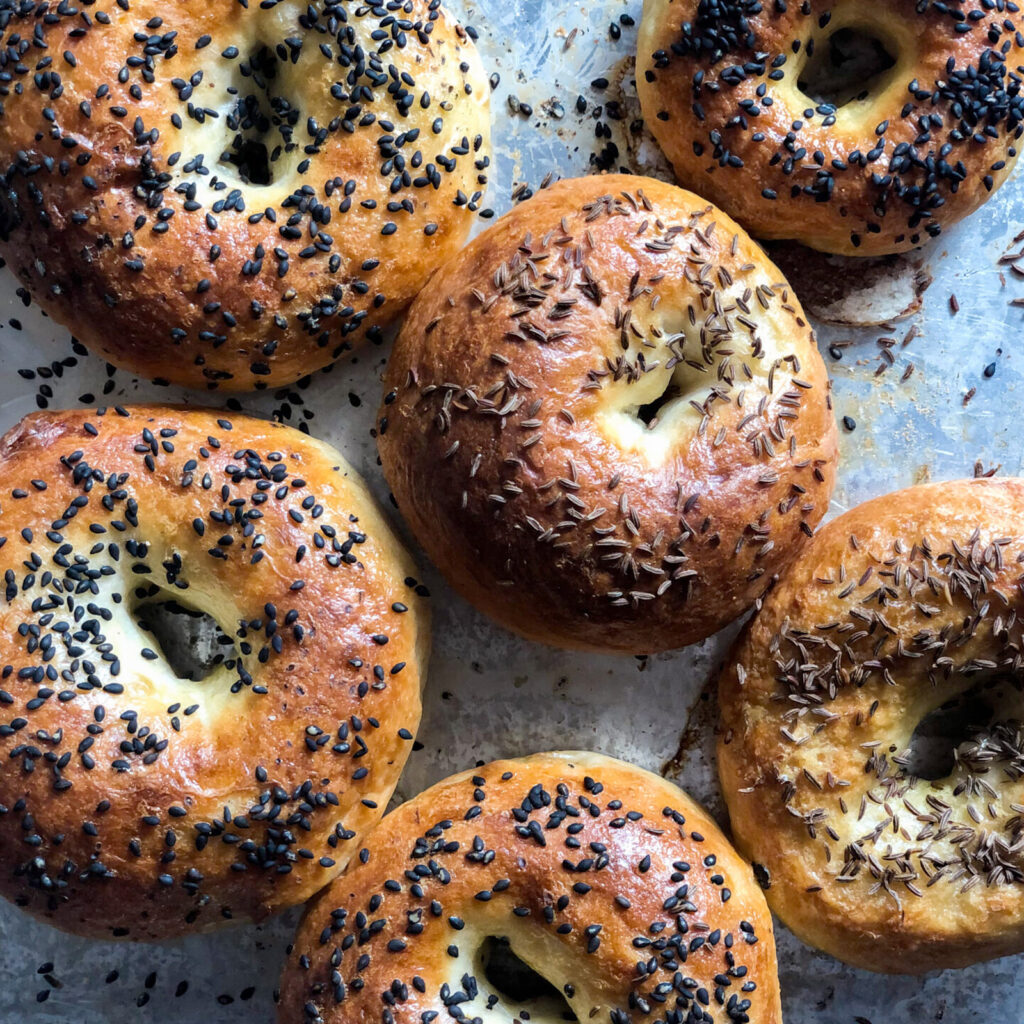 Ingredients
2

tsp

instant rise yeast

1

tbsp

honey

1

cup

plus 5 tbs warm (not hot!!) water

3

cups

all purpose flour

2

tbsp

olive oil

1

tsp

salt

1

egg whisked, for brushing the dough before it goes in oven

2

tbsp

baking soda (put in pot of water)

1

tbsp

sugar (put in pot of water)

Water for large pot

Topping can include black sesame seeds, caraway seeds, everything bagel spice, etc.
Instructions
To start on the dough, combine yeast, warm water and honey in mixing bowl and let it sit there for like 5-10 mins. You want to see the yeast wake up and get frothy. I love the smell of the yeast!

Once yeast is activated, add the flour, olive oil and salt. If you have a mixer, using the dough hook and knead for 3 minutes on high. If you don't have a mixer, sadly…it's by hand. Get going and knead for 7-10 mins or until the dough is smooth. Form into round ball and let it rest in an oiled bowl. Cover for about an hour.

Preheat the oven to 465F; line a baking sheet with parchment paper.

After the dough has doubled in size, punch the air out of the dough. Cut dough into 8 equal pieces. Roll the segments of dough into balls and then let rest for 15 minutes.

After dough has rested, form dough into bagel shape. Do this by pushing your thumb through the centre of the dough and meet your thumb with you index finger. Pull the hole apart to make about an inch wide hole.

Bring pot of water to a boil. Add sugar and baking soda. Once rolling boil has been reached, drop in bagel dough and boil for 5 minutes. Remove from water and let sit on the parchment covered baking sheet.

Before putting in the oven, brush the bagels with the egg wash. Sprinkle with toppings of your choice. Black sesame or caraway seeds are my personal favourites.

Place baking sheet in oven for 15-17 minutes or until the bagels are a rich brown. Remove from oven and let cook. Slice in half and enjoy with cream cheese or as a BLT!
Print Recipe
(Visited 119 times, 1 visits today)