If push came to shove, I'm pretty sure I'd choose a bowl of hot steaming noodles for my last meal. It has everything for me. Aroma, heat, spice, depth, and it takes me right back to my time spent in Vietnam. I picture myself sitting on a tiny plastic stool slurping down a bowl of pho on the side of the road while scooters zoom by. A very special time in my life, and I have to say…this recipe transports me there.
A couple of nights ago we roasted a full chicken for dinner, with the leftover bones destined for soup. I didn't want to go the traditional route so decided to reinvent the flavours I remember from Vietnam and make a pho broth. Obviously, traditional pho is made with beef bones, but given we are in a global pandemic, I decided to make do…
Homemade Beef Pho. A wonderful soul soothing soup you can make at home.
Print Recipe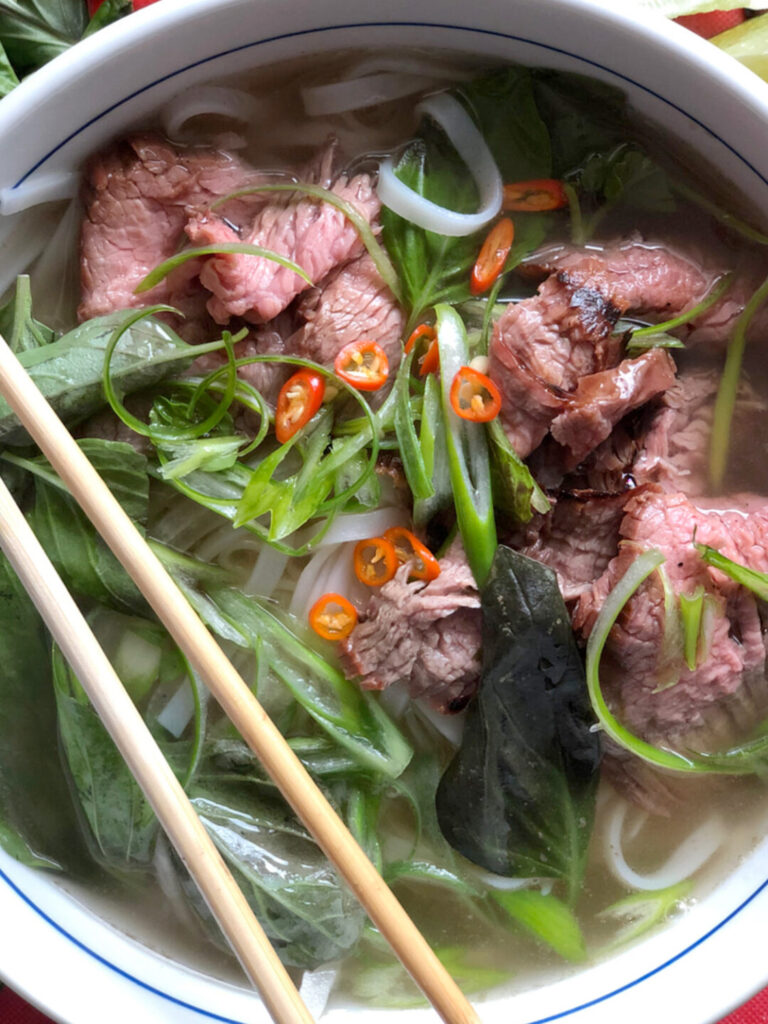 Ingredients
1

chicken carcass with most of meat removed

6

inch

knob of ginger cut in half lengthwise

2

large

red onions, halved

5

cloves

garlic

4

green onions

5

star anise pods

3

cinnamon sticks

2

tbsp

peppercorns

2

tbsp

toasted coriander seeds

½

cup

coarsely chopped cilantro

1

pkg

rice noodles (look for Pho written on bag)

1

piece

beef (I used teres major but use the most tender cut you have)

1

bunch

basil

1

Thai chili per bowl (optional)

salt to taste

2

tbsp

rice wine vinegar

½

cup

bean sprouts per bowl

¼

cup

slivered white onions per bowl
Instructions
Let's get started on the broth. (You are going to need a deep pot that can comfortably fit the chicken carcass.) Place a dry cast iron frying pan over high heat. Once pan is hot add onion, ginger, garlic, and red onions onto the pan cut side down. Do not move them. You are looking to sear everything right now as this adds way more depth of flavour to the broth. Put on the fan! Once they are all nice and charred, add everything to the pot including the chicken carcass, star anise, coriander, cinnamon, peppercorns, and cilantro. Next up add enough water to cover everything by about an inch or two. Turn temperature to high and bring everything to a boil. Reduce to simmer and leave to bubble away for at least 3-4 hours.

After pot has been simmering for a couple hours get back to the final prep for assembling the bowl. Slice white onions paper thin. Pull basil leaves off of the stem. Slice chili peppers if using.

Now it's time to get the beef ready. I used a teres major cut. Start by seasoning the cut with salt and then brushed on about 1 tbsp of hoisin sauce. With the BBQ set to high, sear each side of the meat for 3 minutes. Once done, let the meat rest for 10 minutes before slicing.

Take rice noodles out of package and soak submerged in cold water for 30 minutes. Bring a pot of salted water to a boil and place soaked noodles in for 3-5 minutes or until soft but not mushy. Rinse with cold water and set aside, but nearby.

After broth has simmered for 3 plus hours, strain and put liquid back into a clean pot. Now is the time to season to taste. Add in 1-2 tbsp of salt, 1 tbsp of rice wine vinegar, and a squeeze of lime. Take your time here to find a balance of flavours that you enjoy.

Plate up! Ok, in a deep bowl place in a good sized handful of noodles first. Next up, add the beautifully sliced beef, white onions, basil, chilies, bean sprouts, and any other herbs you want to use. Pour boiling hot broth over noodles and enjoy immediately!
Print Recipe
(Visited 1,080 times, 1 visits today)