There is no other dish or drink that screams the holiday season more than Eggnog. Creamy, rich, and perfect for a snowy evening around the holidays. Give this one a try!
Let's Breakdown The Ingredients!
Eggnog is a classic winter holiday drink that is a favourite every year! I wanted to share my homemade eggnog with you.
For this recipe, you will need 6 large egg yolks. In the drink, eggnogs, you don't need to use the entire egg to make this deliciously creamy and warm-flavoured drink. Egg whites are not needed since they don't have a practical flavour to them, but egg yolks have a buttery and fat player.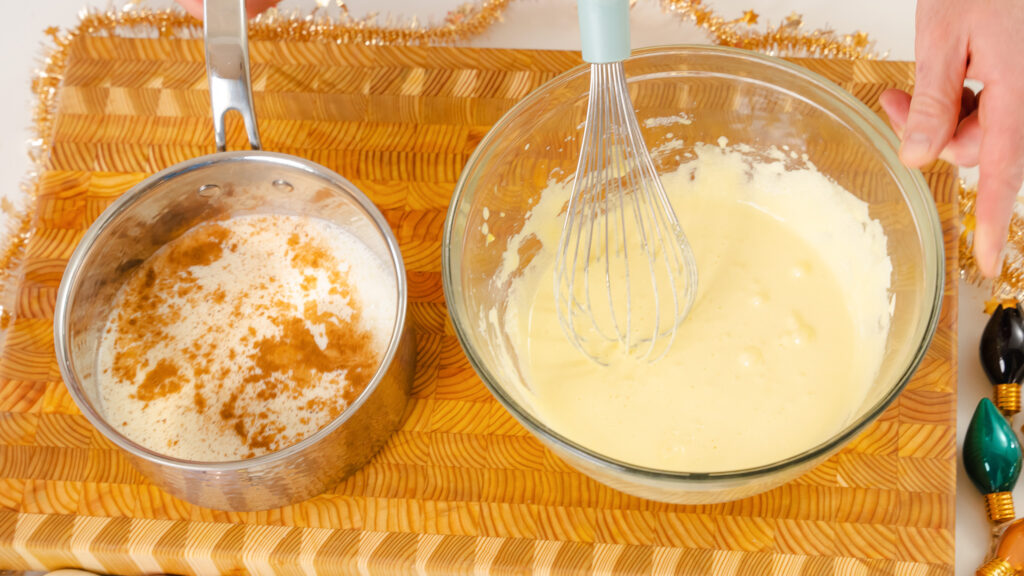 The 3 liquids I used for this recipe were milk, heavy cream and vanilla extract. Milk has a slightly sweet and salty taste to it due to the natural lactose in it. Heavy creamy is rich in flavour but not sweet, and it is a great ingredient to help thicken the constituency of the drink. And the vanilla extract is a great way to add some flavour and a beautifully balmy, floral aroma.
To sweeten the drink, I added sugar. And I also added nutmeg and cinnamon to add some warmth and spiced flavours.
To give this drink an extra special kick, you can add bourbon or rum when making it!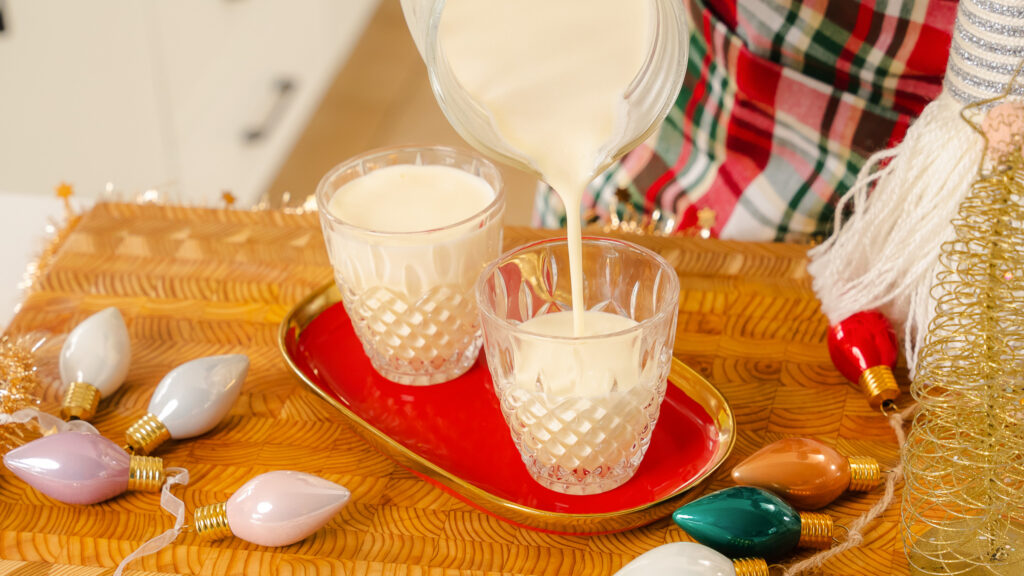 Give this delicious holiday drink a try and let me know what you think!
Homemade Eggnog
Print Recipe
Ingredients
6

Large Egg Yolks

¾

cup

Sugar

2

cups

Milk

½

tsp

Nutmeg

1

tsp

Cinnamon

1

cup

Heavy Cream

1 ½

tsp

Vanilla Extract

Burbon or Rum Optional
Instructions
In a large bowl whisk together egg yolks and sugar until the the mixture becomes a light and pale yellow.

Pour the milk, nutmeg, and cinnamon into a medium saucepan, and place over medium heat. Gently increase the temperature of the liquid until the sides of the milk start to lightly bubble and steam. Do not bring to a boil!

Once milk is heated to a gentle simmer, pour ¼ cup of the hot milk into the sugar and egg mixture while stirring constantly. Slowly pour more of the milk mixture into the egg and sugar mixture. Don't rush this process as if you go too quickly you will cook the eggs too fast.

Once you have added all of the milk mixture into the eggs and sugar, pour the mixture back into the pot and place over medium low heat. Constantly stir with a wooden spoon, until the mixture begins to thicken slightly, and coats the back of the spoon. It helps to have a candy thermometer, but not necessary; if you have one, cook until the mixture reaches 160°F. Do not allow the mixture to boil, or it will curdle. (If the mixture does curdle you may be able to save it by running it through a blender.)

Once mixture is coating the back of the spoon, remove from heat and stir in the 1 cup of heavy cream. Now allow the mixture to cool for about an hour.

After the mixture has cooled add in the vanilla extract, and rum or bourbon if you are in the mood.

Serve with a cinnamon stick and holiday vibes! Enjoy!
Print Recipe
(Visited 2,388 times, 1 visits today)