With help from my great pals over at Fisherman's Market, I came across some amazing sushi grade tuna this week. While I don't make sushi often, it's always an entertaining, interactive event. Something to keep us busy while isolating!!
My wife Jess thought it would be fun to make sushi with friends this weekend over ZOOM! I am a mere puppet to her producer ways. She thinks sushi is the call? We do it!
Here is the breakdown. I will include ingredients, but check out my Instagram highlights for a how-to on making the sushi rolls themselves.
Homemade Spicy Tuna Roll. Enjoy sushi at home!
Print Recipe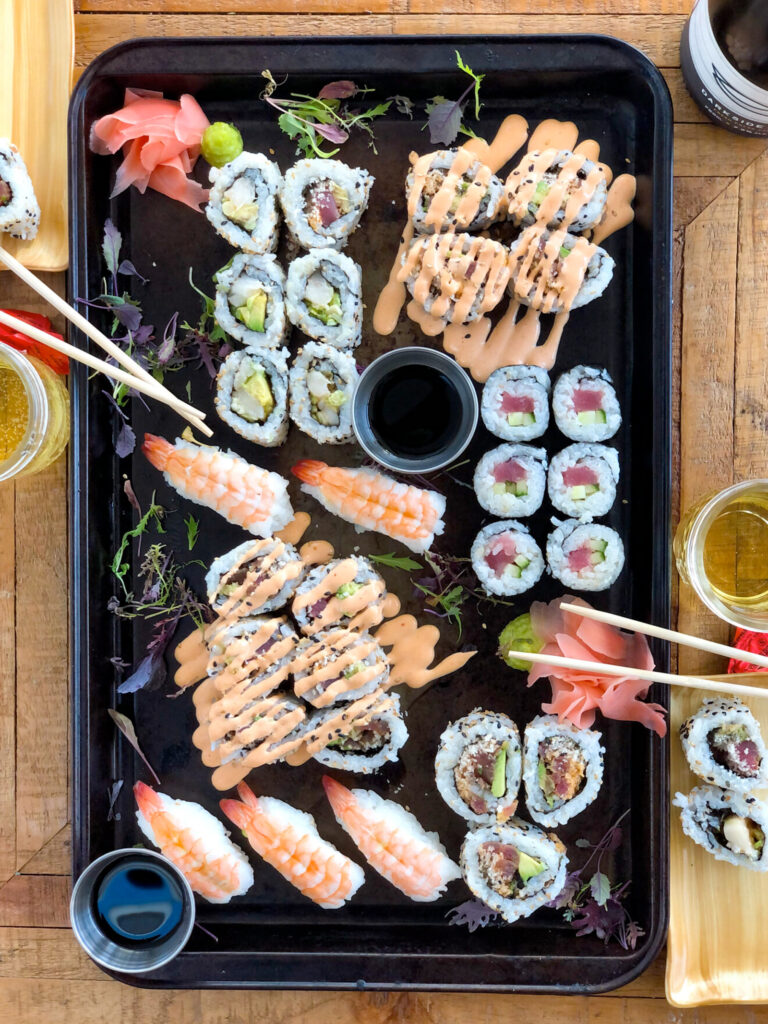 Ingredients
Sushi Rice
2

cups

sushi rice

3

cups

water

¼

cup

rice wine vinegar

2

tbsp

sugar

1

tsp

salt
Tuna Mixture
1

sushi grade tuna (depends on how much you want)

½

cup

green onions, diced

3

tsp

soy sauce

2

tsp

rice wine vinegar

2

tsp

sesame seeds

1

tsp

honey

2

tsp

sriracha

1

avocado thinly sliced
Spicy Mayo
½

cup

Japanese kewpie mayo

2

tbsp

sriracha
Instructions
Get started on the rice. Rinse really well before boiling it: place rice in large pot and pour in a bunch of water. Using your hand, move the rice around. Strain through a fine strainer. Repeat 3 to 4 times. Now add in 3 cups of water, the rice wine vinegar, sugar, and salt. Bring to a boil and cover, turn heat to low for 18-20 mins. Remove pot from heat and spread rice on baking sheet to cool. It's now ready to roll with.

Next up, dice the tuna into small cubes. Take your time here. You want the cubes to be fairly small. In a bowl, add all ingredients listed under "Tuna Mixture". Mix together and keep in fridge until ready to roll sushi. This dish right now is amazing tuna tartare and is delicious with Miss Vickie's plain chips…you're welcome!

Spicy mayo. Couldn't be easier. Mix kewpie and sriracha. BOOM! Now roll up some sushi. Watch my Instagram post to see how!!!
Print Recipe
(Visited 475 times, 1 visits today)