Warm, soft, chewy, these hot crossed buns are a lovely weekend treat. Traditionally an Easter Weekend snack for my family, I have now started making these year round as I just love the smell and taste. Perfect baked good to enjoy with a nice cup of coffee on a weekend morning.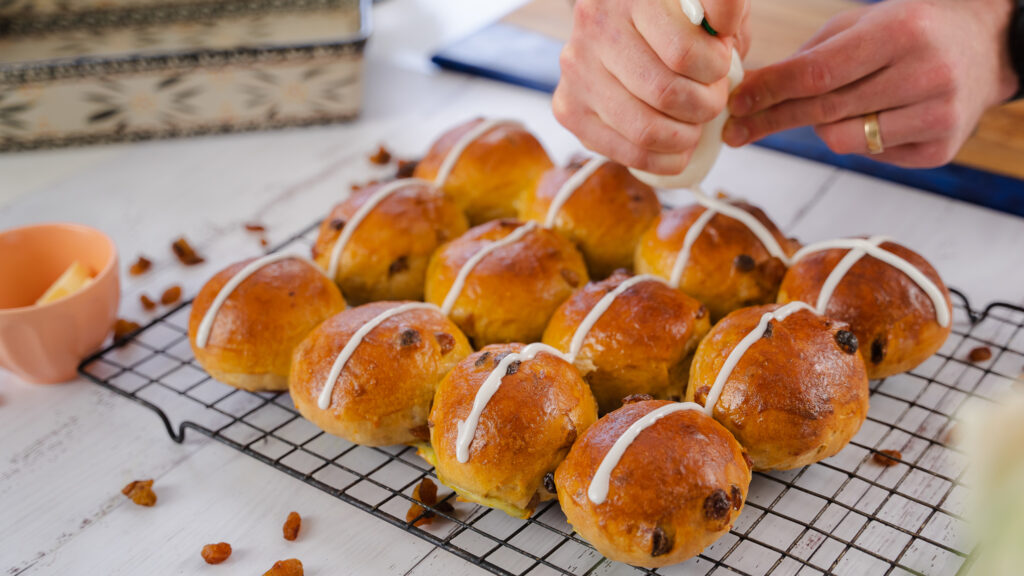 Homemade Hot Crossed buns
I love baking projects that leave you with a immense amount of pride when you finish making them. These hot crossed buns give you that pride in spades! While you could buy store made hot crossed buns, they have a certain taste that you can just tell that they came from a store. So while this recipe is an involved one, you can taste the difference!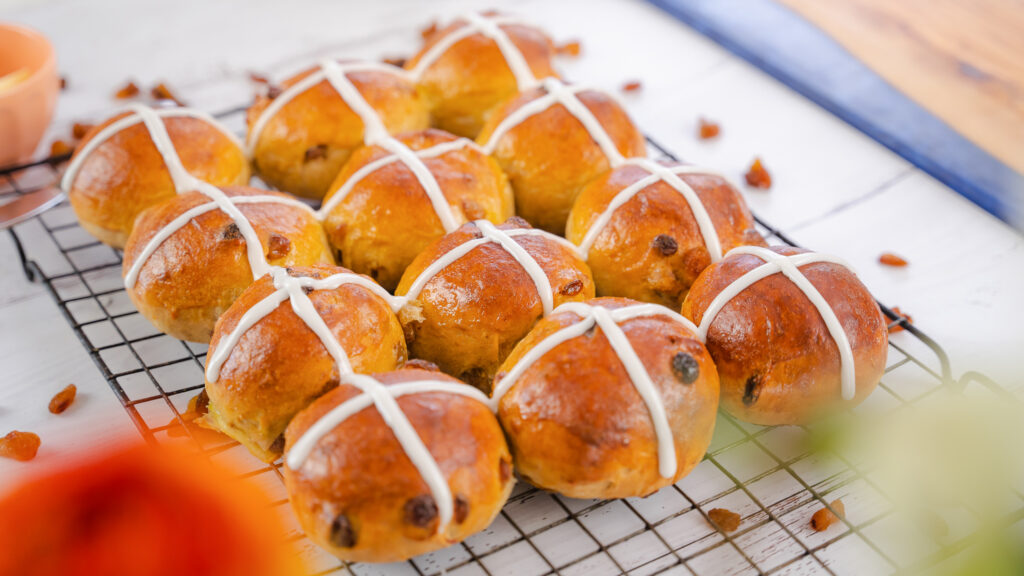 Ingredients you will need for this recipe
Dry Active yeast. Yeast is what causes flour based recipes to rise. Don't be intimidated by recipes that have yeast in them. Follow the steps below and you will be all in the clear!
Bread flour- Bread flour has higher protein which results in a lovely crumb and chewier texture. If you don't have bread flour, no sweat, standard flour will work just fine.
Raisins. Feel free to use what ever dried fruit you like, but my go to is sultanas raisins.
Spices- The wonderful of these hot crossed buns comes from the cinnamon, nutmeg, and ginger. The aroma from these warm spices fill your home while these are baking.
Milk- I use whole milk as it adds fat content, but you can substitute.
Orange zest- Optional addition, but I love the subtle orange flavour that comes through.
Icing vs flour paste cross
There are two options when it comes to adding the "cross" to your hot cross buns. Traditionally it is done using a flour + water paste and piping the cross on before baking. I have tried this method, but I personally prefer adding on a basic icing after baking. I enjoy the sweetness and I like the look. Choose your own adventure!
Hot crossed buns
Print Recipe
Ingredients
3

tsp

Active dry yeast

1/2

cup

sugar

2

cups

whole milk, warmed

4 1/2

cups

bread flour

all purpose flour is fine!

2 1/2

tsp

cinnamon

1/2

tsp

ginger

1/4

tsp

nutmeg

1/2

tsp

vanilla

1/2

tsp

salt

1 3/4

cups

raisins

1

tbs

orange zest

3 1/2

tbs

melted butter

1

egg
Icing
3

cups

powdered sugar

2

tbs

milk
egg wash
1

egg, scrambled

1

tbs

milk
Instructions
Add flour, sugar, yeast, cinnamon, ginger, nutmeg, and salt to a bowl and give it a whisk.

In a small pot, gently heat up the milk and add in the butter and vanilla. Pause and enjoy the smell. Once milk is gently warmed, pour the milk mixture into the flour mixture. Give a quick mix and then add in the egg, orange zest, and raisins. Mix together with wooden spoon until a shaggy dough begins to form.

Once dough has begun to come together, pour onto lightly floured counter top. With your hands (or using a stand mixer attached with a dough hook) knead the dough until smooth. Really work it here. It will take about 10 minutes. Once dough is smooth, pop it into a lightly oiled bowl and cover with a tea towel or plastic wrap. Place somewhere warm and allow to rise for 90-120mins or until dough has doubled in size.

Once dough has doubled in size punch out the air and pour dough onto counter. Divide dough into 12 equal parts and roll into a round ball. Place all 12 balls onto a parchment lined baking sheet, and then cover with a tea towel or plastic wrap for a second rise. Let rise for 40 minutes. While dough is rising, preheat the oven to 350.

Before placing buns in oven to bake, brush each bun with the egg and milk wash with a pastry brush. This will give the buns a lovely deep brown colour.

Once egg wash has been brushed on, place buns into oven for 23-25 minutes.

While the buns are baking add icing sugar and milk it a bowl and stir. The icing should be quite stiff. If runny, add more icing sugar. If to stiff add in a tsp of milk at a time. Once desired consistency has been reached, pour icing into a plastic sandwich bag and cut a tiny hole in one of the corners.

Once buns are deep brown, remove from oven and allow to cool for 10 minutes before piping on the icing in the shape of a cross. Don't rush that process as if the buns are too warm the icing will melt.

Enjoy with a nice cup of tea on a Sunday morning!
Print Recipe
(Visited 3,860 times, 1 visits today)