The East Coast Quarantine Kitchen is all about making do with what you have on hand. While I didn't have all the desired ingredients, we made it work, and I think the results were amazing! I'm really proud of this dish as I honestly cooked using only what was in the fridge/cupboard. Wildly delicious…even scored an 8.75/10 from my wife, producer Jess, who is a very tough critic. Let's do this!
The Quarantine Kitchen's Indian Chicken Curry. This is a must try.
Print Recipe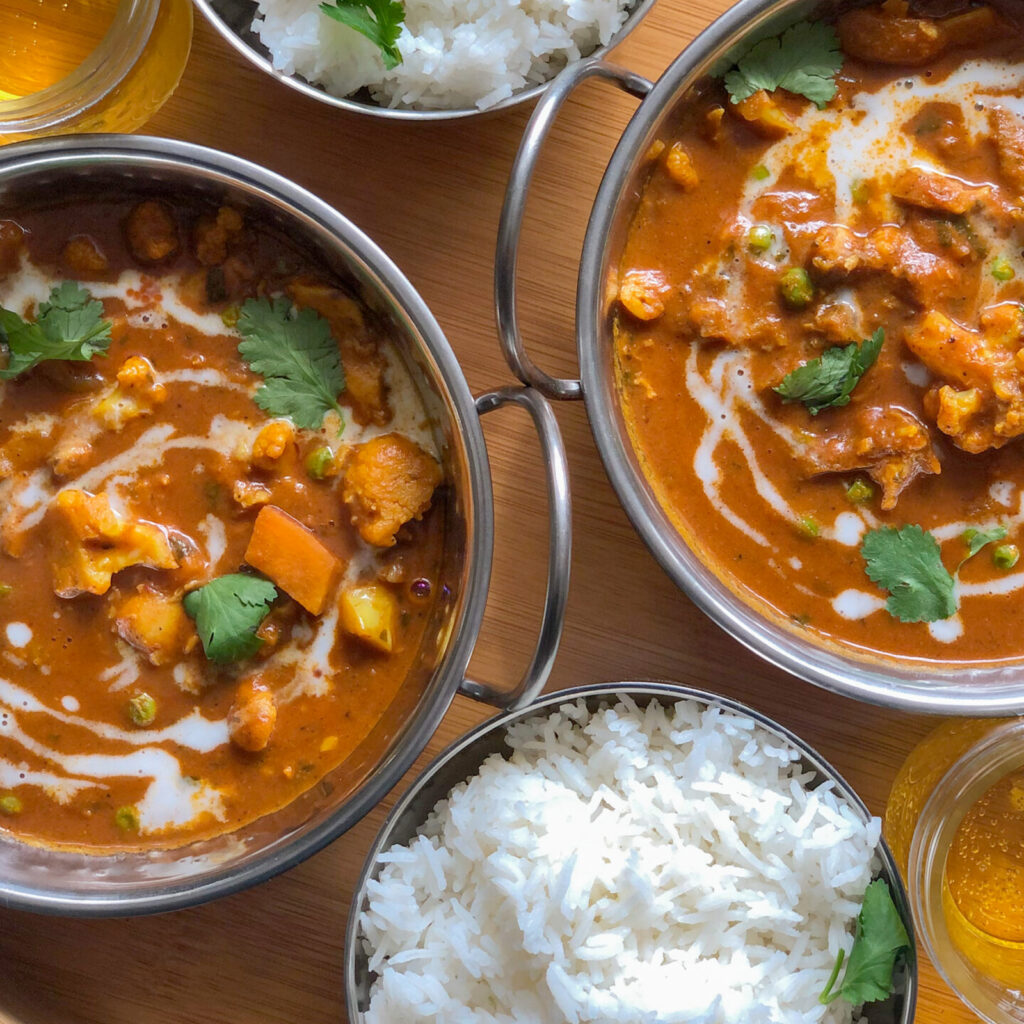 Ingredients
1

white diced onion

4

cloves

garlic, minced

1

inch

ginger, minced

½

cup

chopped cilantro

6

bone-in skin-on chicken thighs

1

tbsp

coconut oil

2

tbsp

butter

1

tbsp

chicken fat

5

green cardamon pods

1

black cardamon pod

1

cinnamon stick

½

tsp

cumin seeds

2

tbsp

turmeric

6

tbsp

garam masala (will season chicken with some of this amount)

1

tbsp

ground fenugreek

1

tsp

kashmiri chili powder

1

tbsp

salt

½

tsp

fenugreek leaves

2

tbsp

cumin powder

2

tbsp

powdered coriander

½

cup

chopped cilantro

1

can

crushed tomatoes

2

cans

coconut milk (half can used for finishing dish)

¼

cup

tomato paste

1

cup

chicken stock (preferably homemade)

Juice of ½ a lemon

1

sweet potato diced

½

cauliflower chopped

½

cup

frozen peas

2

cups

basmati rice
Instructions
Turn oven to 450F. Place chicken thighs on a sheet tray; season with salt, garam masala, cumin, coriander powder. Put in oven for 60 minutes.

Let's kick on with the rice. Rinse 2 cups of rice, then add to a pot and pour in 4 cups of water. Place pot over high heat and bring to a boil. Cover and turn heat to low for 12 mins. After 12 mins remove from heat and keep covered until ready to serve.

Ok, curry time. Dice up onion, garlic, ginger, and cilantro. Place large heavy bottomed pot over medium heat and add in fats (chicken fat, coconut oil, and butter). Once everything is melted, add in green and black cardamon pods, and cinnamon stick. Let these spices "wake up" for 2 mins and then add in onion, garlic, ginger, and cilantro. Stir frequently and enjoy the smell!

After onions are transparent, add in spices (garam masala, salt, turmeric, ground fenugreek seeds, kashmiri chilli, cumin, coriander). Stir and allow the spices to soak up the fats and again, enjoy the smell!

After about 3 minutes, add in the tomato paste. Stir until all spices are incorporated. Now add in the can of crushed tomatoes (28oz), 1 1/2 cans of coconut milk, 1 cup of high quality stock. Let everything simmer and get to know each other. Maybe give things a taste and see if you need to add in any more spices.

Dice sweet potato and cauliflower and throw them in the pot. This is a great time to add the lemon juice. Give it a taste. Missing anything? Feel free to season to YOUR taste. That is the key to cooking. Trust your palate. Let everything simmer for 20 mins or until the chicken is ready.

Once chicken is ready, pull from oven and roughly chop. Add to curry and again let simmer for another 5 minutes. Right before serving, add fresh cilantro and garnish dishes with a swirl of coconut milk.

Enjoy with a crisp beer or cider.
Print Recipe
(Visited 1,020 times, 1 visits today)