Wow. Peaches this time of year in Canada are INSANE! After reading this, immediately go and buy some. They are perfect for such a short season and are arguably the best fruit out there!
I love the flavour of grilled peaches. The char and caramelization take the flavour to a whole new level. And you know how mych I love to match sweet and savoury together, so that is why this sandwich hits so many notes for me. Curried jerk spice chicken, salty bacon, zippy mayo, sweet charred peaches, grilled bread. It's got it all. And if you are trying to avoid bread, just make this into a salad or power bowl. Also the leftovers are INCREDIBLE!
I loved making this recipe, and especially pumped about using my new charcoal grill that I got from the House of BBQ Experts @bbqexperts. Check out their site! They have an amazing selection of spices and sauces too. They sent me some banger spices that I am in love with. Their Jamaican Jerk, and the Honey Mustard are INSANELY good – must trys! They have every bell and whistle you could imagine for grilling. Don't let the grilling season slip through your fingers!!
Best Sandwich Ever! Curried Jerk Chicken, Grilled Peach, Bacon, Avocado, Garlic Mayo on Grilled Bread.
Print Recipe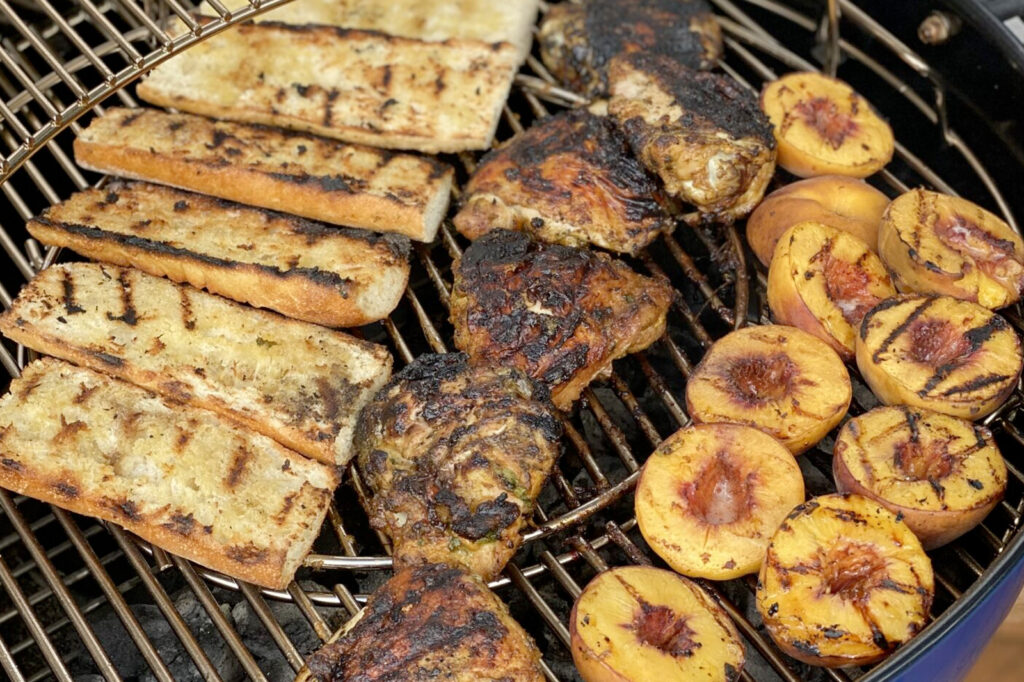 Ingredients
Marinade
3

tbsp

curry powder

2

tbsp

onion powder

2

tbsp

BBQ Experts Jamaican Jerk spice

¼

cup

chopped cilantro

1

tbsp

salt

Juice of 1 lemon

2

cloves

garlic, minced
Rest of the sandwich
2

pieces of bacon per sandwich

6

peaches, halved with pit removed

1

avocado, sliced

2

baguettes. Cut each baguette into 3 pieces and slice in half lengthwise.

Olive oil for bread

½

cup

mayo

2

cloves

minced garlic
Instructions
First things first let's start with the chicken. In a large bowl add in the chicken and all of the ingredients for the marinade. Massage marinade into the chicken and let rest in the fridge for at least an hour, or overnight.

Since we have a free moment here, let's quickly put together the garlic mayo. Simply mince the garlic and mix with the mayo. Let sit until ready to assemble.

Once chicken is marinated, start the grill and let the temperature come up to around 400 degrees. Place the chicken skin down on the grill for 3-5 minutes or until crispy. Flip chicken over and let grill on medium low for 15-20 minutes or until the chicken is fully cooked.

While the chicken is finishing cooking, place peaches flesh side down and let caramelize over high heat. You want to see those grill marks.

Once chicken and peaches are ready, remove from the grill. While the grill is still hot, drizzle bread with olive oil and place on grill until crispy.

We made it! Now time to assemble! Smear the garlic mayo onto the crispy bread, then layer on the chopped chicken, bacon, sliced peaches, and avocado. Get a napkin and dig in as this is gonna be messy!
Print Recipe
(Visited 493 times, 1 visits today)