This is a fun little dish for you folks! It's spicy, savoury, and funky! Kimchi fried rice is the perfect recipe to make when you need to use up your leftover rice. It hits all the flavour notes and is super satisfying!
It is a great dish to gobble down with a couple of cold, crisp beers!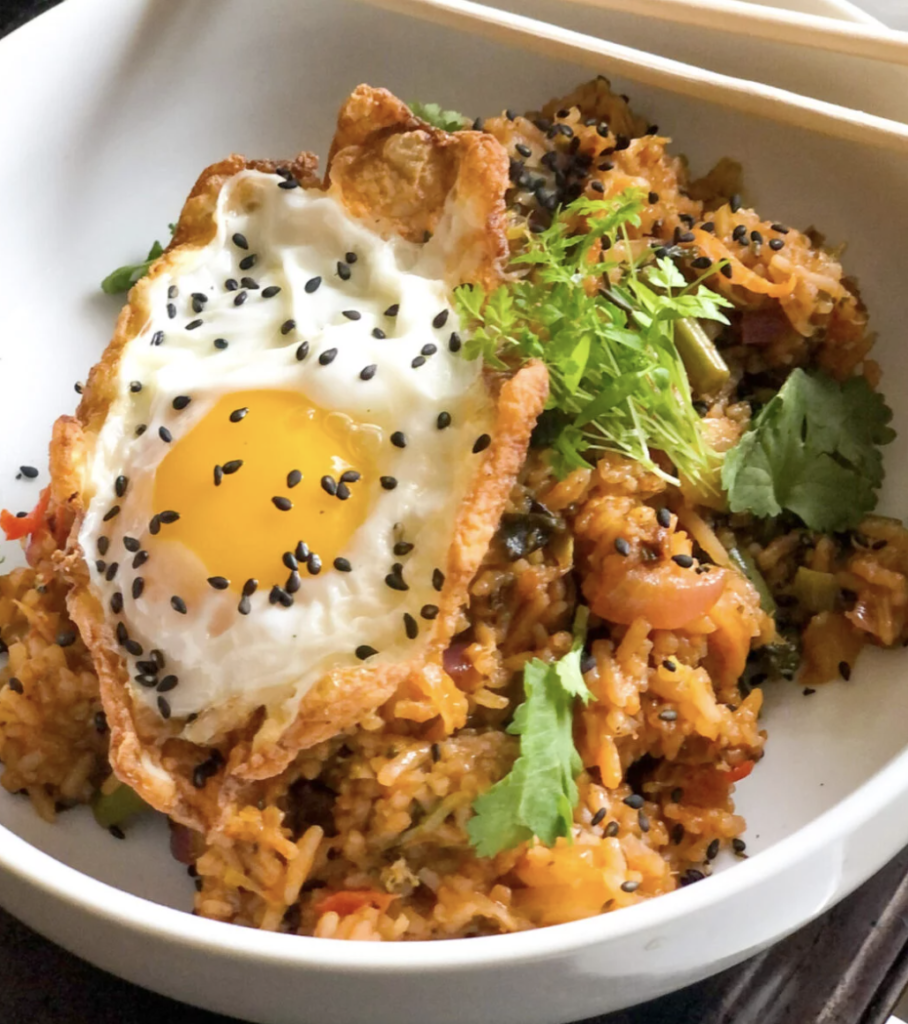 Let's Breakdown The Ingredients!
Kimchi fried rice is easy to make and packed with tons of delicious flavours. This dish is so delicious that you will be craving it weekly!
Leftover rice is the key to making a bowl of amazing fried rice. The rice grains will firm up overnight in the fridge, making it easier to separate and decreasing the chances of the fried rice becoming mushy.
This dish is made with ingredients that add a strong but delicious flavour!
Garlic and grated ginger have a subtle combination flavour that elevates the dish with spicy and earthy flavours!
The red Thai chilli adds a bit of heat to the dish with a moderate to a hot level of spice. The chopped kimchi is extremely important to this recipe. It is a traditional fermented Korean side dish made with vegetables that have sour and spicy flavours to the vegetables.
The green onions have a mild and gentle flavour compared to onions. And the basil has a flavour balance between sweet and savoury with hints of mint, anise and pepper flavours.
Remember, fried rice is a great dish where you can add for favourite ingredients. So don't be shy in adding any veggies you have kicking around your fridge!
I added a bit of bacon to add protein and a slightly salty taste to the dish.
For the sauce that takes this kimchi fried rice to the next level, I used rice wine vinegar, fish sauce, soy sauce, and gochujang.
Rice wine vinegar has a sweet and acidic taste, similar to apple cider vinegar. On the other hand, fish sauce has a fishy and salty taste. And soy sauce has a nice balance between sweet, salty, and a bit of a bitter flavour!
Gochujang is a Korean fermented pepper paste that adds a deep savoury flavour to the dish.
I love to garnish my kimchi fried rice with a sunny-side-up egg and some sesame seeds! These are optional, of course, but they take the dish to another level!
Kimchi Fried Rice – Spicy, sweet, craveable and so damn good
Print Recipe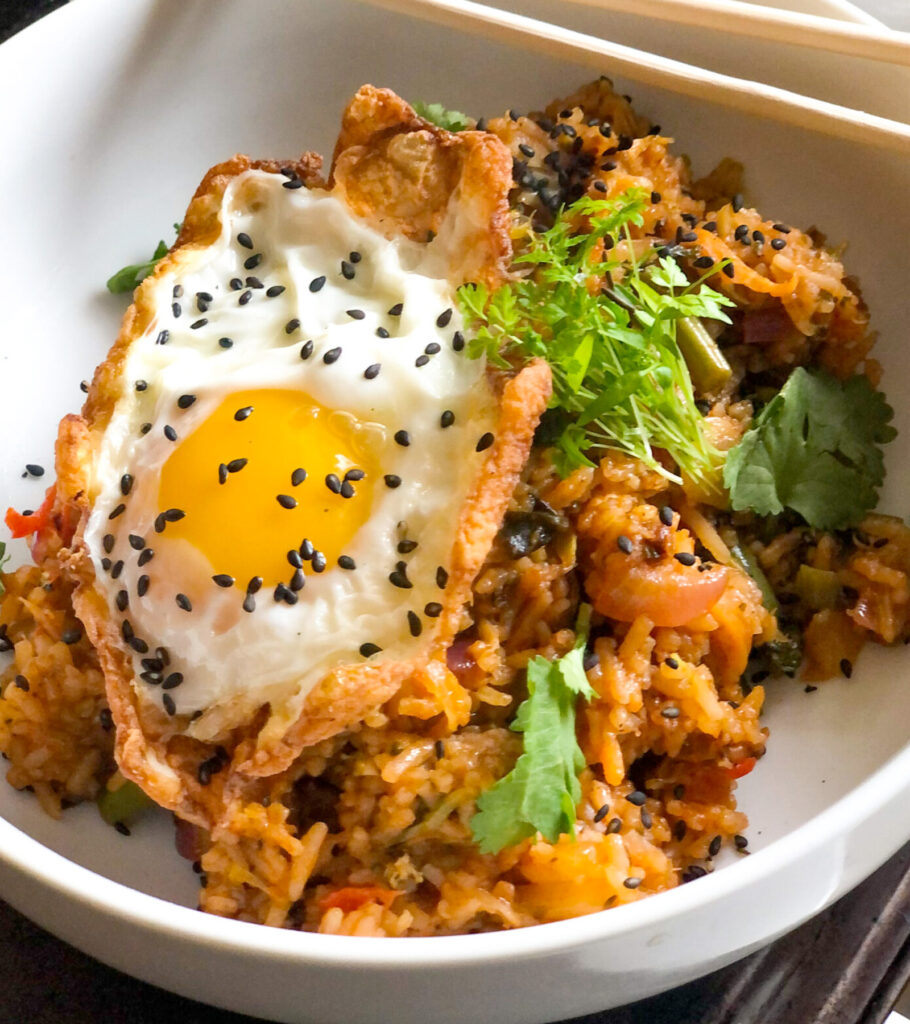 Ingredients
2

cups

left over rice

2

cloves

garlic

1

red thai chilli

½

inch

grated ginger

2

tbsp

gochujang (Korean red pepper paste.. A must have.. Go buy it right now)

2

tbsp

rice wine vinegar

3

tbsp

soy sauce

1

tsp

fish sauce

½

cup

chopped kimchi

1

fresh egg

¼

cup

chopped green onion

3

basil leaves

1

tsp

white sesame seeds

2

cups

chopped up veg (whatever you got!)

3

strips

bacon, diced
Instructions
Dice bacon and add to pan over medium heat. Allow the fat to be rendered and remove bacon once crispy.

While bacon is rendering, dice up onion, garlic, ginger.. and while you are at it might as well chop the kimchi and any veg you are wanting to use. Just have a look in the fridge and use what you have.

In a bowl mix together the gochujang, rice wine vin, fish sauce, and soy. Stir until totally incorporated.

Keeping pan on medium heat, add in the garlic, ginger, onion into the pan. We are looking to sweat the onions down, so avoid browning them. Once onions are translucent, add in the rice. Stir to incorporate. Turn heat to medium high.

Once rice and aromatics are fully stirred, add in the veggies, kimchi, and crispy bacon. Stir together. Now pour in the sauces from the bowl. Continue stirring and keep heat high

When I was in south east asia, one of my favorite things was when they would add a fried sunny side egg up on top of a dish. The egg would be added into a ripping hot pan that has a lot of veg oil in it. The egg would scream and bubble and burst, and get this amazing brown crispiness to it. So do that!

Serve the rice in a funky bowl, top it with the fried sunny side egg, black sesame seeds and green onion. A cold beer wouldn't hurt with this either
Andy's Notes
Boom. Done. Now crack a light beer and enjoy this seriously addicting dish.
Print Recipe
(Visited 1,965 times, 1 visits today)