Risotto is one of those dishes that basically everyone likes. It's kinda fancy, but also super approachable. I also find it a great platform to showcase the amazing seasonal produce we have here in Nova Scotia during the spring and summer months. Peas, asparagus, squash, corn…the options are endless! I generally serve my risotto with seared scallops and crispy pancetta – it really turns it into a main course loved by all.
It's a great dish to have in your arsenal. Give it a go!
Lemon asparagus summer risotto
Print Recipe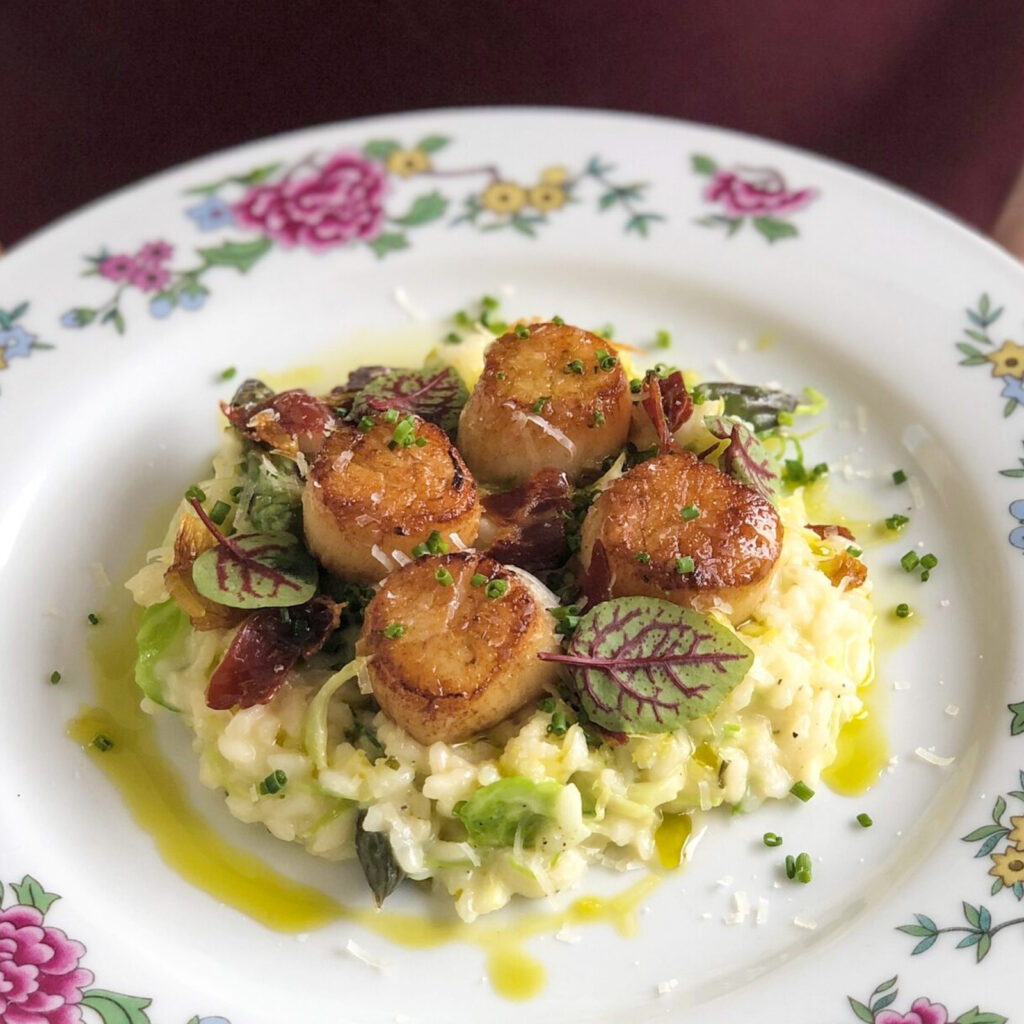 Ingredients
1

pack

arborio rice

2

litres

vegetable or chicken stock

⅓

cup

dry white wine

4-5

large

cloves of garlic

2

medium

shallots

½

cup

fresh thyme

2

tbsp

fresh rosemary

1

lemon juiced

1

bundle

asparagus

4-5

large

brussels sprouts shaved

6

tbsp

butter

1

pack

prosciutto

4

scallops per person

salt and pepper

1

tbsp

canola oil
Instructions
To clean asparagus all you have to do is hold the tip end in one hand and gently apply pressure on the other end of the stock until it snaps. In a large pot of salted water, blanch asparagus until tender, 1-2 min. Shock in ice water to stop the cooking process.

Using a sharp knife, carefully shave the brussels sprouts into thin delicate ribbons and set aside.

Remove skins from garlic and shallot and give a fine chop to both. Clean thyme and rosemary and give a similar chop. Set aside.

In an oven at 350F, bake your strips of prosciutto until crispy, 4-5 min.

In a large heavy bottomed pot on medium low, add canola oil, garlic, shallot, thyme, and rosemary. We want to gently sweat them allowing only a small amount of brown to form on the bottom of the pot. After you have cooked down the aromatics, add the package of rice (If you don't have a large enough pot, do this step in two batches) constantly stirring and moving the rice around to allow an even toasting and coating of oil, 2-3 min.

After 2-3 min. of toasting, deglaze the pot with white wine.

This is the fun part. Pour your stock in a medium pot and gently warm it up. With a ladle, pour small amounts of stock into the pot, making sure you are still stirring so no rice sticks to the pot. Keep adding and allowing the stock to cook off and be absorbed by the rice. Depending on your heat, this process can take some time, 15-20 min.

Your rice is starting to stick together, you can see it becoming creamy. The consistency should be soft and creamy but still have a slight bite to it. We want creamy-dreamy not mush.

Cut asparagus stalks into thirds. Add them and the shavings of sprouts and parm to the almost finished risotto. If too thick (not so creamy) thin it it out with a little more stock. Add lemon juice at the last second.

Sear scallops, scoop risotto, shave more cheese, add your prosciutto and you're ready to eat!
Print Recipe
(Visited 3,711 times, 1 visits today)