What's up folks! Well we are really excited about this little dish as it really shows what The East Coast Kitchen is all about. We always try to use east coast ingredients but show them off in a different way. This dish is a lot of fun and really not that difficult.
Essentially, what I was trying to do with this dish is find a new format to display the classic lobster roll flavours that I love. I hadn't really ever seen a lobster spring roll and thought it would be fun to give it a try. Turns out it's delicious! I finished the dish with a slaw of fennel and red apples mixed with lemon aioli and then drizzled Korean chilli oil over everything.
Give it a try and let us know what you think!
Lobster spring rolls. Early front runner for dish of the summer!
Print Recipe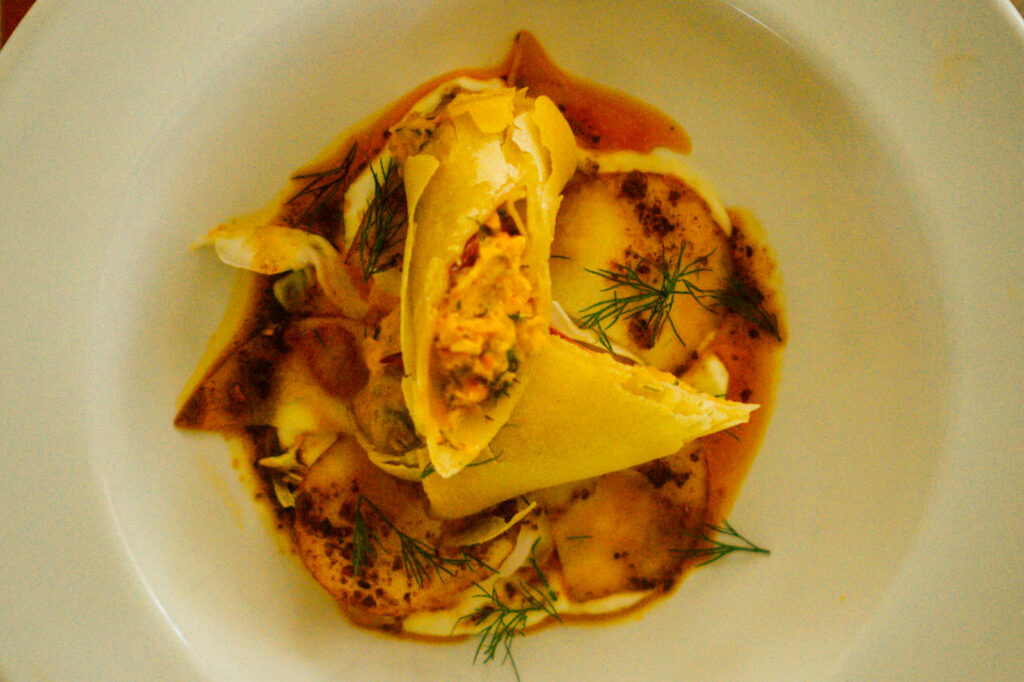 Ingredients
1

pack

frozen spring roll wrappers

1

lb

frozen lobster meat

250

g

cream cheese

250

ml

sour cream

1

cup

chopped dill

2

lemons

1

tbsp

onion powder

1

tbsp

garlic powder

kosher salt
Instructions
Run cold water continuously over package of lobster meat until completely thawed. Once thawed, remove from bag and allow to drain. Gently break apart the larger chunks of claw meat, making sure to keep them bite sized.

Clean and chop 1 cup of dill (the finer you chop the dill the better distributed the flavour will be). Juice and zest 2 lemons. Measure out 1 tbsp of garlic powder and onion powder.

In a stand mixer with the paddle attachment, paddle the cream cheese until it is smooth. Add the sour cream and continue to mix. Add dill, lemon juice and zest, both powders and mix until fully combined. Salt to taste.

Position the spring roll wrapper in front of you so it's shaped like a diamond. With a regular table spoon, scoop a small amount of lobster mix onto the edge of the wrapper closest to your belly button. Fold the closest edge over the mound of lobster. Gently roll until it reaches half way up the wrapper. Fold in both sides of the wrapper and continue to roll until you've reached the top corner. Wet your finger with water and seal the spring roll. This method is very similar to that of a burrito fold.

Gently fry the spring roll until golden brown, 3-4 min. Slice on a diagonal and serve hot.
Print Recipe
(Visited 828 times, 1 visits today)