This marinated cucumber salad is bright, fresh, and lovely. This salad goes with everything, and is a lovely dish to bring to a potluck or BBQ. Quick and easy; keep it cold in the fridge and enjoy throughout the week.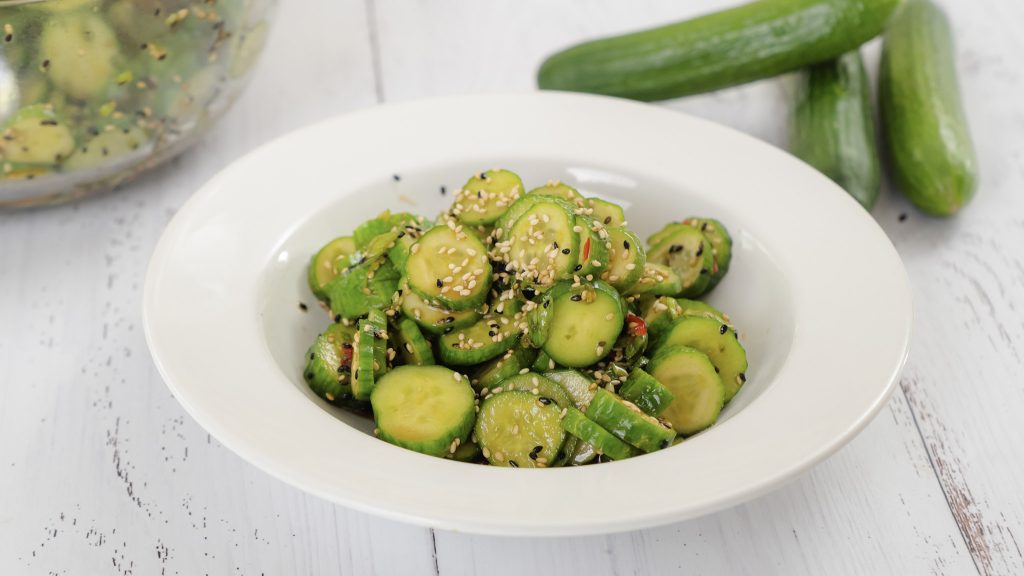 Important ingredients
With a salad like this, it's really important to get the freshest cucumbers you can! If you're lucky to live around a great farmers market, chances are you'll fine some of the crunchiest and freshest cucumbers there.
Low sodium soy sauce – We love using the Kikkoman Low sodium in our recipes, it packs all the same umami flavour but at a lower sodium level.
Rice wine vinegar– If you don't have any on hand it's worth making the trip out to the store and picking some up. The main difference between rice wine vinegar and regular white wine vinegar is the flavour and its perceived sweetness. Rice wine vinegar has a rounder flavour with a lovely sweetness and slightly lower acidity. This allows you to introduce other acidic or sharp flavours (like soy sauce or citrus) with out going over board.
Fresno Chillies– A little bit of heat goes along way with this one. The freshness of the cumber just carries the chillies and helps tame its heat. It give this salad so much depth; if you prefer less heat, make sure you discard all of the seeds and use less.
Maple Syrup– You have to have a little sweet with your heat! Super important to balancing out the salad. A touch of sweetness helps reel in the heat of the chilies and the sharpness of the vinegar. Without it you would be able to tell it's out of balance.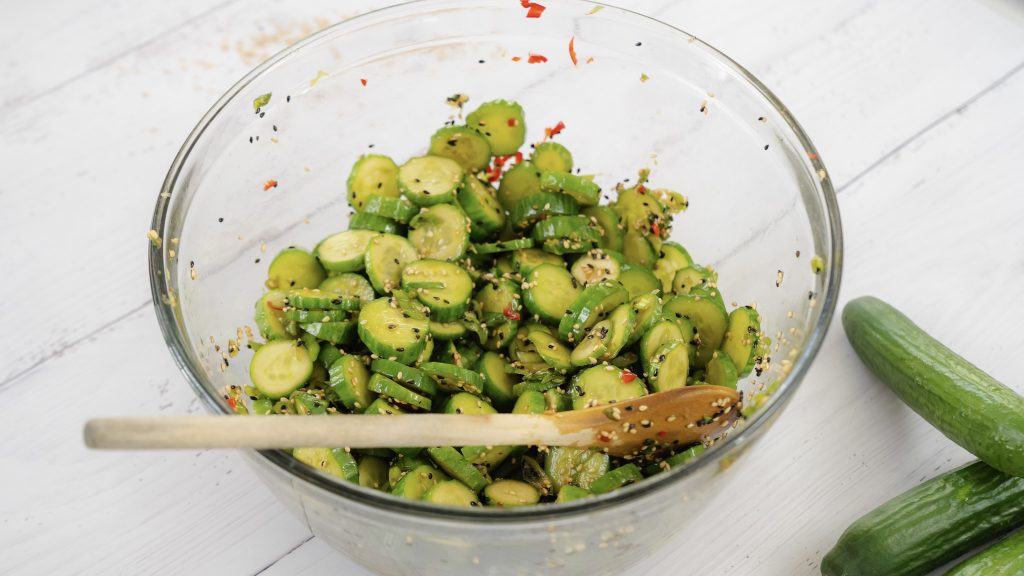 Keys to nailing this Marinated cucumber salad
This salad is very easy to nail, but there are a few keys to making sure it's perfect every time!
Make sure your cuts are even– When cutting your cucumber, make sure your consistent. The closer the cuts the more evenly marinated each piece will be; ensuring each bite is perfect.
Cure the cucumbers– Once you have the cucumbers cut evenly and constantly, toss them in salt and allow to sit for 15 min. This is going to make sure all of extra water is drained, making sure your marinade isn't diluted with the extra water.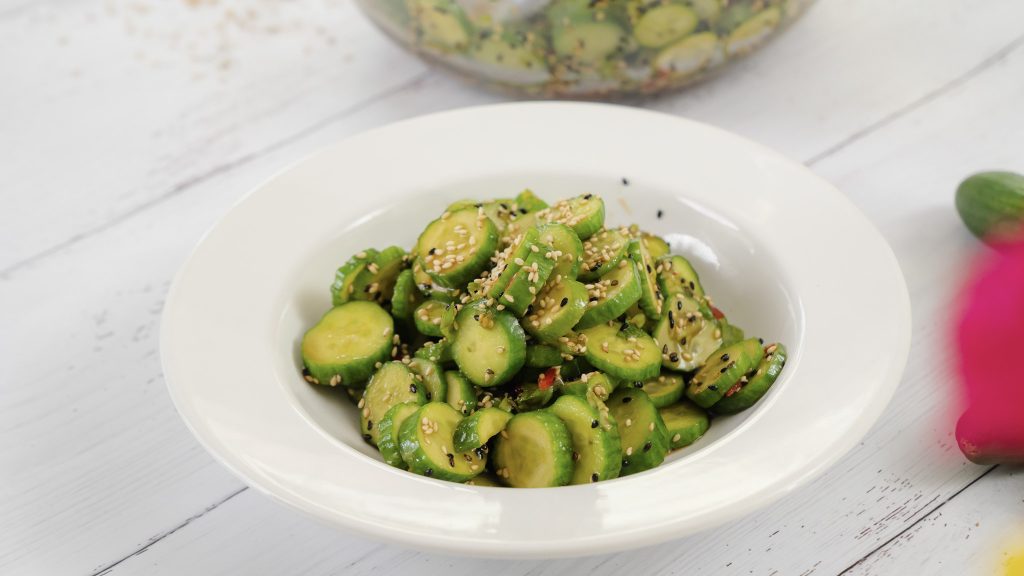 Other recipes we think you'll like
This is a classic salad we know you'll love making. Here's a few others we think you should add to your salad repertoire!
Marinated Cucumber Salad
Print Recipe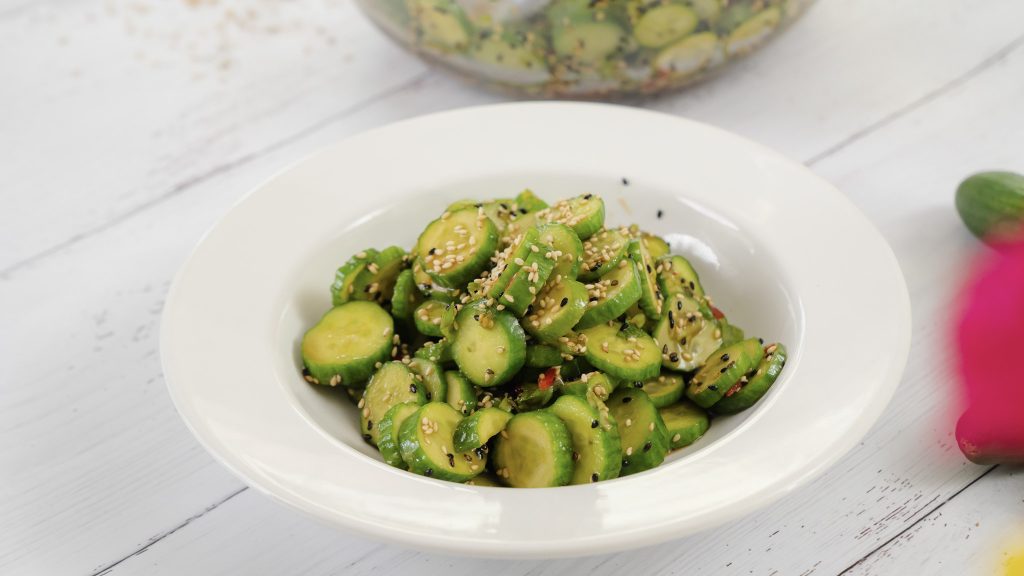 Ingredients
12

Mini Cucumbers (or 2 large cucumbers)

Sliced 1 inch thick

1

tsp

Salt

3

tbs

Rice wine vinegar

1

tbs

Sesame oil

2

tbs

Low sodium soy sauce

1

tbs

Maple Syrup

1/2

cup

Green onions

1/2

large

Fresno chilli

2

tbs

Toasted black and white sesame seeds
Instructions
In a large bowl mix together sliced cucumbers and salt. Pro move is to let the cucumbers sit for 15 minutes and drain out the excess water.

Next up add in the rice wine vinegar, sesame oil, low sodium soy sauce, maple syrup, green onions, sliced chillies, and sesame seeds.
Print Recipe
(Visited 16,589 times, 9 visits today)