These M&M Brown Butter Rice Krispie squares are insanely fun to make and beyond easy. They are loaded with colorful M&M's making them a great baking project to do with the kids. And I guess it kind of goes without saying, but these are freaking delicious!
This recipe is really easy and if you take the time before you start to premeasure all of your ingredients, the assembly is a breeze. The key to success is getting your butter browned right away, measuring out the marshmallows and Rice Krispies, and try not to eat all of the M&M's.
Brown Butter Rice Krispie Squares
Fall is just starting to poke its head out, which means it's the official start of baking season! Don't get me wrong, I bake all year round, but during the fall months I really kick it into high gear. This past weekend my four-year-old and I decided to make these treats and they turned out great. The secret ingredient is brown butter!
What is brown butter?
Brown butter will change your life. Brown butter adds a deeper, more nutty flavour to the butter which totally enhances your baking. Making brown butter is really easy. All you need is to put your butter in a saucepan over medium heat. Allow the butter to melt and begin to froth and bubble. After about 5-8 minutes you will notice the butter turning from a light yellow to a rich brown. This is the milk solids inside the butter browning. You will smell the amazing aroma! Once you see the butter is brown, remove from the heat. Boom! You just made brown butter! Well done, Chef!
M&M Brown Butter Rice Krispie Squares
Print Recipe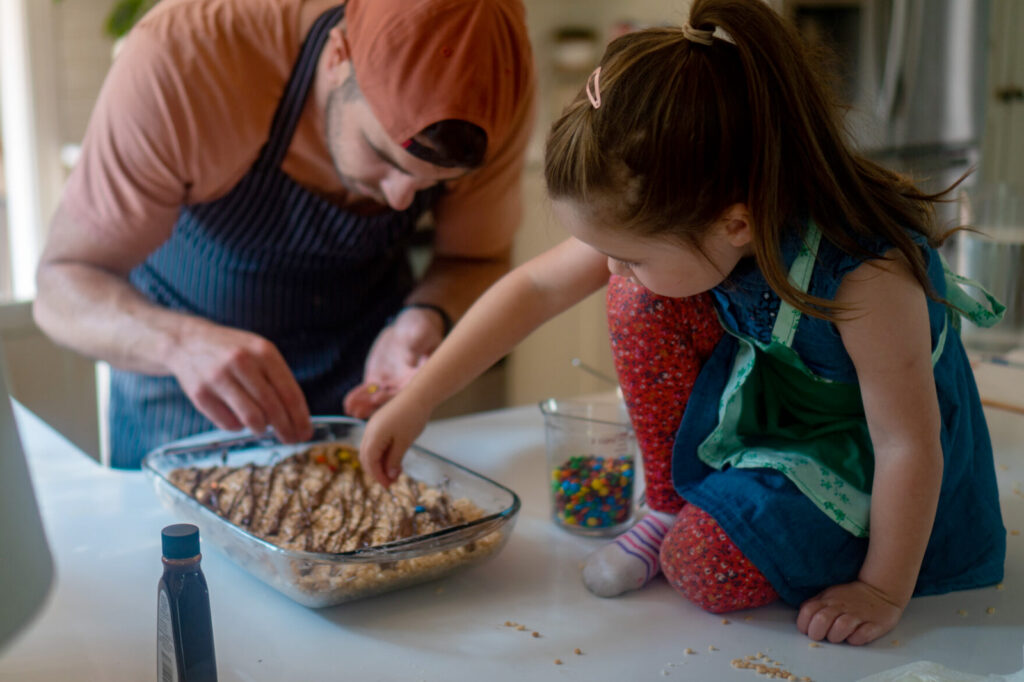 Ingredients
6

cups

Rice Krispies

4½

cups

mini-marshmallows

½

cup

+ 2 tbsp brown butter

½

cup

mini M&M's

½

cup

Nutella for drizzling
Instructions
Prepare a 9"x13" baking pan by spraying lightly with cooking spray. Set aside. If you don't have any spray just use butter.

Measure out the 6 cups of Rice Krispies cereal into a large bowl. Set aside.

Add the butter to a medium pot and place on the stove over medium heat. Allow the butter to melt, then froth. You will see the colour start to brown. That is what you are looking for. Once this has been achieved remove from heat.

Pour the mini-marshmallows into the pot with the butter and mix. Continue to stir until completely smooth.

Pour marshmallow butter mixture over the Rice Krispie. Using a spatula, mix everything together.

Next up, pour the mixture into the prepared baking pan and push down with the spatula.

Heat up the Nutella in the microwave, and using a spoon, drizzle the Nutella over the top of the Rice Krispies.

Sprinkle the mini M&M's over the top.

Let cool in the fridge for 20 minutes.
Print Recipe
(Visited 94 times, 1 visits today)