Molasses Sugar cookies are one of the great cookies in the world. Soft, chewy, sweet, with that unmistakable molasses flavour. I love these cookies. For me, these remind me of my childhood. Stopping at a local bakery on my way to a hockey game, I would always grab one of these!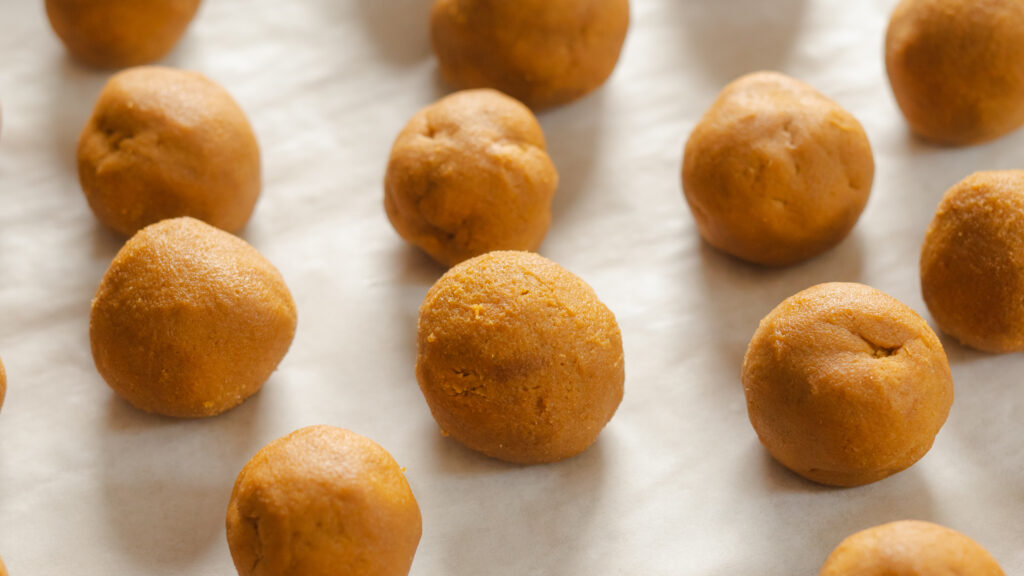 Let's Breakdown The Ingredients!
It's important to use room temperature butter to make these delicious molasses sugar cookies. It's best to leave your butter the night before you make these cookies since room temperature butter is best to soften to get the ideal temperature and consistency to work with.
I used brown sugar and white sugar to cream with the butter in this recipe. Brown sugar typically makes cookies denser, while white sugar makes them fluffier, and using both together is perfect for making a chewy and crisp cookie.
I bet many of you are curious to learn what molasses is. Molasses is a dark and sweet syrup byproduct of sugar extracted from sugarcane and sugar beets, and it is often used as a sweetener and for flavouring baked goods.
After the butter and sugars are all perfectly combined, mixing the eggs and molasses will help the dry ingredients for the cookie batter. The eggs will allow the cookies to keep their structure to bake, and the molasses adds additional flavour.
Flour is essential for making sugar cookies as it also helps keep the cookies' structure and ensures the batter is not too runny. The baking soda helps create a soft and fluffy cookie.
I used cinnamon to add a sweet, woody, and spicy taste to the sugar cookies. And, of course, I added salt to balance all the sweet flavours already added to the batter.
I also dusted the cookies with white sugar to garnish them!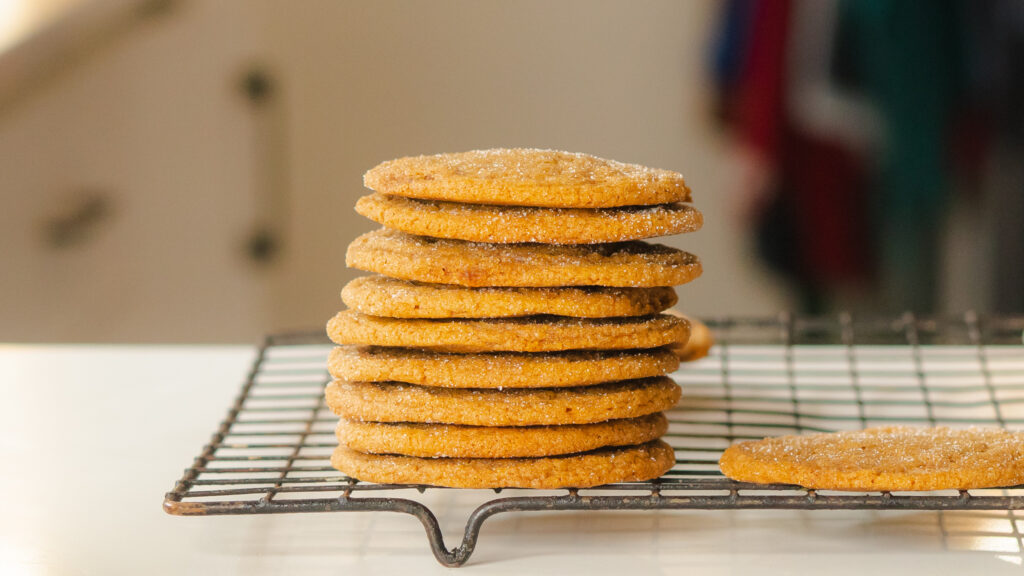 Tips For Nailing This Recipe!
These cookies aren't overly complicated to make, but there are a few key steps to ensure you get the results you are looking for.
Firstly, as with any cookie, you want to spend the time "creaming" or mixing the butter and sugars together. Don't rush this process, as the result will be that much better!
Another important step not to be skipped is to allow the dough to chill before baking. This allows the butter time to congeal and will result in the cookies not spreading as much and keeps them chewy. Whether you chill the whole bowl or roll out the dough balls first doesn't really matter, but this is a step I always do when making cookies. Pop them in the fridge for 2 hours or in the freezer for 30 minutes. Bit of an annoying step, but worth it.
The final tip for nailing these cookies is to give the cookies time to rest on the hot baking sheet when you take them out of the oven. This is all part of the cooking process! When you take the cookies out of the oven, let them rest on the baking sheet for 5 minutes before transferring them to a cooling rack. This extra time crisps up the bottom of the cookie and creates structure so it doesn't crumble. After the 5 minutes, allow the cookies to cool for an additional 10 minutes on a cooling rack. Again these are annoying steps, but this is what will result in the perfect cooking!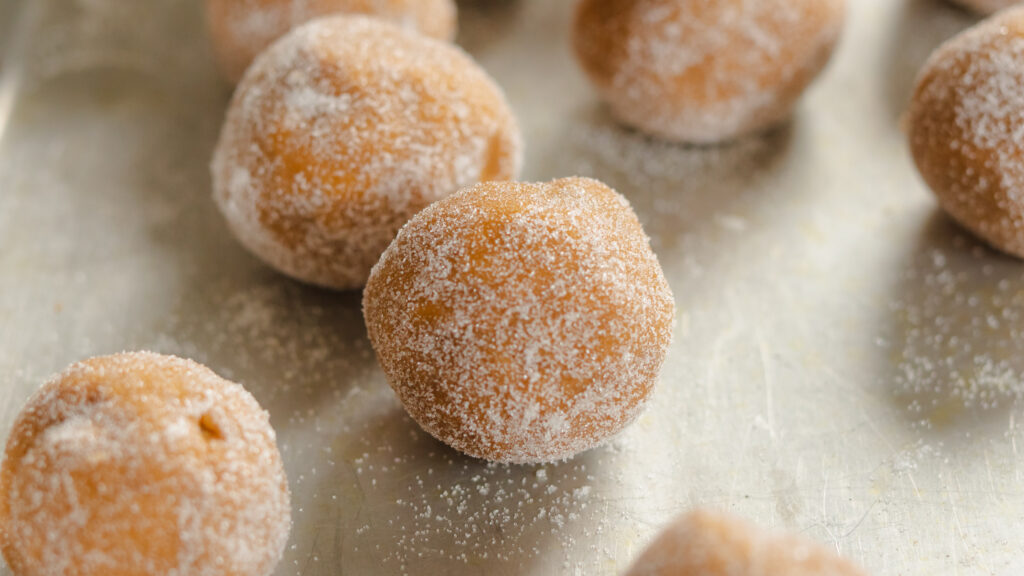 Molasses Sugar Cookies
Print Recipe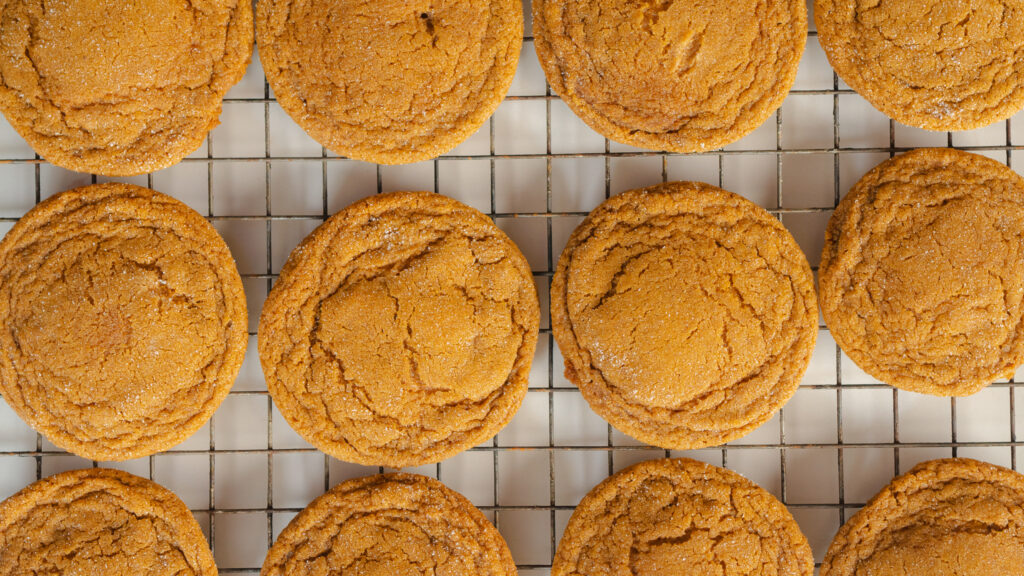 Ingredients
WET INGREDIENTS
1 1/2

cup

Butter, room temperature

1

cup

Brown Sugar

1

cup

White Sugar

1/2

cup

Molasses

2

eggs
DRY INGREDIENTS
4 1/4

cup

Flour

4

tsp

Baking Soda

3

tsp

Cinnamon

1

tsp

Salt
COATING
1/2

cup

White Sugar (for dusting)
Instructions
Preheat the oven to 350 degrees and prepare a baking sheet with parchment paper.

In a large bowl mix together the room temperature butter, brown sugar, and white sugar. Do not rush this process. I like to use a hand mixer or stand mixer with a paddle attachment. Mix for about 3-4 minutes.

Add molasses and eggs into the butter-sugar mixture and mix until smooth. Set aside.

In a separate bowl whisk together flour, cinnamon, baking soda, and salt.

Pour flour mixture into sugar and butter mixture. Stir to combine but don't over mix.

Once combined, roll the dough into small 1 inch balls and place in the refrigerator. If you have limited space simply place whole bowl of dough into the fridge and allow to cool for 90 minutes.

Drop dough balls into white sugar and unsure you coat them on all sides. Place one baking sheet and give about 2 inches between cookies as they will spread.

Bake for 12-14 minutes and them remove from oven and allow cookies to cool on baking sheet for 5 minutes. Don't skip this step. After five minutes, remove from baking sheet and place on cooling rack for 10 minutes. Ok, now your are good to dig in!
Print Recipe
(Visited 6,922 times, 1 visits today)