This is for all the Nova Scotians out there! A true East Coast classic, The Nova Scotian Hodge Podge. A dish that is traditionally made in the dead of summer from using up the fresh new vegetables in your garden. New potatoes, carrots, beans, peas are my go too additions to my hodgepodge.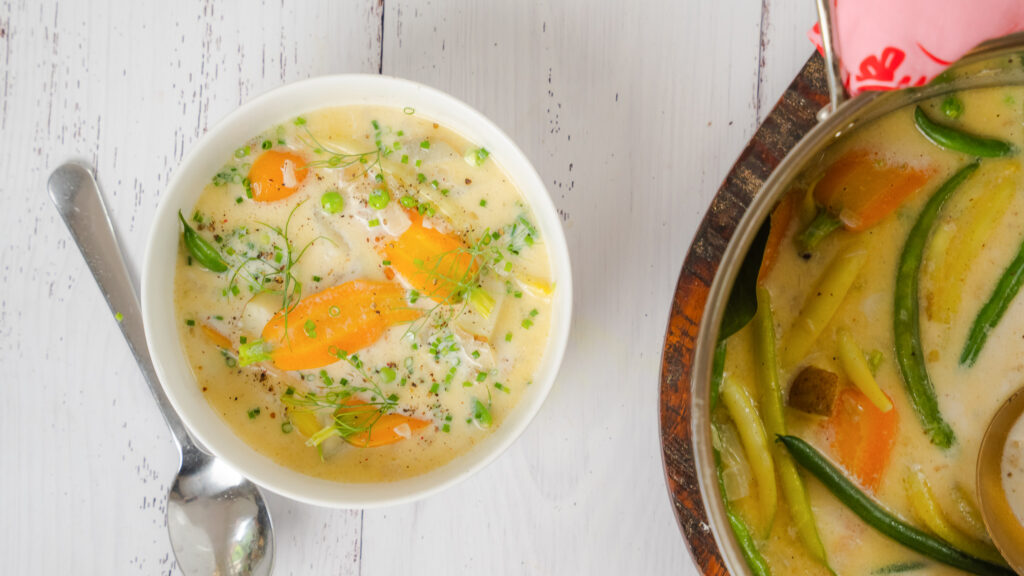 What is a Hodge Podge?
Hodge Podge originally comes from Acadians living in Nova Scotia who would harvest their vegetables at the height of summer from their garden and immediately make them into a soup using butter and cream. Basic, soul warming food, that celebrated fresh produce.
My hodge podge isn't far off the traditional recipe. I rendered some bacon fat and added more fresh herbs for flavour, but the broth still allows the fresh veggies to shine through.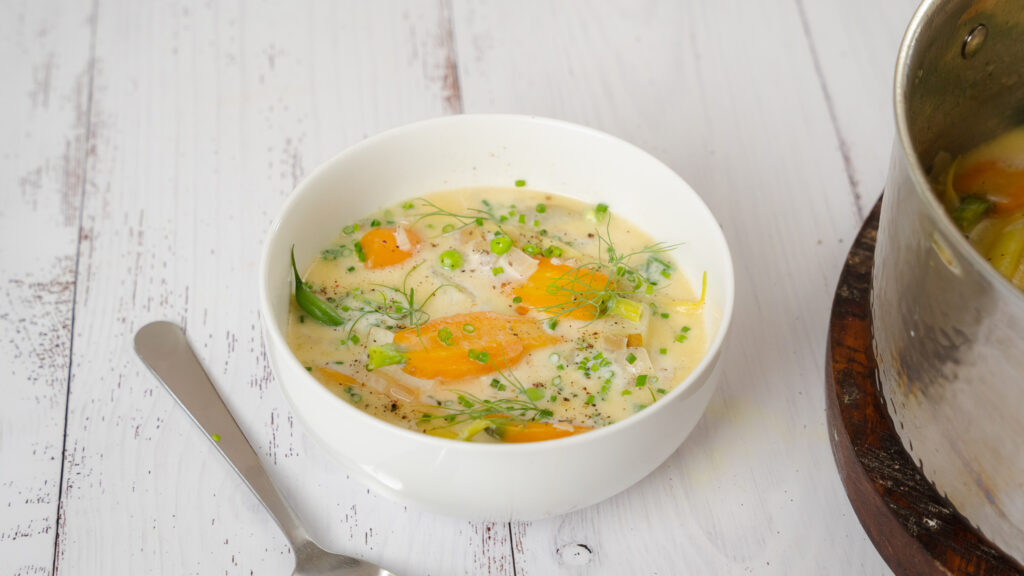 Cooking your vegetables
Each vegetable that I used for this Hodge Podge has a different cooking time. As such I used the blanching method of cooking, which simply means cooking something quickly in boiling water and then dropping it into an ice bath to stop the cooking. This is done to avoid over cooking, and it preserves the bright colours from the fresh veggies.
Prior to boiling anything I suggest prepping all of your veggies. Dice your potatoes, slice your carrots and beans, and shell your peas. I will then bring a pot of salted water to a ripping boil and drop the potatoes in first for 3 minutes. I would then, using a strainer, remove the potatoes from the boiling water and drop them immediately into a bowl that is filled with ice water. This stops the cooking process. I would then move onto the carrots and allow them to cook for 2 minutes, ice bath, and then finish with the beans and allow them to cook for 1 minute. The peas are ok to simply get finished off in the warm cream. More on that next.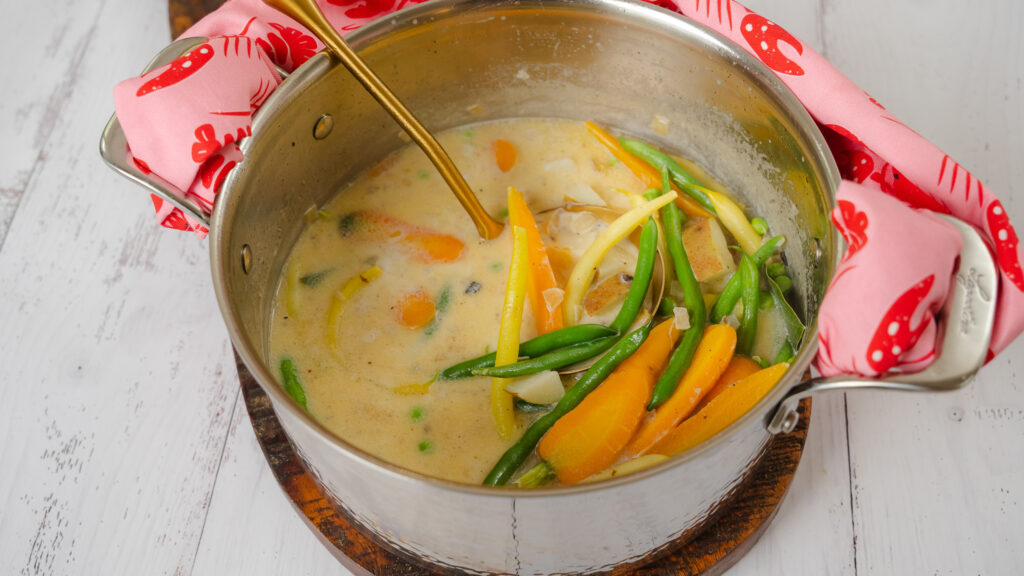 Hodge Podge broth
Traditionally the vegetables would be cooked in cream and butter. To keep it slightly lighter I used whole milk, a tsp of flour to slightly thicken, and butter. To add more flavour I begin the cooking process by rendering fat from double smoked bacon which offers amazing depth to the broth. I also season with bay leaves, black pepper, salt, and fresh herbs.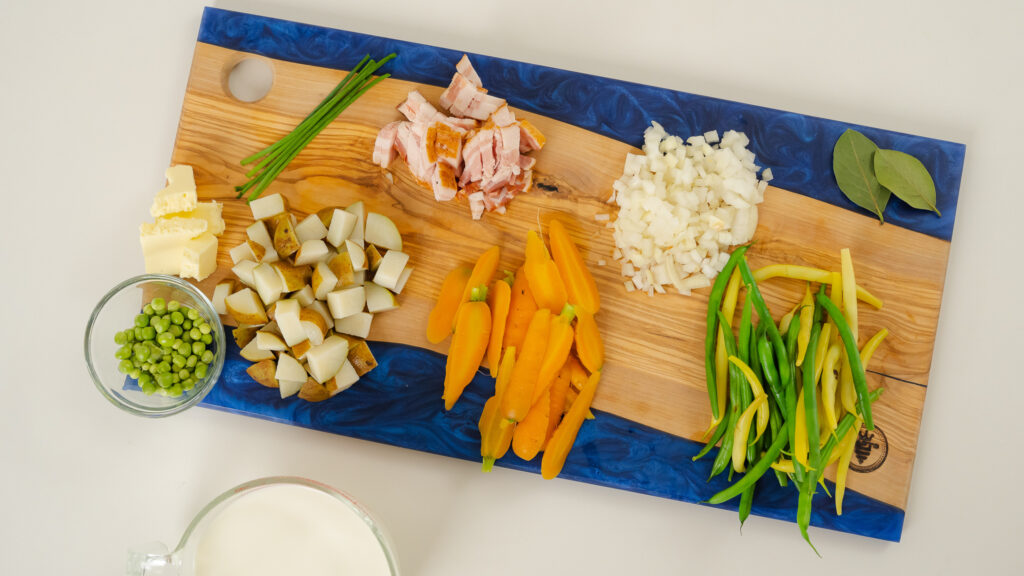 Nova Scotian Hodge Podge
Print Recipe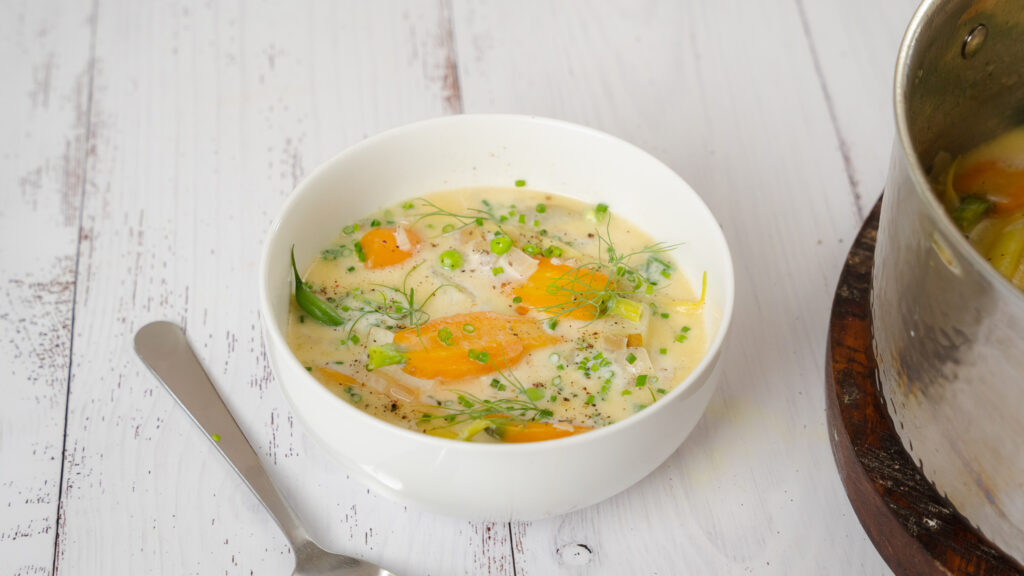 Ingredients
6

Fresh Carrots, sliced thinly lengthwise

3

New potatoes, diced

50

Wax Beans, sliced

1/2

cup

peas, shelled

2

slices

Smoked bacon, diced

1/2

onion, diced

2

bay leaves

3

cups

whole milk

1

tsp

flour

2

tsp

salt

1

tsp

freshly cracked pepper

2

tbs

fresh dill, chopped

2

tbs

chives, thinly sliced
Instructions
Bring a large pot of salted water to a rolling boil. While water is coming up to temperature, prepare a bowl of ice water and grab yourself a strainer. Once water is at a boil, drop in the diced potatoes and boil for 3 minutes. After 3 minutes remove potatoes from boiling water and drop into ice bath. Next up, carrots into the boiling water, cook for 2 minutes and then remove and place in ice bath. Lastly drop in the wax beans and boil for one minute, and then drop them into the ice bath. Don't worry about blanching the peas at this time. Pour out the water from the pot.

Place the same large pot over medium heat. Once temperature has been reach add in a tsp of oil and then the diced bacon. Cook to render out the fat and then remove the bacon with a slotted spoon once it is nice and crispy. Set aside for garish or just for a snack for the chef. Now, drop in the onions and bay leaves. Saute until the onions are translucent. Make sure to pause her and enjoy the smell.

Next up whisk 1 tsp of flour to the 3 cups of milk and then pour the whole mixture into the pot with the onions. Reduce the temperature to low and allow the milk to simmer gently for 10 minutes. You can pop the shelled peas in at this point. Season with salt, black pepper, chives, and dill.

Ladle out a bowl of Hodge Podge to some one you love, or just enjoy it as an act of self care. That is a hug for the soul. Thanks for cooking along 🙂
Print Recipe
(Visited 17,579 times, 6 visits today)