I think my favourite donut in the world is Tim Horton's sour cream glazed. I don't know what that says about me, but it's a fact. This homemade sour cream glazed donut is pretty darn close and a fun baking project for sure!
Old Fashioned Sour Cream Glazed Donuts
Print Recipe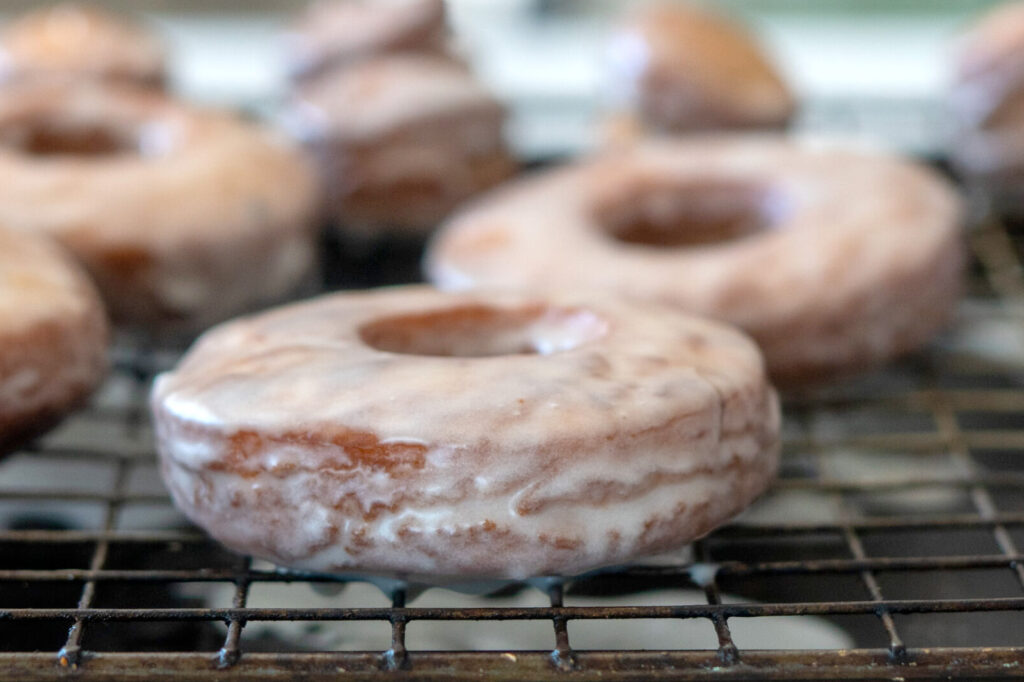 Ingredients
Dough Ingredients
2½

cups

pastry flour (350g)

2

tsp

baking powder (10g)

2

tsp

salt (8g)

½

cup

sugar (105g)

¼

tsp

nutmeg

2

tbsp

room temperature butter (28g)

¾

cup

sour cream (175g)

3

egg yolks
Glaze Ingredients
2½

cups

powdered sugar (350g)

¼

cup

milk (plus 1-2 tbsp if glaze seems dry)

½

tsp

vanilla

2

litres

canola oil for frying
Instructions
In a bowl whisk or sift together flour, salt, baking powder and nutmeg. Set aside.

Using a stand mixer affixed with the paddle attachment, add sugar and room temperature butter. Mix on medium until the mixture becomes crumbly and resembles sand.

With the mixer still running, add in egg yolks and mix until creamy.

Now with the mixer running on low, you are going to alternate adding the sour cream and the flour mixture. Add some sour cream, flour, sour cream, flour. Don't over mix. Form into dough ball and place in the fridge covered with plastic for 1 hour.

While the dough is chilling, kick on with the glaze. In a bowl whisk together powdered sugar, milk, and vanilla. If glaze feels too tight when whisking, add in an additional tablespoon of milk.

Back to the donuts: In a heavy-bottomed pot heat canola oil up to 350F.

Remove the dough from the fridge. Next, on a lightly floured surface roll out the dough using a rolling pin until it's about 1/2 inch thick. Using cookie cutters, a donut punch, or a cup, cut out donuts and place them on a baking sheet. It's not a terrible idea to pop that baking sheet into the fridge before frying. You want to dough to be cold when it hits the oil.

Check the temperature of the oil using a thermometer. If you don't have one, you want the donuts to lightly sizzle when they hit the oil, but not boil. I would say heat oil over medium-high heat but keep an eye on it.

Gently(!!!) place donuts into the oil and fry until golden brown. Be sure to flip the donuts over to get both sides.

Once browned, take out of oil and let donuts drain on a wire rack or over paper towel.

Dip both sides of the donut into the glaze and place the donuts on a wire cooling rack. Let the glaze harden for about 3-5 mins.

Finally, pour a really nice cup of coffee, turn up the music a bit, and enjoy! These are some of my favourite things to make for other people!
Andy's Notes
A couple of tips for making these donuts:
Use cake/pastry flour if you can. It's lighter and will result in a fluffier donut. All-purpose flour isn't the end of the world though.
Let dough ball sit in the fridge for 1 hour.
When you roll out the dough, make sure not to roll it too thin. I rolled mine to about 1/2 inch thickness.
Once you cut out donut shapes, it's not a terrible idea to place the raw donuts on a baking sheet and let them sit in the fridge for a couple of minutes. You want them to be a little cold when they hit the hot oil
Print Recipe
(Visited 2,750 times, 1 visits today)