My chocolate chip cookies, as the kids say, have gone viral with my Instagram following. They are well-loved here on the East Coast. I say this because it puts a lot of pressure on any other cookie recipe I do. Will they stay in the shadow of their older, more well known sibling, or will they stand out as their own cookie?
Well, these Peanut Butter Oatmeal Cookies deserve their own time in the sun. They are a perfect blend, with the taste of the old school peanut butter cookie and the texture of an oatmeal cookie. Just a lovely combo. If you have flaky finishing salt, it adds a nice touch.
Give this one a try and let me know what you think!
Peanut Butter Oatmeal Cookies. The chocolate chip cookie's younger, more neglected sibling.
Print Recipe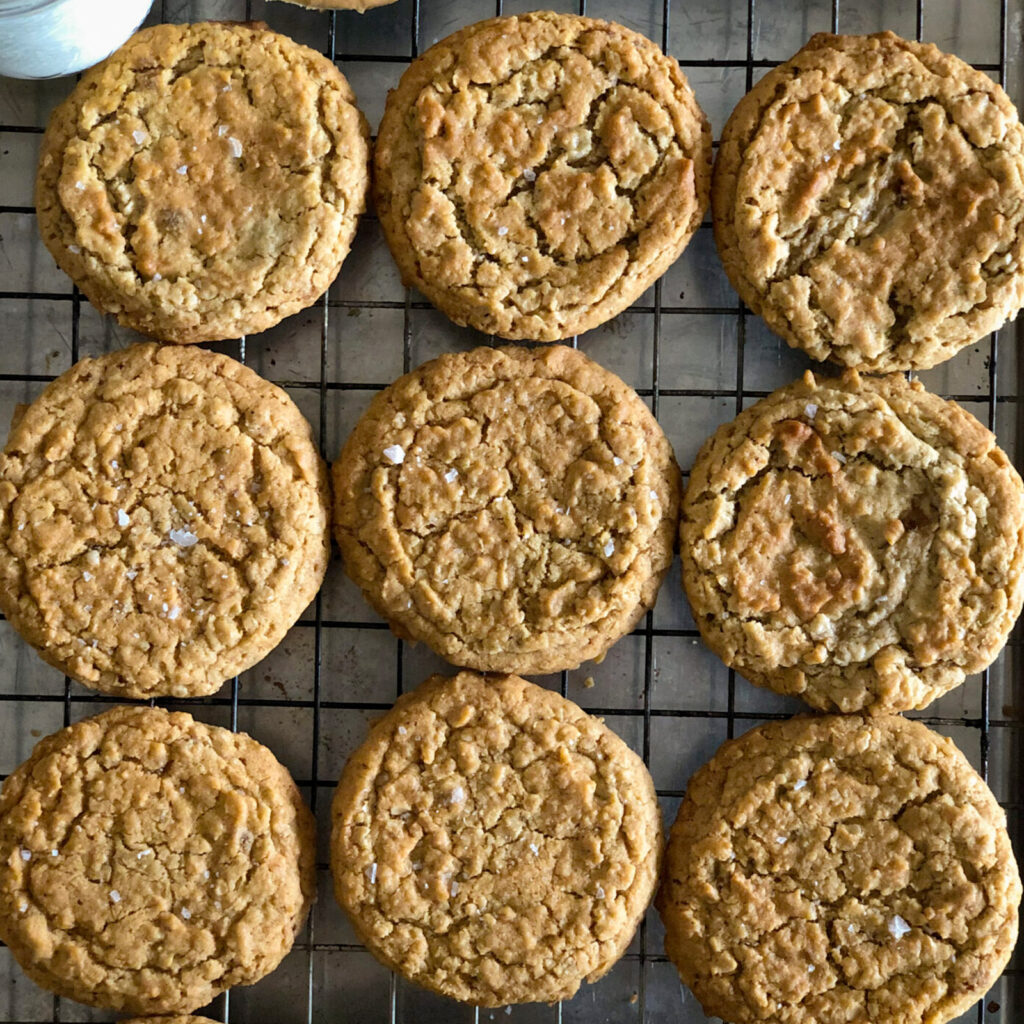 Ingredients
1

cup

butter, room temperature

1

cup

creamy peanut butter (all natural won't work)

1

cup

white sugar

1

cup

brown sugar

2

eggs

1

tsp

vanilla

1½

cups

AP flour

1¾

cups

quick oats

2

tsp

baking soda

½

tsp

salt
Instructions
In the bowl of a stand mixer, add butter, peanut butter, brown and white sugars. Using the paddle attachment, cream the butters and sugars together for 1 minute. This can also be done with a hand mixer in a large bowl.

After mixture is pale and creamy, add in eggs and vanilla.

Next add the flour, oats, salt and baking soda. Mix together until a smooth but slightly crumbly dough forms.

Preheat oven to 400 and line baking sheets with parchment paper.

Using an ice cream scoop (ideal for making cookies uniform) scoop out cookies and place on baking sheets. Don't over-crowd as these cookies spread quite a bit.

Place whole tray in the freezer and let cookies rest for about 15 minutes.

Pull them out of the freezer and toss them in the oven for 15-17 minutes. Remove from oven but let them relax on the pan for 5 minutes. (At this point I always push down on the cookies with a spatula very lightly just to flatted them out a bit). Next, place them on a cooling rack and try to give them 10 mins to come together. If you have any flaky sea salt you won't regret sprinkling a small bit over these while they cool.

Pour a glass of milk and tuck into these bad boys!
Print Recipe
(Visited 3,286 times, 1 visits today)