This is a super fun little refreshing recipe and a fantastic way to reduce your food waste. I love finding ways to repurpose food to keep it out of the landfill and in my kitchen. Pickled watermelon rind has its roots in the American south where it has been made since the 1800's!
What is a watermelon rind?
Watermelon rind is the white part in between the green and the pink of the watermelon. Its firm, white flesh is perfect for pickling!
How to make pickled watermelon rinds
Making pickled watermelon rinds is not overly difficult, and if you can pickle watermelon rinds, you can pickle any vegetable! First things first you want to eat or remove the pink flesh. After that, using a sharp knife or vegetable peeler, remove the green peel on the outside of the watermelon. Now dice up the rice into small bite sized chunks.
Ok, next we are going to add vinegar, water, salt, and sugar to a pot placed over high heat. Heat and stir until the sugar and salt are fully dissolved. Next up, drop the watermelon rinds into a jar and season with a chili, a slice of ginger, and some pepper corns. Pour the hot vinegar mixture over the rinds and cover. Let the vinegar work it's magic for 30 minutes and then you are good to go!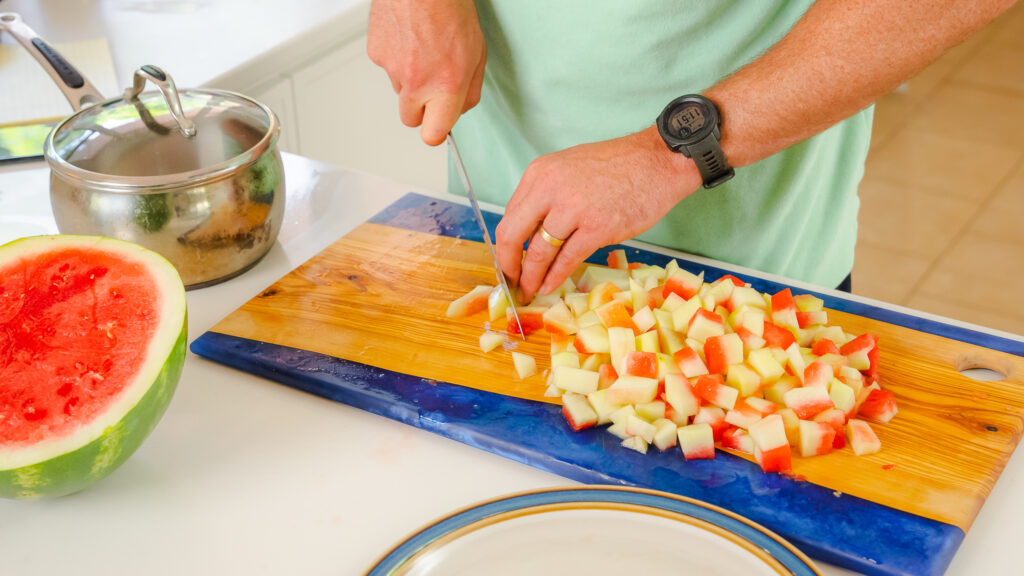 How long can these watermelon rinds stay in the fridge?
These are the perfect make ahead snack. They will last in the fridge for up to 2 weeks!
How to serve Watermelon rinds?
These are a fun little bar snack to eat directly out of the jar. Beyond that I love eating them in salads, in rice bowls, and I have even read about someone enjoying them on ice cream. I will have to take the work for it on that one!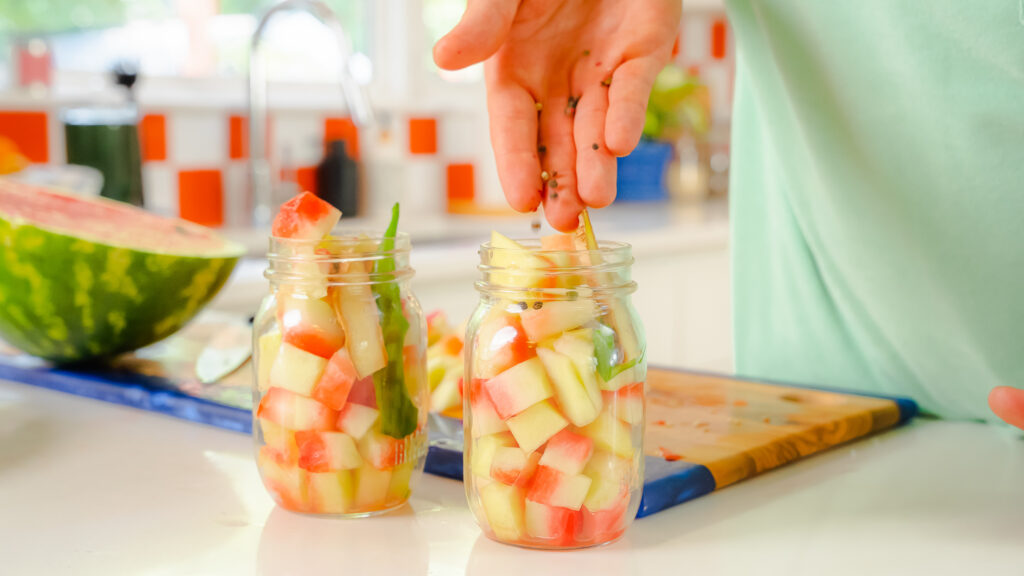 Pickled Water melon Rinds
Print Recipe
Ingredients
2 1/2

cups

watermelon rinds. Green skin removed.

1

cup

water

1

cup

vinegar

3/4

cup

sugar

4

tbs

salt
seasoning
1

chili

1

slice

fresh ginger

1

tsp

peppercorns
Instructions
Prepare 2 1/2 cups of watermelon rind chunks. Divide the watermelon chunks between two jars.

In a small pot add vinegar, water, sugar, salt and place over high heat. Allow heat to increase and stir occasionally. Once salt and sugar have dissolved, remove the pot from the heat. Pour hot pickling liquid over watermelon rinds in jars. Drop on chili, fresh ginger, and pepper corns. Add lid onto the jar and let the rinds rest for 30 minutes. After 30 mins you are good to eat! Enjoy!
Print Recipe
(Visited 2,332 times, 4 visits today)