We're keeping the ball rolling on these protein-packed snacks a. A quick and easy family-friendly treat like these Rice Crispy Bars are the perfect candidate to be turned into your new mid-day protein boost. Protein Rice Crispy Bars will be the new favourite for everyone in the family; we guarantee it!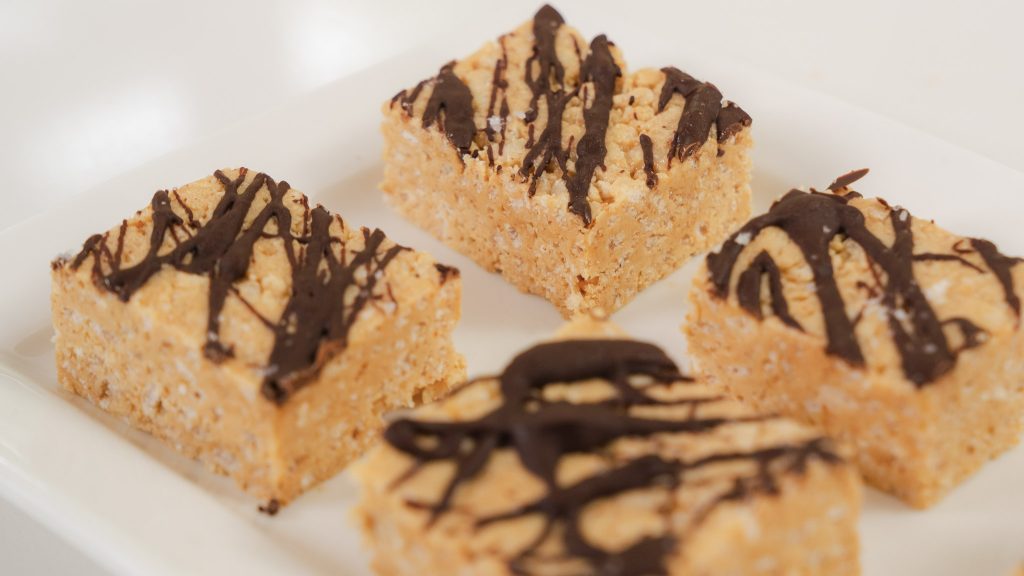 Key Ingredients for these Protein Rice Crispy Bars.
It's a tried and true treat that everyone loves. With only a few ingredients that you'll need for this one, so let's break them down! 
Rice crispies: A class cereal that I'm sure everyone is familiar with; no need for an introduction.
Vanilla protein powder- I like to use vanilla protein powder in many of my baking recipes; it just works well with many of the other flavours.
Peanut butter –  A great addition as it gives these bars a bit more weight. You can substitute it out for any of your favourite nut butter. Just make sure to stir it up well, a loose butter will affect how firm the finished product is. 
Maple syrup – We don't want to forget to add a touch of sweetness. Using maple syrup is a great way to add more flavour with a slightly less refined form of sugar, as long as it's high-quality or locally made!
Salt- You always need a touch of salt to help elevate all the flavours.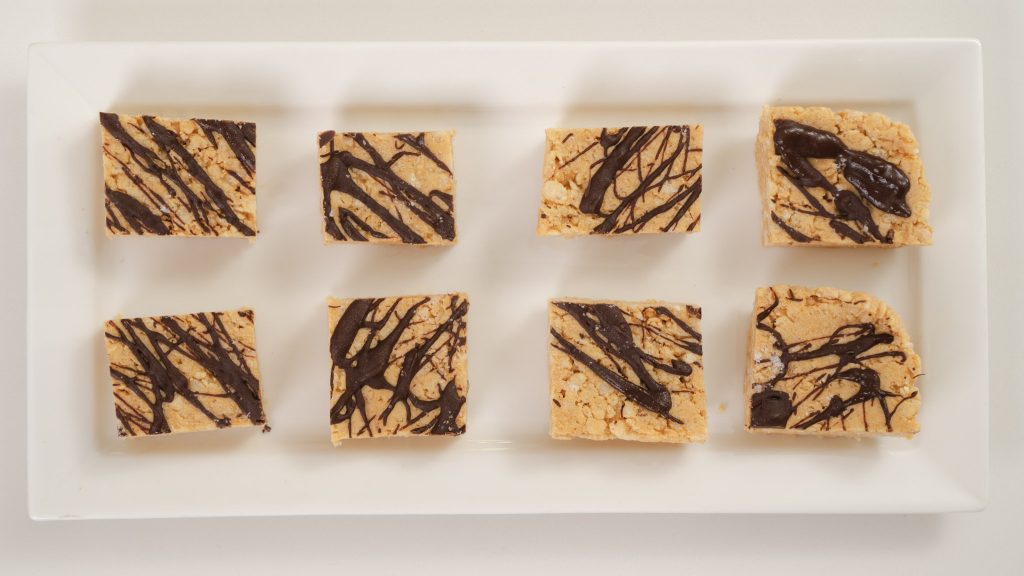 Using Protein powder in baked goods- it's a thing. 
Protein powder doesn't just have to be mixed with water, shaken and consumed on your way to the gym. There are plenty of ways to use that powder that might taste good!
Baking with protein powder works because it binds and mixes well with other dry ingredients, making it a seamless addition to many baking recipes.
A little bit of chocolate never hurts. 
Just because we're trying to add a touch of protein to our everyday diets doesn't mean we can't also add a touch of chocolate. It's all about balance.
Once you've mixed and placed your bars into your baking pan, heat a 1/2 cup of your favourite milk or dark chocolate in the microwave and, slowly drizzle all over your bars and top with some flaky sea salt.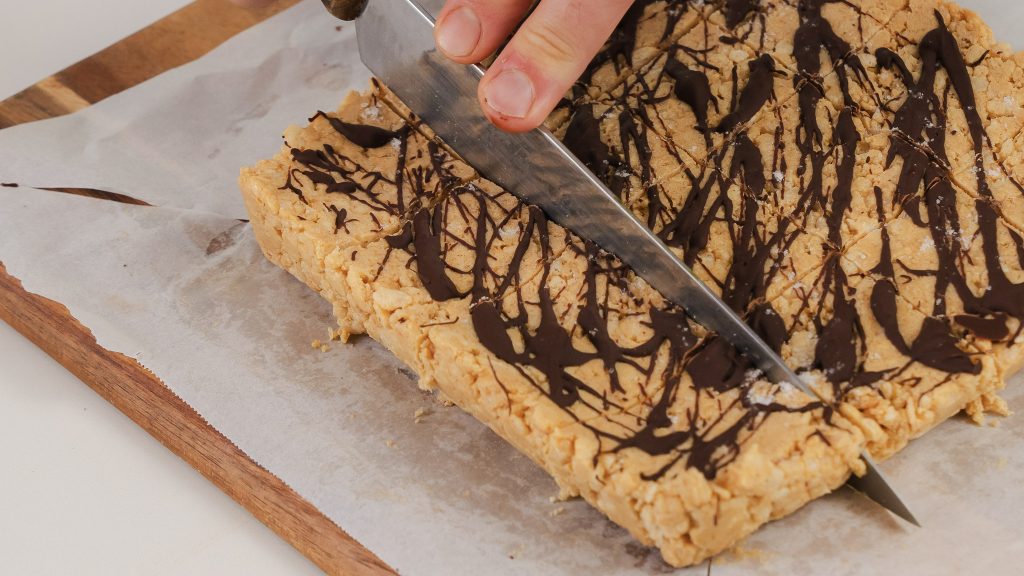 Other recipes you'll want to check out.
If you like the sound of these Protein Rice Crispy Bars, here are a few other recipes I think you're going to love!
Quick and Easy Zucchini Brownies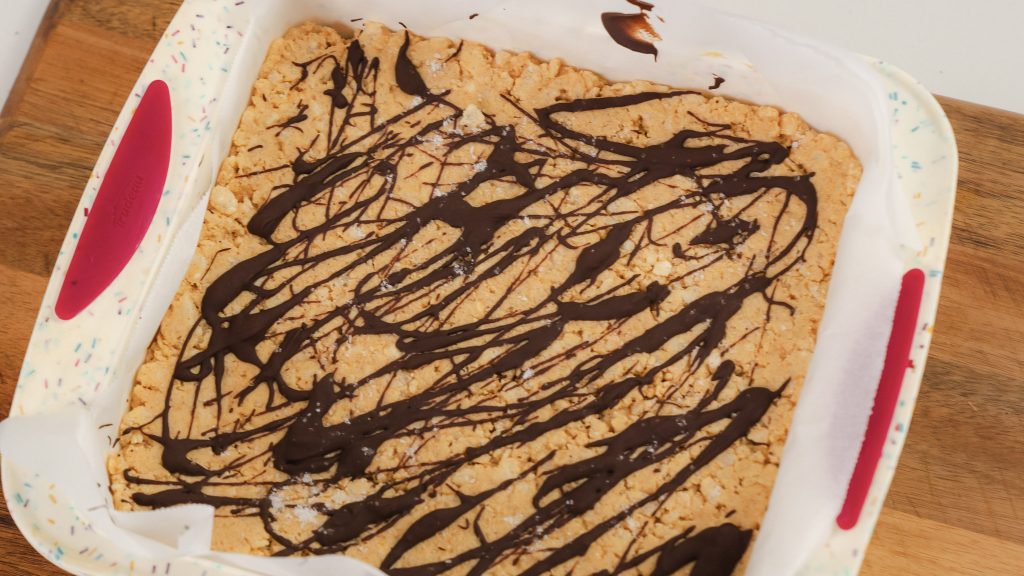 Protein Rice Crispy Bars
Print Recipe
Ingredients
2 2/3

cup

Rice Krispies

1 1/4

cup

Vanilla protein powder

3/4

cup

Peanut butter

3/4

cup

Maple syrup

1/2

tsp

Salt
Instructions
In a bowl mix everything together. Pour into a 9X9 inch brownie pan and push down. Place into the freezer for 20 minutes to firm up.

Once firm, remove from freezer and cut into bars.

Optional- drizzle with melted chocolate and top with sea salt
Print Recipe
(Visited 2,272 times, 21 visits today)