There is something so satisfying about a warm tea biscuit. It really is a simple recipe, but isn't that some of the best-tasting foods?
These biscuits are the perfect vessel for a breakfast sandwich or just by themselves with some butter. This is also the perfect recipe to try if you are new to baking. Made from just a handful of ingredients, it's so easy that anyone can make them!
Let's Breakdown the Ingredients!
This recipe uses less than ten ingredients to make these delicious biscuits! Like every recipe, there are always a few key ingredients that are important to add.
One of the most important ingredients is cold butter shredded with a box grater. The use of cold butter is to make sure that when baked, the butter will melt and create steam pockets in the biscuit, helping lift and form flaky layers. Grating the butter helps it evenly distribute amongst the dry ingredients.
Shredded cheddar cheese also helps it be distributed evenly to all of the ingredients, and this helps avoid getting too many clumps of cheese in a biscuit.
Cold buttermilk is a key ingredient in biscuits that makes it the perfect texture: fluffy and flaky. It also helps make the biscuits crumbly! Another option than cold buttermilk is milk with vinegar, and it will give you a low-fat acid milk product which can be a substitute for buttermilk.
Quick and Easy Cheddar Tea Biscuits
Print Recipe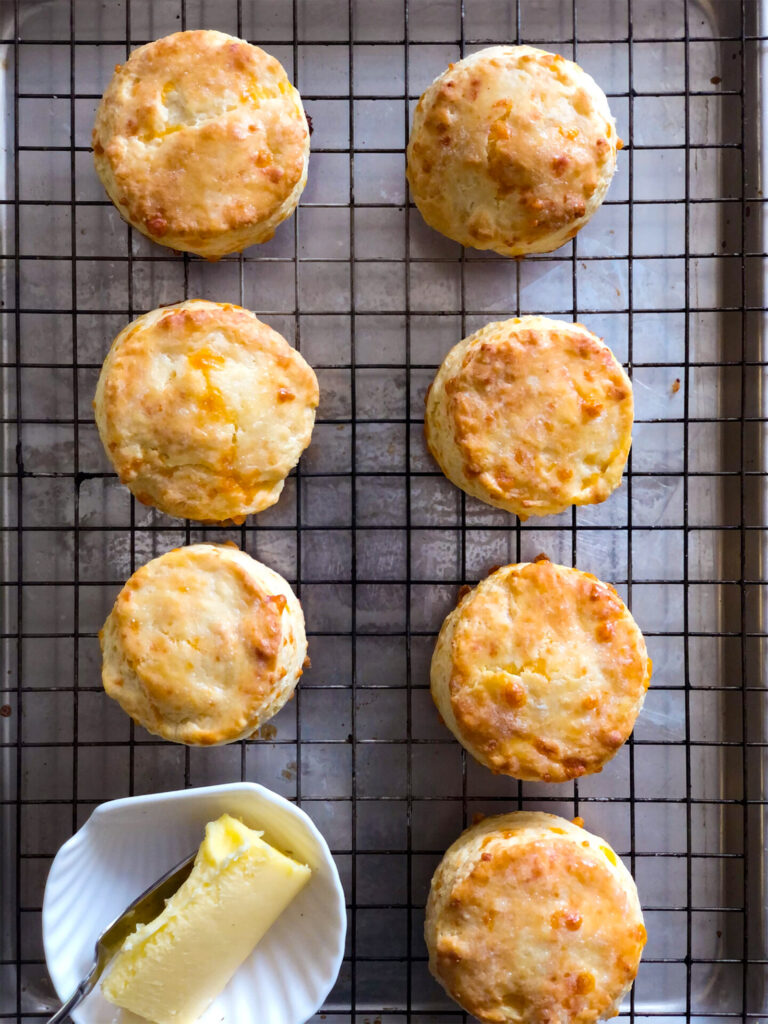 Ingredients
2

cups

flour

2

tsp

baking powder

½

tsp

baking soda

1

tsp

salt

½

cup

cold butter, shredded with box grater

1

cup

shredded cheddar cheese

1

cup

cold buttermilk or 1 cup milk with a tsp of white vinegar

2

tbsp

buttermilk for brushing top of biscuits
Instructions
In a bowl mix together flour, baking powder, baking soda, and salt. Add in shredded butter and shredded cheese. Mix together to make sure butter and cheese are well distributed.

Create a well in the flour (a small hole) and pour in buttermilk. Mix together until a shaggy dough forms. Tip out onto a lightly floured surface and shape into a rectangle. Using a rolling pin roll the dough out until it's about 1/2 inch thick. Starting with the end of the rectangle closest to you, fold end to the middle. Repeat with end of the rectangle farthest away from you. You should now have a square. Turn the square a half turn and then roll back into a rectangle; repeat the folding process two more times. This is what creates nice flaky layers.

Roll dough to about 2/3 of an inch thick.

Using a cookie cutter or any circle (I use a juice glass) cut out biscuits and place on a baking sheet lined with parchment paper.

Brush biscuits with buttermilk and place in the oven for 15-17 minutes or until nice and brown.

Let cool on pan for 5 minutes then enjoy the simple pleasure of a warm biscuit. Pass the home-made jam!
Print Recipe
(Visited 16,357 times, 6 visits today)