The whole chicken. It has incredible powers. A dish to me that just screams Sunday family dinner. This is something my mom would make for us regularly on Sunday's and given that we are currently on quarantine, it's something I miss very much. This isn't the exact recipe my mom would follow, candidly this recipe is better than hers haha don't tell her I said that.
Key things to keep in mind when cooking a full chicken. 1) Brine your chicken! 2) Season Chicken properly with salt 3) Roast bird at 400 4) Let chicken rest before slicing it up!
Roasted Chicken. Nothing says home more to me than a perfectly cooked whole chicken.
Print Recipe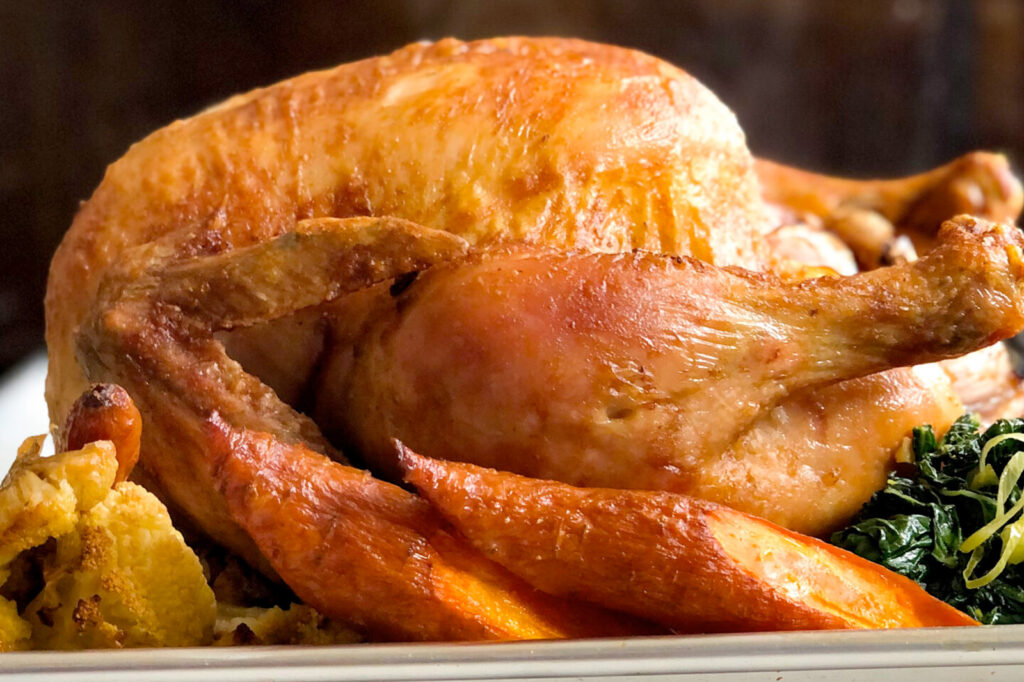 Ingredients
1

4 lb free range organic chicken

1

cup

salt

1

cup

sugar

7

bay leaves

¼

cup

peppercorns

Enough water to cover the bird when in a large container

1

white onion

4

cloves

garlic, skin on

5

sprigs

thyme

Salt for seasoning bird
Instructions
The most important step to ensuring your chicken is succulent and moist is to brine it in advance. Brining allows you to get more moisture in the meat which results is a juicy end product! It also makes it harder to over cook. Get started with the brine. In a container larger enough to fit the whole chicken add in 1 cup of salt and 1 cup of sugar then mix until both are totally dissolved. Add in bay leaves and pepper corns and then drop in the chicken. Let chicken sit submerged in the water mix (in the fridge) for at least 4 hours or ideally over night.

Take chicken out of the water and discard the brine. Pat bird dry with paper towel and let chicken sit out on counter until whole bird comes up to room temp. This ensures even cooking.

Season whole bird with salt and preheat the oven to 400.

Place chicken in roasting pan and fill the cavity of the bird with the onion, garlic, and thyme. Then place chicken in the oven for 90 minutes. After 90 minutes check the colour of the bird. Our goal is to get it to a beautiful golden brown. Increase temperature at the end of the cook to help with browning. Just keep and eye on it.

Pull chicken out of the oven once internally temp reaches 175-180. Let chicken rest for 15 minutes before slicing! Enjoy with your favourite side dishes and your closest friends and family.
Print Recipe
(Visited 2,733 times, 1 visits today)