We are big fans of golden beets in our house. Incredibly nutritious, really tasty, and dang beautiful. I just love these little guys. I prefer them to the red as I find them slightly sweeter and the beautiful yellow after they are roasted is so incredibly inviting.
Sesame Ginger Golden Beet Salad
Print Recipe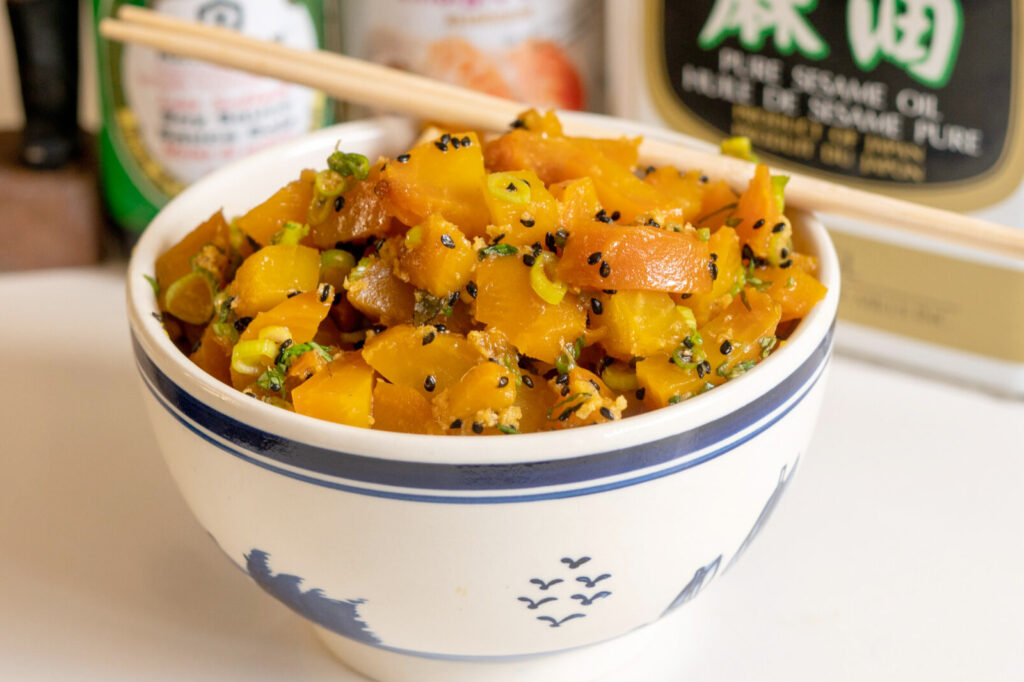 Ingredients
5-6

large roasted yellow beets (roast in oven for 60 minutes at 450)

½

tsp

grated fresh ginger. Bottled is fine too.

2

tbsp

sliced green onions

1

tbsp

black sesame seeds
Ponzu Vinaigrette
Juice of 1 lime

½

tsp

sesame oil

1½

tbsp

low sodium soy sauce

1½

tbsp

rice wine vinegar
Instructions
Roast beets, unpeeled, in the oven at 450 for 1 hour. Let sit on the counter to cool completely. Any beets you don't use for this recipe can be stored in the fridge for up to 7 days.

Remove skins from the beets and dice into small cubes. Place in a bowl.

Add sliced green onions and sesame seeds to the beets.

In a small bowl whisk together lime juice, sesame oil, soy sauce, rice wine vinegar, and pour over beets. Mix everything together and enjoy!
Andy's Notes
Ponzu Vinaigrette 
This dish is inspired by a tuna tartare dish I make. I love the Asian inspired ingredients that go into the salad and I could eat this dish literally every single day. The dressing itself is made of lime juice, soy, rice wine vinegar and a touch of sesame oil. This simple vinaigrette can be used on many occasions and is an easy way to amp up any dish. Noodles, rice, salads, seafood. It's a great dressing to have on hand when you are looking to add some flavour. 
Roasting Golden Beets
Most Sundays I cook a full sheet tray of beets just to have for the week. Roasting them really couldn't be any easier. All I do is crank the oven to 450, throw the beets on the tray unpeeled, and let them roast away for around an hour. Once done, I remove  them from the oven and let them cool on the counter. Then it's easy to peel the skin off with my hands. They store in the fridge perfectly and are great for salads throughout the week.
Print Recipe
(Visited 880 times, 1 visits today)