This smoked apple and Boursin French toast is a sure fire way to elevate your brunch this spring. Sweet, creamy, and just an absolute show stopper. You are absolutely going to want to make this one to impress the ones you love.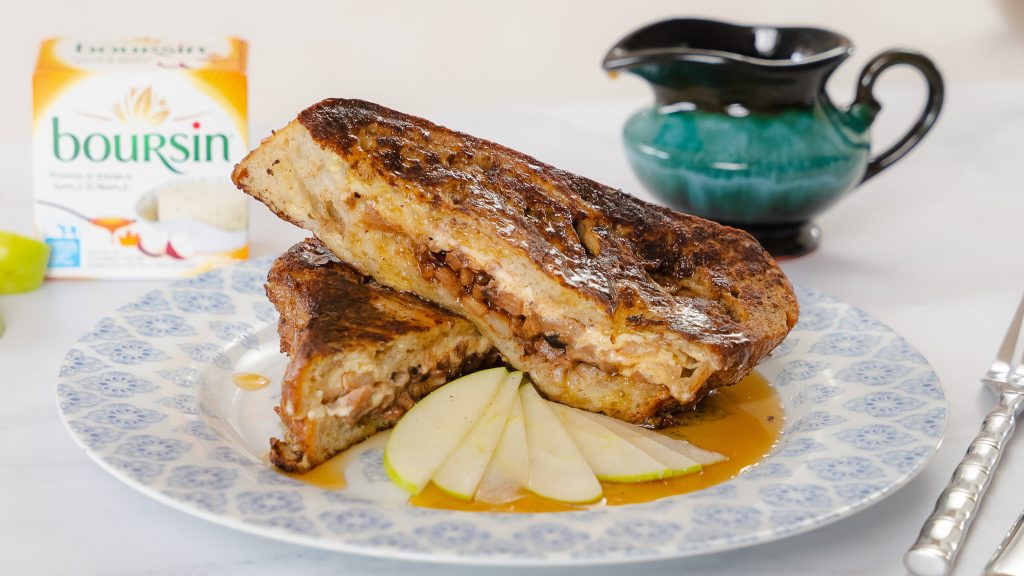 French toast to me is at the top of the brunch pyramid. And this Smoked Apple & Boursin Stuffed French Toast is totally next level. I started by dicing up some green apples and tossing them in some cinnamon, nutmeg, and lemon juice. I tossed the apple mixture into a hot pan and sautéed until soft. At the very end I added a half shot of brandy just for additional flavour and caramelization, but that is optional. The last step I did with the Apple compote was to lightly smoke it using my smoking gun. This is a fun, cheffy tool to have around the house to quickly impart Smokey flavours into dishes.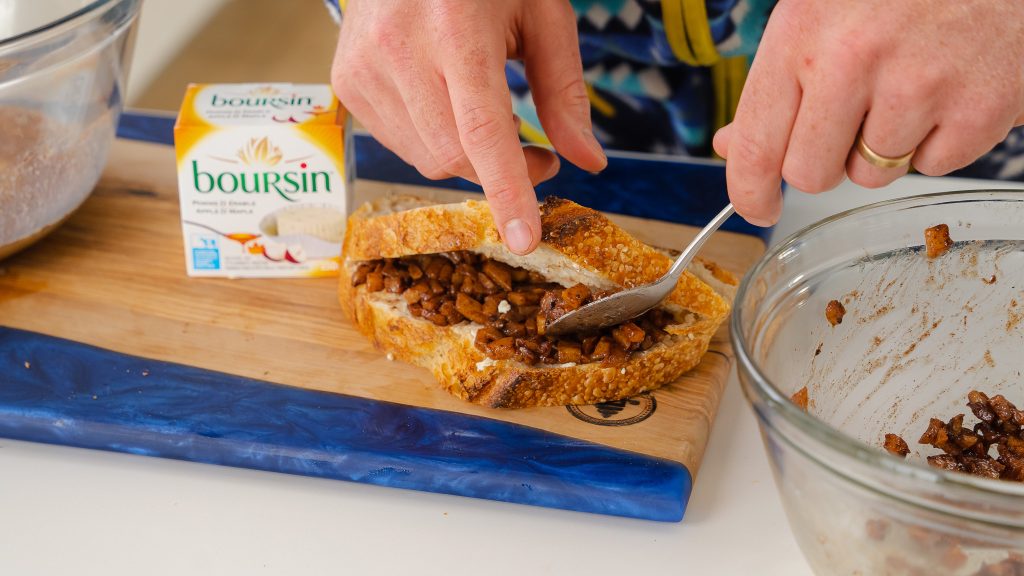 For this Smoked Apple & Boursin Stuffed French Toast I used a very thick cut of fresh sour dough. One these piece is cut I carrot sliced a "poach" in the middle using a bread knife. Basically just cut 75% the way through the middle of the bread. From there I layered on the apple and maple Boursin and then the smoked apple compote. 
Once you have the bread stuffed, you just make regular French toast from there! Dip the bread in a cinnamon egg mixture and then fry both sides golden brown. Top with maple syrup and that's it!!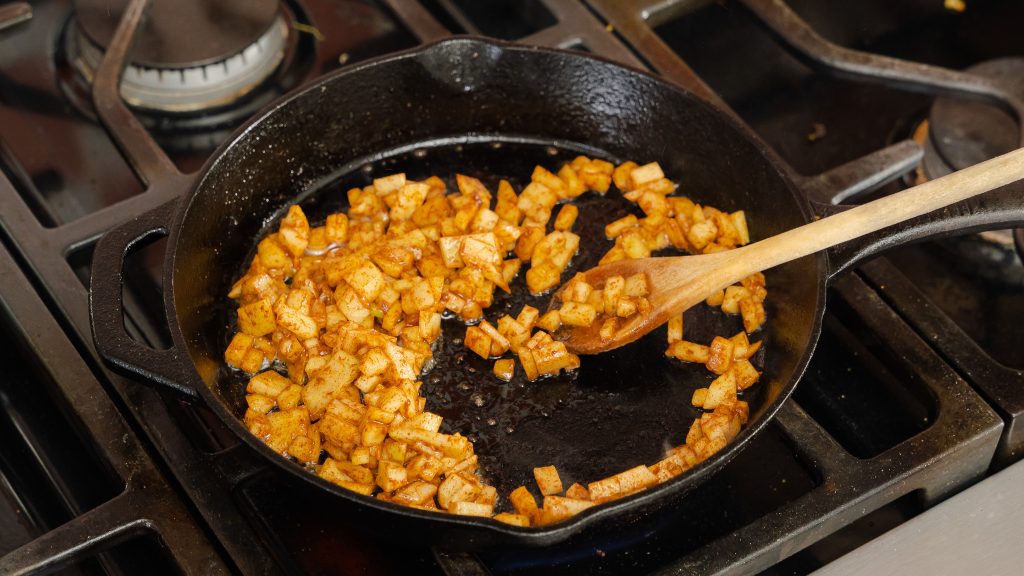 Other brunch recipes you might enjoy
Smoked apple and boursin stuffed french toast
Print Recipe
Ingredients
Smoked apple compote
2

green apples, peeled and diced

1 1/2

tsp

cinnamon

1

pinch

nutmeg

1

pinch

salt

1

tsp

lemon juice

1

tbs

butter

1

tbs

water

1

tsp

brandy (optional)
French Toast
2

slices

Sourdough

thick cut

4

tbs

Boursin apple & maple

3

eggs

1

tsp

cinnamon

1

pinch

nutmeg

1/2

cup

milk

1

pinch

salt
Instructions
Toss peeled and diced apples into a bowl with cinnamon, nutmeg, salt, and lemon juice. Toss to coat.

Place a medium pan over medium high heat and drop in 1 tbs of butter. Once melted add in the apples and saute. After 2 minutes add in the water and once that is evaporated you can carefully add the brand if using. Allow the alcohol to fully burn off and then remove from heat.

Pour apples into a bowl and cover with plastic wrap. Using a smoking gun, infuse apples with wood smoke for 4 minutes.

Cut two thick slices of sour dough. Using a bread knife, carefully slice 75% of the way through the centre of the slice of bread. Now smear on 2 tbs of boursin apple and maple followed by 1/4 cup of the smoked apple compote. Push down on the bread.

In a large bowl mix together the eggs, milk, cinnamon, nutmeg, and salt. Carefully drop in the stuffed bread and allow to soak in the egg mixture for 2 minutes per side.

Place an oiled pan over medium heat and drop in some butter and olive oil. Once pan is at temperature place the french toast onto the pan and fry until both sides or perfectly brown.

Remove from pan and serve with Canadian maple syrup.
Print Recipe
(Visited 997 times, 1 visits today)