I know the burning question on everyone's mind these days is "Andy, what do I do with butternut squash?". Well, I have the answer for you; Butternut Squash Black Bean Enchiladas. These are super craveable, healthy, and just generally a fun vegetarian dish. Perfect for meal prep and weeknight meal cravings. Dare I say a new staple????
I am writing this recipe the day after Canadian Thanksgiving weekend and I am 100% turkey'ed out and needing some healthy, flavourful, dinner options for this week. I had a butternut squash kicking around my house that I have been wanting to use for the last couple of days. What better way to transform this vegetable than spice it up and cover it with sauce and cheese! Yes, please!
Spiced Butternut Squash Black Bean Enchiladas
Print Recipe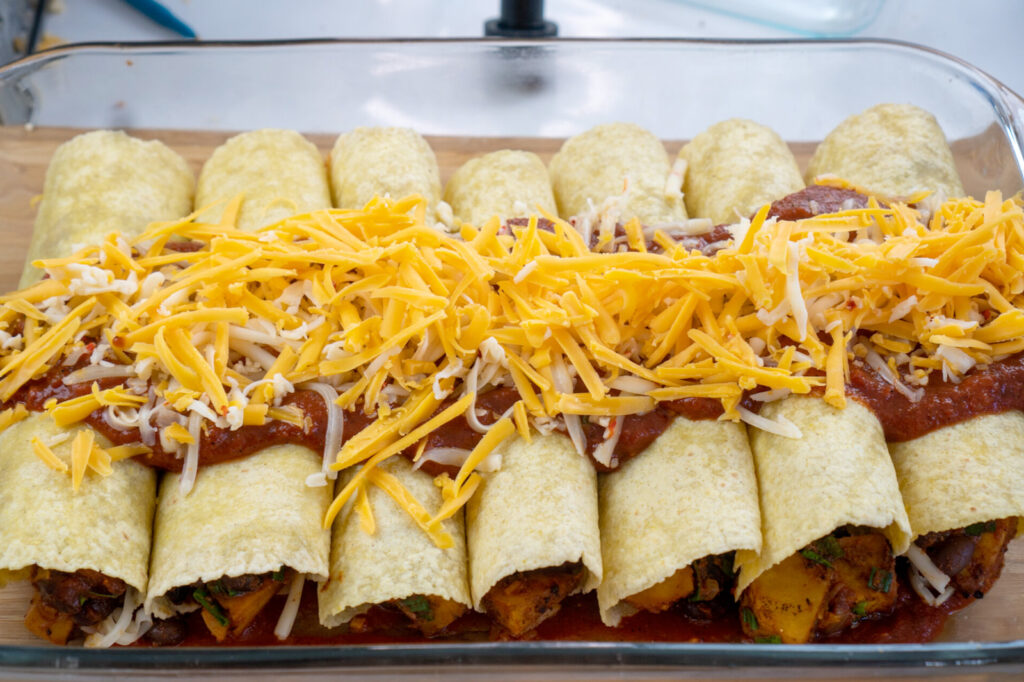 Ingredients
Roasted Butternut Squash
1

Butternut squash peeled & chopped into cubes

Juice of 1 lime

2

tbsp

olive oil

1

tbsp

coriander

1

tbsp

onion powder

1

tbsp

chili powder

1

tbsp

cumin powder

1

tbsp

smoked paprika
Enchilada Sauce
1

onion, diced

5

cloves

garlic, minced

2

tbsp

smoked paprika

2½

tbsp

chili powder

2

tbsp

dried oregano

1

litre

tomato sauce

2

tbsp

tomato paste

juice of 1 lime

2

tbsp

apple cider vinegar
Avocado crema
1

avocado

Juice of 1 lime

½

cup

fresh cilantro

1

tsp

salt

1

cup

sour cream
Rest of the ingredients
1

can

black beans, rinsed

3-5

cups

shredded cheese

1

avocado sliced

6-12

corn tortillas
Instructions
Let's get started with the butternut squash. Firstly you are going to peel the squash. Next, cut the squash in half lengthwise and scoop out the guts. Then chop the squash into cubes.

Once squash is cubed, place into a large bowl and add in the lime juice, olive oil, and all of the spices (coriander, cumin, onion powder, smoked paprika, chili powder). Mix together and then place on a parchment-lined sheet pan. Bake for 25 minutes.

While the squash is roasting, let's get cracking on the sauce. Firstly, heat 1/2 tbsp oil in a pot over medium-high heat and add in the onion and garlic and saute until the onion is translucent. Next add in the paprika, chili powder, oregano and stir together. Next in goes the tomato sauce and tomato paste, water, and apple cider vinegar. Stir fully together and let simmer for 10 minutes.

Once squash is soft, place in a large bowl with black beans, cilantro, and anything else you would like to add into the filling of the enchilada. Add in 2 cups of the sauce and mix together.

Spoon 1 cup of the enchilada sauce onto the bottom of a large casserole dish. Spread the sauce to cover the full bottom of the dish.

Now it is time to assemble. Lay the tortillas flat on a cutting board. Spoon about 3 tbsp of the butternut squash black bean mixture onto each tortilla. Add 1 tbsp of sauce, and then 1 tbsp of shredded cheese. From there, roll the tortillas and place them into the casserole dish with the open seam facing down. Fill the casserole dish with as many rolled and stuff tortillas that can fit.

Once the casserole dish is full, spoon on another cup of the enchilada sauce across the middle of all of the rolled tortillas. Sprinkle on a handful or two of shredded cheese and bake in the oven at 350 for 25 minutes.

You're close to the end!!! In a food processor, blitz together the avocado, sour cream, lime juice, and cilantro. Blitz until smooth.

After the cheese has melted on top of the enchiladas you are good to serve. Top with the avocado crema, fresh avocados, cilantro, and limes. ENJOY!!!
Andy's Notes
Ingredients you will need
Butternut Squash: tender roasted squash gives this dish a lovely, satisfying flavor and texture. I am always trying to find cool ways to use butternut squash, and this is definitely a winner.
Black beans: Beans give the vegetarian enchiladas a delicious boost of protein and fiber.
Herbs: I use fresh herbs in a lot of my dishes. It gives additional freshness and brightness to any meal.
Shredded cheese: I love a good enchilada with layers of cheese in every bite. Feel free to use a dairy-free cheese or omit if you're vegan or dairy-free.
Corn tortillas: Corn Tortillas keep this recipe gluten-free, however feel free to use flour tortillas if you like.
For your enchilada sauce: olive oil, onion, garlic, chili powder, cumin, dried oregano, salt, tomato sauce, tomato paste, water, and apple cider vinegar.
For the avocado lime crema: sour cream, avocado, fresh lime juice, cilantro, salt. Feel free to use a dairy-free Greek yogurt to make it dairy-free.
Delicious spices: you'll roast your butternut squash with chili powder, garlic powder, smoked paprika, onion powder, salt & pepper. 
Flavoring for the sauce: It's crucial to pack as much flavor into the sauce as you can. This is done by using lots of onion, garlic, and spices.
How to make homemade Enchilada Sauce
This enchilada sauce packs a serious flavour punch. It follows a similar process to an Italian tomato sauce, but I use more Latin American style spices like cumin, coriander, chili, and paprika.
Heat oil in a medium pot over medium-high heat. Add in onions and garlic and sauté for 5 minutes or until onions become translucent. 

Add in chili powder, cumin, oregano, paprika, salt, and stir for 30 seconds to allow the spices to cook a bit. Stir in tomato sauce, tomato paste, water, and apple cider vinegar then bring to a boil. 

Reduce heat to low and simmer for about 5 minutes, then remove from heat. Season with additional salt and pepper to taste, if necessary.
Print Recipe
(Visited 3,097 times, 1 visits today)