This super easy, spicy teriyaki tofu recipe is one for the books. It has all of the makings of a family weeknight classic. Crispy fried tofu tossed in a sweet, spicy and sticky teriyaki sauce plated on a bed of perfectly cooked sushi rice, perfect for any picky eater or anyone looking to add a few more vegetarian meals to their weekday dinner rotation.
Key Ingredients
While this recipe is super simple, there's a few key ingredients that are super important!
Tofu- In this recipe, we used firm tofu. This is going to allow it to stay together and form a solid crust while we fry. If you were to use a soft tofu, it will most likely fall apart once it hits the heat.
Rice flour/Corn starch- This is what is going to give the tofu its incredible crunch, staying crunchy even after being tossed in the sweet, spicy and sticky teriyaki sauce. It also plays an important roll in the sauce, giving it its glossy body and texture!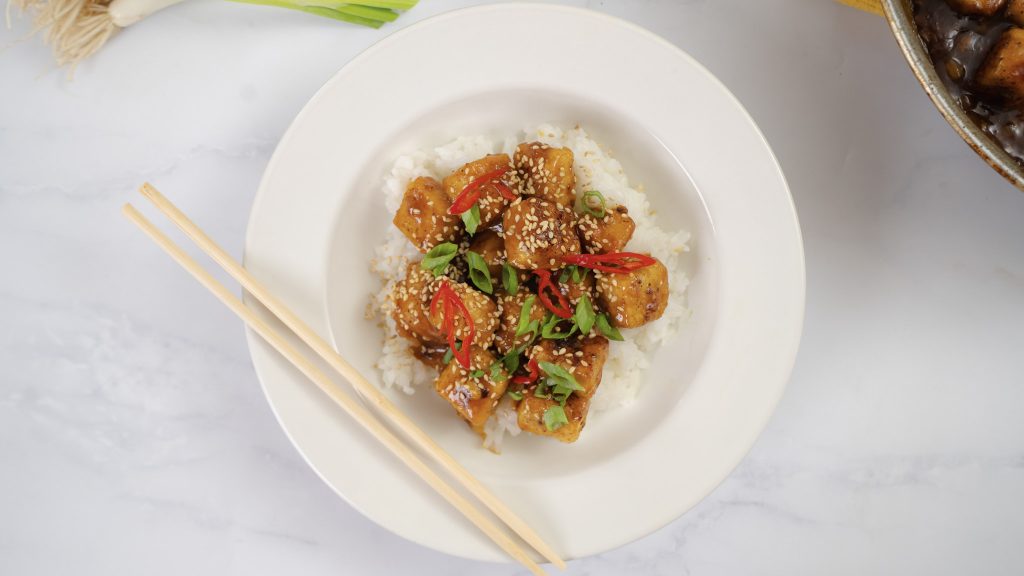 It's all about the sauce
The sauce is whats going to give this dish all of its flavour! You can't have Spicy Teriyaki Tofu without Teriyaki sauce! It's a simple list of ingredients but they sure pack a punch!
Fresh Ginger
Fresh Garlic
Shallot
Honey
Sesame Oil
Rice Wine Vinegar
Water + Cornstarch
Tasted Sesame seeds
Saute down your aromatics (Garlic, shallot, ginger), add your liquids and sesame seeds and let it reduce. Thats it!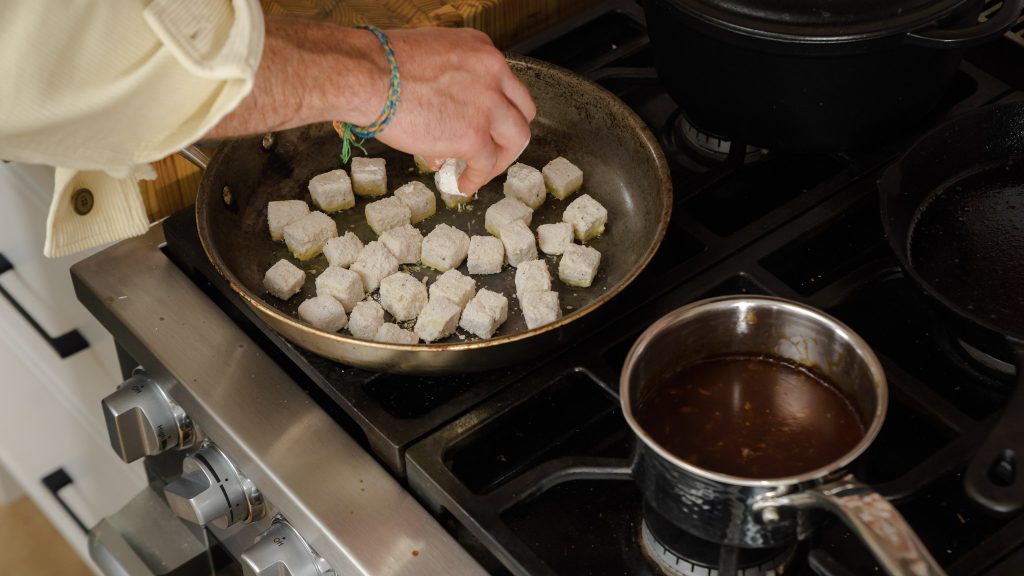 Tips on nailing Spicy Teriyaki Tofu
Don't over crowd the pan – We want to make sure theres room for each tofu cube to get golden brown and crispy. It might take a few extra minuets but it's worth it!
Evenly coat your tofu- When you toss your tofu in the flour mixture, make sure there is an even layer of starch or flour. This is going to make sure its crispy all around. The bigger the bowl the better.
Let the sauce reduce– When you make your sauce you'll want to reduce it a touch, to make sure its glossy/sticky and not wet/loose.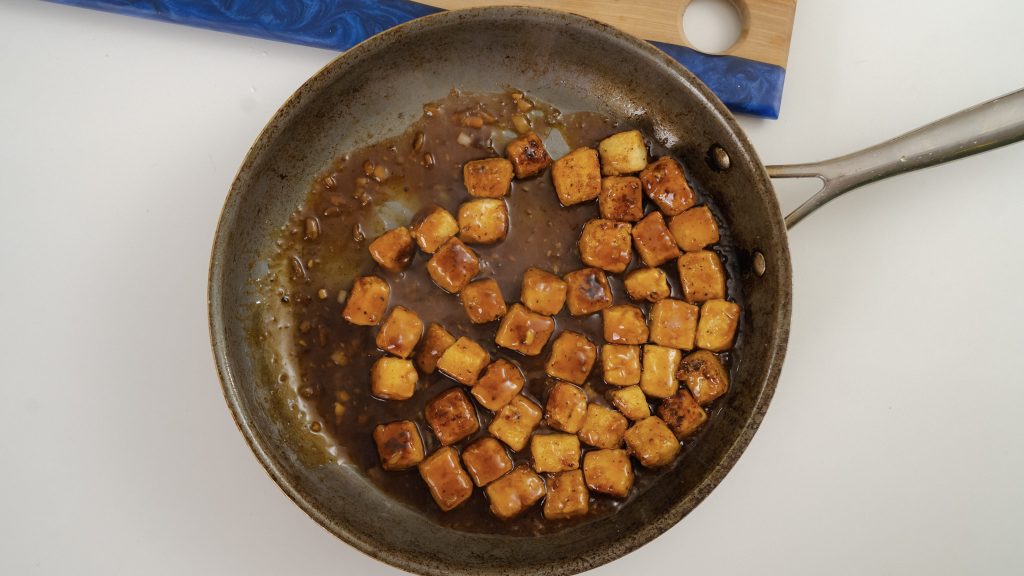 Other recipes you should check out
If you like this recipe for Spicy Teriyaki Tofu, you should check out some of these similar recipes!
Crispy Korean Chicken Stir-fry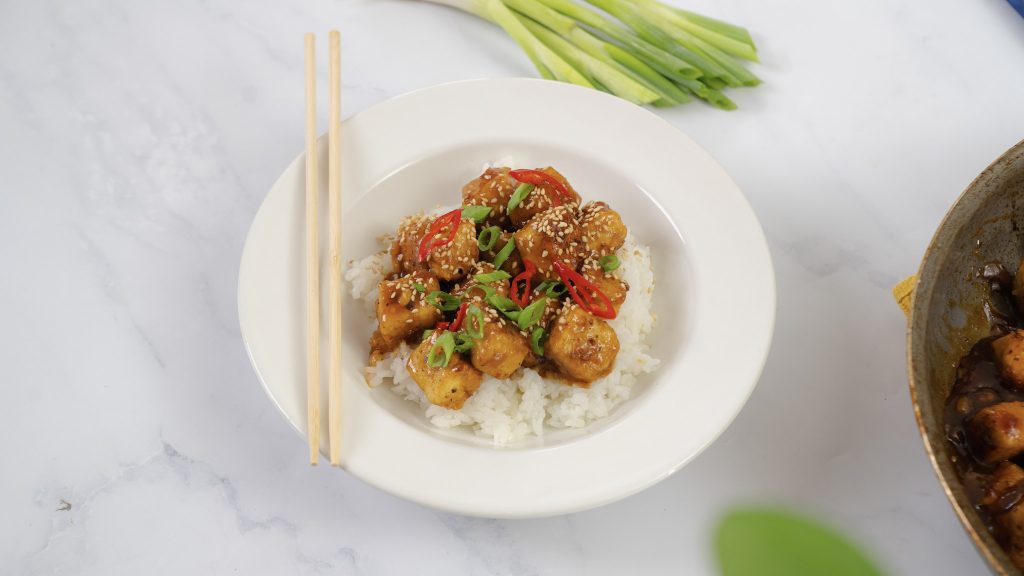 Spicy Teriyaki Tofu
Print Recipe
Ingredients
For the Crispy Tofu
1

pack

Extra firm tofu

Drained

1

cup

Rice flour or Cornstarch

1

tsp

Salt

1

tsp

Black pepper

1

tsp

Cumin

1

tsp

Garlic powder
For the Teriyaki Sauce
1

inch

Ginger

Minced

2

large

Garlic cloves

Minced

1/2

large

Shallot

Minced

1/2

cup

Low sodium soy sauce

2

tbs

Honey

1

tsp

Sesame oil

3

tbs

Rice wine vinegar

1/4

cup

Water + 4 tsp Cornstarch

2

tbs

Sesame seeds
Instructions
Remove tofu from package and drain well. Cut into cubes and set aside.

Into a bowl whisk together the soy sauce, honey, sesame oil, rice wine vinegar, water + cornstarch mixture, and the toasted sesame seeds. Set bowl aside.

Place small pot over medium high heat and add in 1 tbs of oil. Once oil is hot add in the garlic, ginger, and shallot and stir constantly for 1 minute. After 1 minute pour in the sauce and allow to come to a simmer, be sure to whisk the sauce frequently. The sauce should start to thicken up once it simmer for a couple minutes. After it begins to thicken, remove from heat and set aside until we are ready to serve.

In a bowl mix together rice flour, salt, pepper, cumin, and garlic powder. Toss in the cubed tofu and coat evenly in the flour mixture.

Place an oiled pan over high heat and once temperature has been reached place remove the coated tofu cubes and place them into the pan. Crisp on all sides, about 6 minutes.

Once tofu is crispy pour in the teriyaki sauce and coat tofu. Allow the sauce to thicken up if needed.

Serve on a bed of sticky rice, sliced chillies, sesame seeds and fresh green onion.
Print Recipe
(Visited 1,736 times, 3 visits today)