It's a well-known fact that we are big fans of street food here at the East Coast Kitchen. We were jamming on some ideas about doing something on a stick and we saw there was a head of cauliflower in the fridge that was just calling our names.
This dish is a fun one and while we deep fry the cauliflower in a light batter, you could totally go for a hard roast and achieve something similar.
Gojuchang is an ingredient you will see pop up a lot in our recipes. It's worth venturing to your local Asian grocer to pick up a tub of it – it's so, so delicious!
Make way for the new king of fried foods. Sticky, spicy and saucy fried cauliflower.
Print Recipe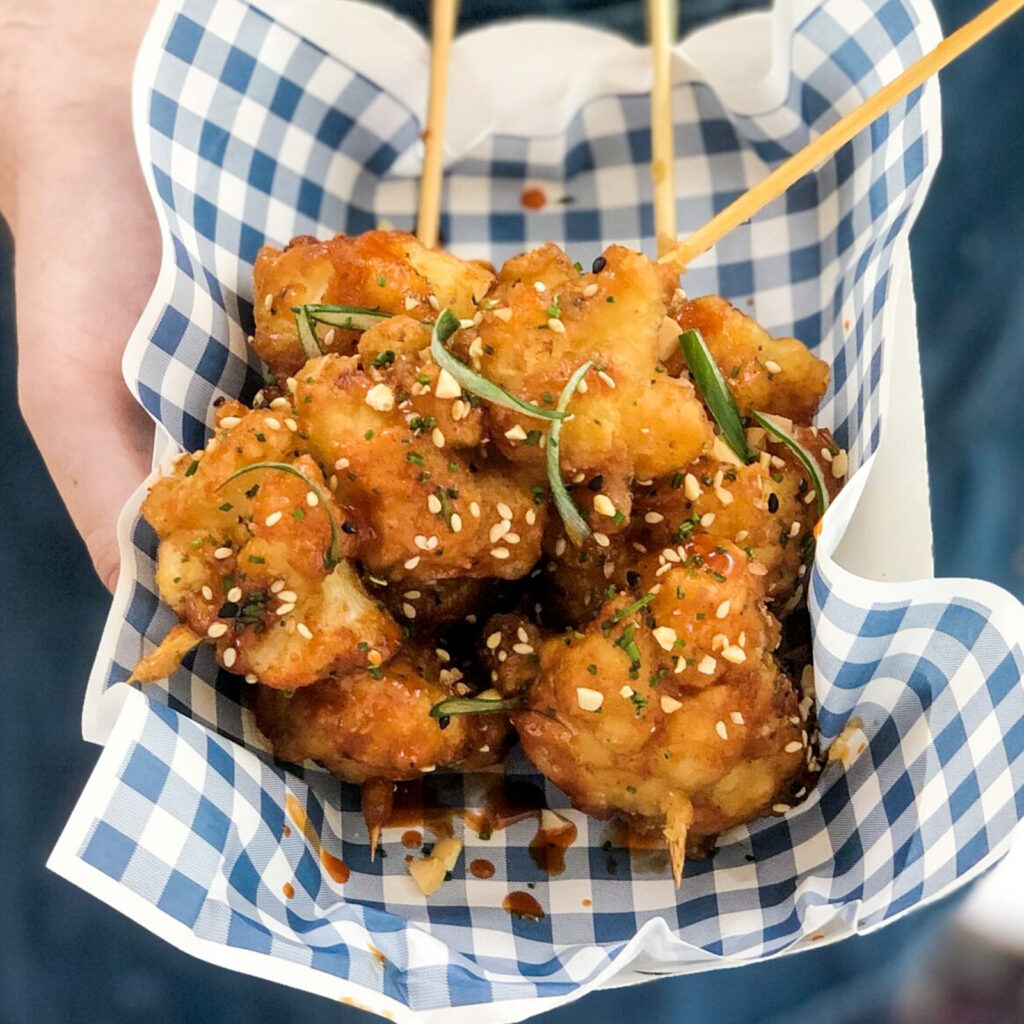 Ingredients
1

head

cauliflower

5

tbsp

corn starch (plus more for dusting)

1¼

cup

water

1

cup

all purpose flour

1

tsp

baking soda

2

tbsp

sesame oil

¼

cup

gochujang

½

cup

water

3

tbsp

honey

Chopped chives or green onion

Chopped peanuts

Toasted sesame seeds

Salt and pepper

5-6 bamboo skewers

2

litres

canola oil
Instructions
Break your cauliflower down into small bite-sized chunks. Once you remove the stem you should be able to break them apart with your hands.

In a large pot filled with an inch of water, steam your cauliflower until tender, 2-3 minutes depending on size. You don't want to over-cook it or else it'll give you trouble when trying to skewer it! Once steamed, remove from pot and set aside to cool.

In a large bowl, combine water, flour, cornstarch, baking soda, a pinch of both salt and pepper and the sesame oil. The batter should be thick, not runny and have a strong sesame scent.

Take your steamed florets and skewer them through the stem onto the stick, about three large or four medium will do. Dunk them in the batter one at a time. Transfer to a baking sheet and sprinkle with a healthy amount of extra corn starch. Deep fry at 350F for 2-3 min or until golden brown. Remove from oil and allow to drain and slightly cool.

In a pot over medium heat, add water, honey and gochujang. This is a very basic sauce, spicy and sweet. If you want less heat, simply add more honey. Just make sure to slightly reduce the sauce to obtain that perfect saucy, sticky consistency.

Chop peanuts, chives or green onion and set side. Brush sauce on each skewer then sprinkle with your garnishes.
Print Recipe
(Visited 1,804 times, 1 visits today)