It may not be your Nona's pizza recipe, but don't worry we won't tell. This one is for our younger audience or for those who are looking to rekindle their child like whimsy! This summertime Watermelon Pizza is the perfect warm weather treat that will bring a smile to everyone, we're sure of it!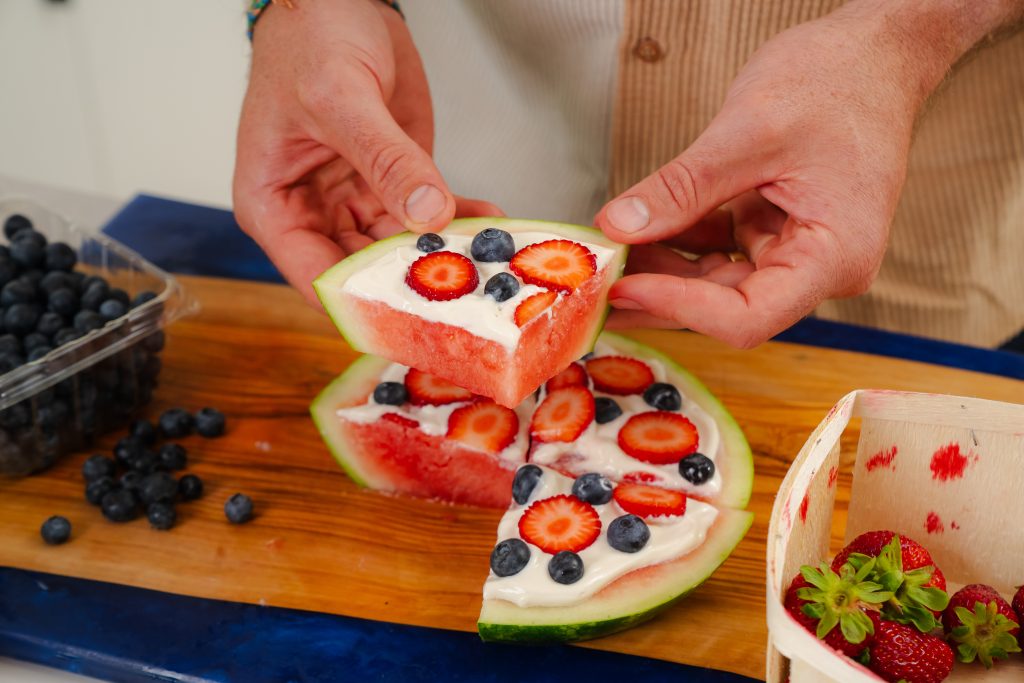 Bring the kids and let them create!
This one might just be the perfect summertime recipe; not just because it's full of peak season, fresh fruit, but because it's fun for the entire family. The best part is how customizable it is. We know kids (and some adults) can be picky eaters, but with the amount of fresh fruits in the stores and markets, theres an endless array of combinations. Pick the ripest fruit and you can't go wrong!
You can really take the fruit topping in any direction you are craving! Let your creavity lead the way. If you get stumped below are some of my favours.
Fresh Berries. Strawberries, blueberries, raspberries, blackberries, partridge berries.
Kiwi or mango
Grapes
Plumbs, peaches, nectarine
Oranges. Fresh or canned mandarines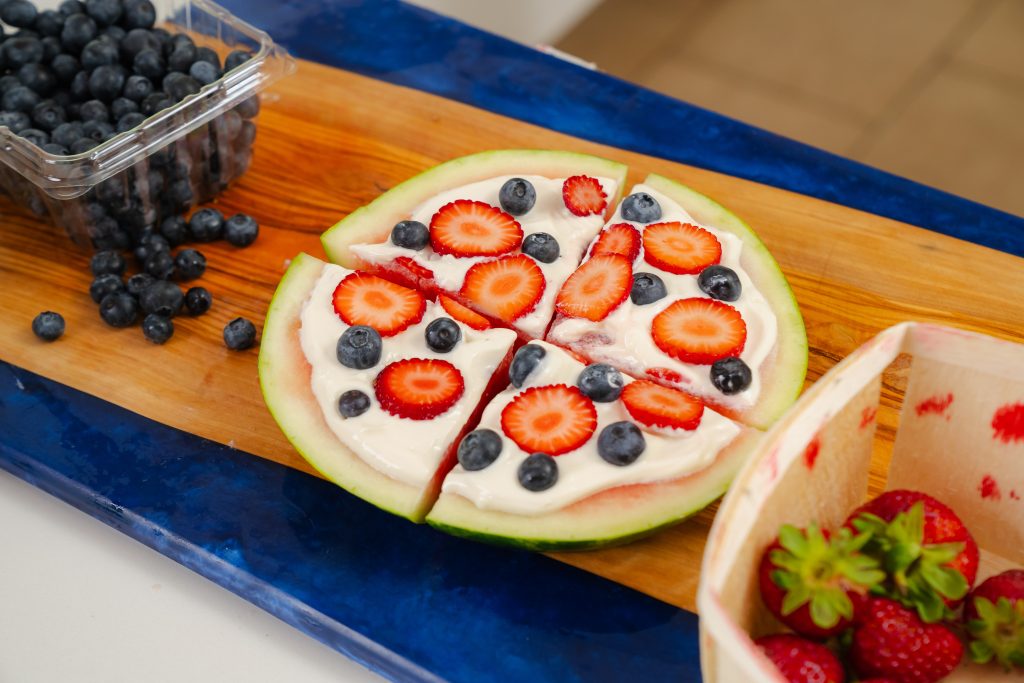 Picking the right fruit
Not all fruit reach ripeness the at the same time. We've all purchased a watermelon that looked perfect, just to take it home and find out it's under ripe, gritty and dry. Here's a few tips you can us to make sure you find the perfect watermelon every time!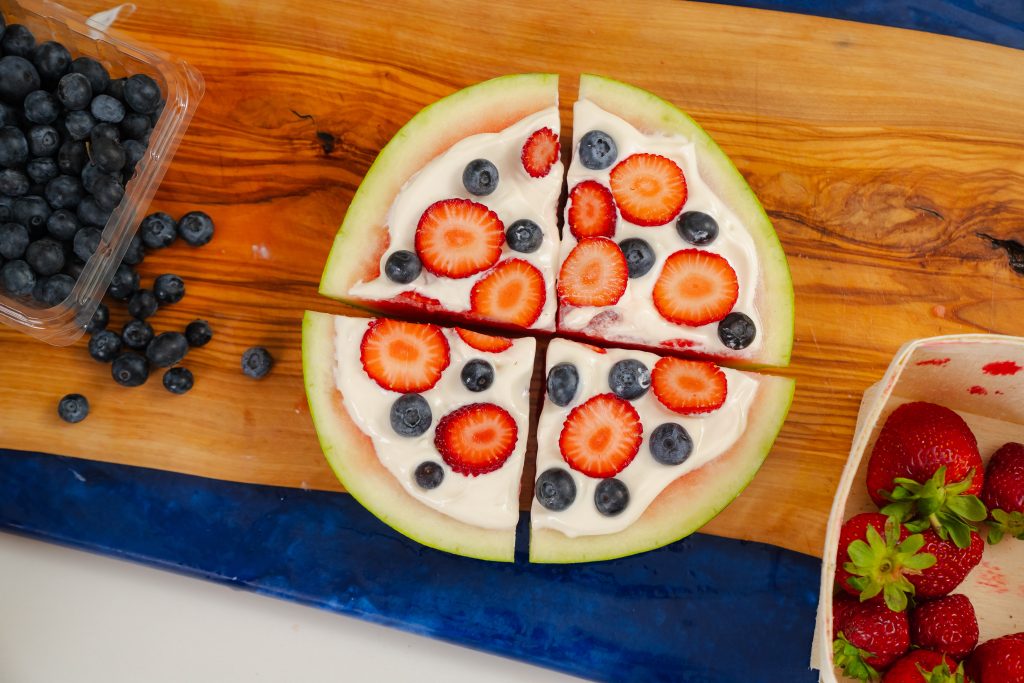 Nailing the Icing!
Of course this recipe is dead easy, but we still want to make sure everything is spot on. When it comes to cream cheese based icings theres a few things to keep in mind and a few things we did to make this one more family friendly.
First off we've cut this recipe with 1/2 cup of greek yogurt. This does one of two things; it helps add a bit of acidity making the icing a bit tangier and bright and it also helps introduce some healthier fats. Using pure cream cheese is totally fine, but with lovely bright and fresh fruits, it helps to keep things on the lighter side.
When beating and mixing the icing together, make sure everything is mixed fully. No powdery clumps of icing sugar in this Watermelon pizza.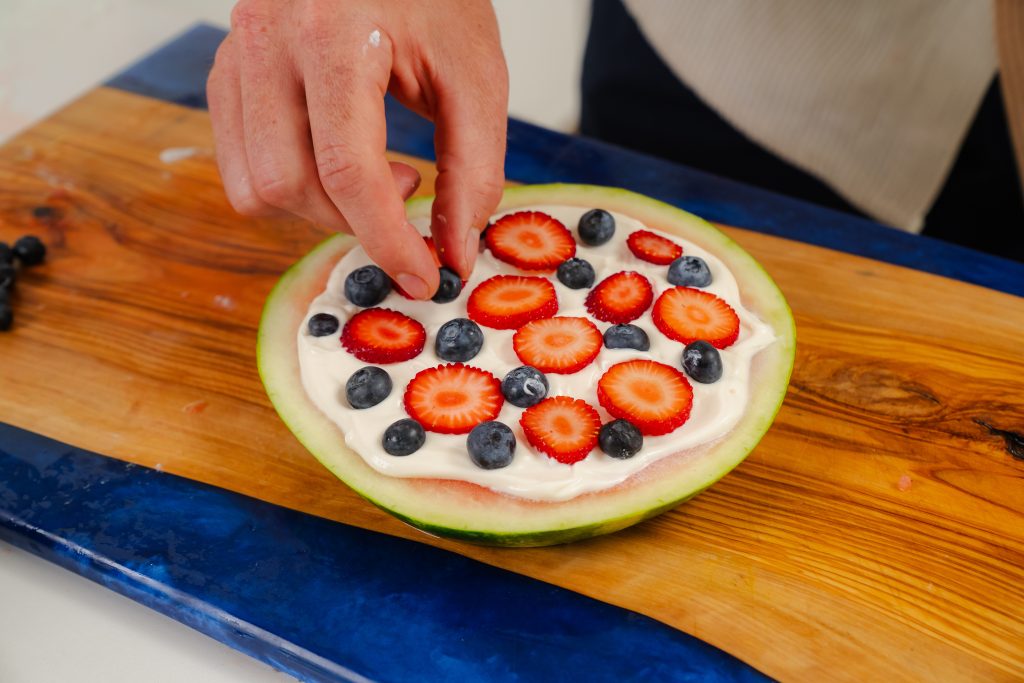 Other Recipes to check out
If you liked the sound of this Watermelon Pizza, here's a few other recipes we think will fill you with child like whimsy!
Frozen Strawberry Yogurt Bites
Watermelon Pizza
Print Recipe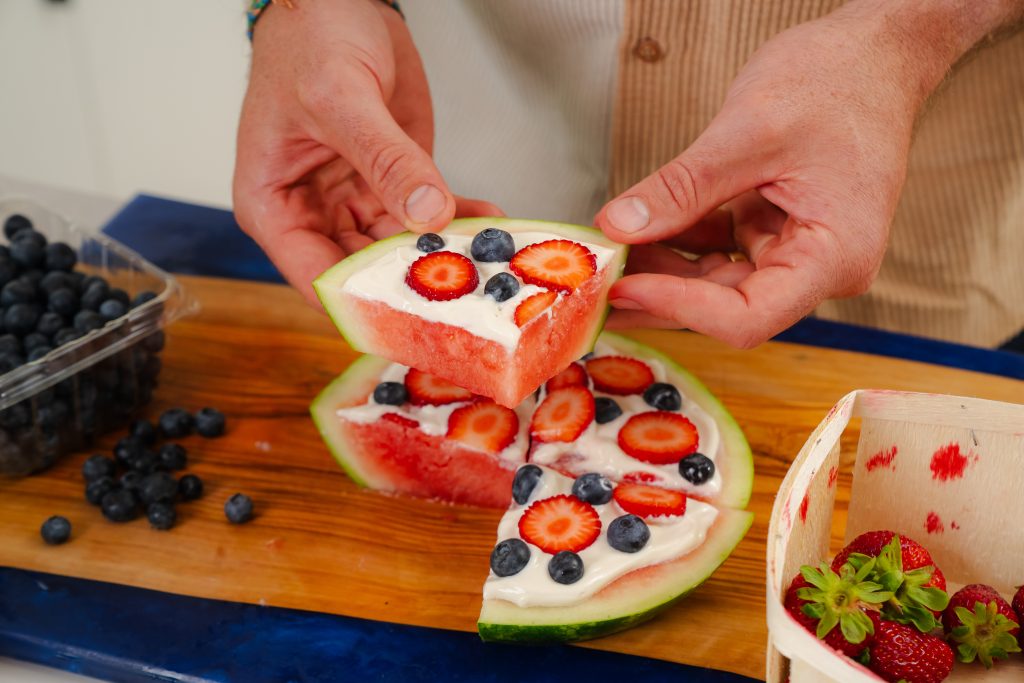 Ingredients
1

Watermelon

1/2

cup

Cream cheese

1/2

cup

Greek yogurt

2

tbs

Powdered sugar

1

tsp

Vanilla
Instructions
Using a hand mixer mix together all of the ingredients until Smooth.

Cut watermelon into disks. Top with cream cheese icing and your favourite fruit. Slice into quarters and serve.
Print Recipe
(Visited 320 times, 1 visits today)