Tahini paste might just be one of my favourite ingredients to cook with. Tahini paste is simply ground sesame seeds, and can now be found in pretty well any grocery store you visit. A traditional Middle Eastern and Mediterranean ingredient, it's used to make hummus, baba ghanoush, and many other delicious dishes from that part of the world.
This sauce, or spread, is perfect to keep in the fridge at all times; great with raw or cooked vegetables, a piece of pita or warm flatbread. What is also really fun about it is that you can get creative with this sauce. Below I will show you a basic recipe as well as a few easy variations that add even more flavour and colour. This is a fun recipe that's also very healthy – hope you enjoy it!
Tahini Sauce – No fridge should be without!
Print Recipe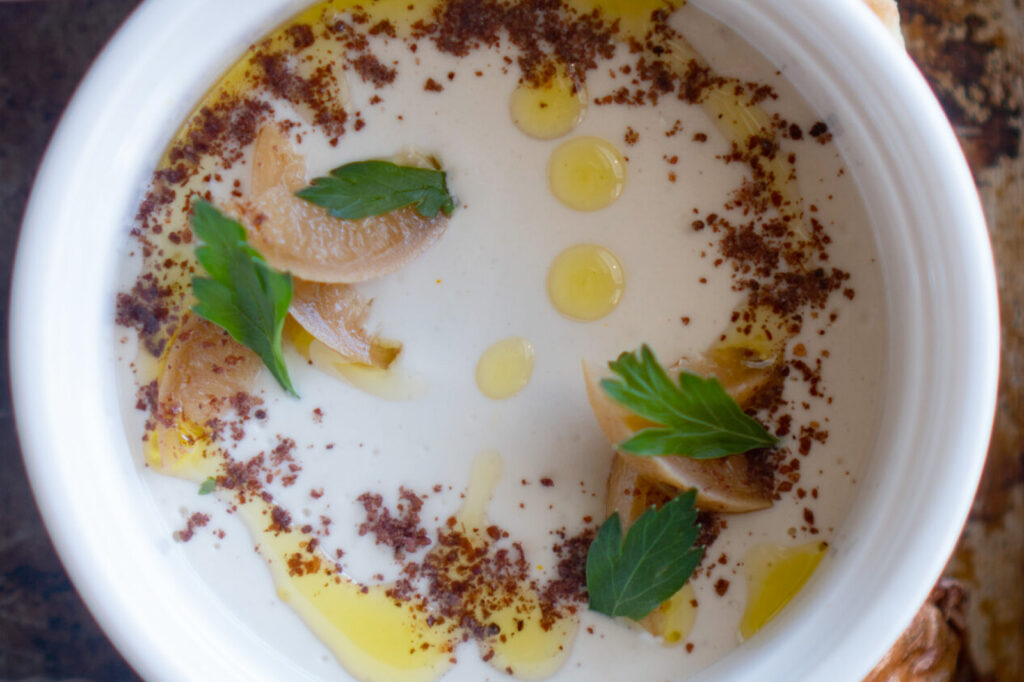 Ingredients
1¼

cups

tahini paste (You wil need to stir the paste well before taking it from its bottle)

4

garlic cloves

¾

cup

cold water

1½

tsp

salt

Juice of 2 lemons
Instructions
In a blender add tahini paste, salt, lemon juice, and garlic. Blend to chop garlic. Turn speed to high and slowly stream in cold water. You want the sauce to be loose, so you may need to add in a little bit more water if the sauce remains thick.

See above for variations on this amazing sauce.

Serve with pita, vegetables, meat.
Andy's Notes
Tahini Sauce Base Recipe
You will use the base recipe for each of the variations. This by itself is also wildly delicious so don't feel like you need to do any of the other variations. It works best if you use a blender or food processor. All you need to do is add the Tahini paste, garlic, lemon juice, and salt to the blender. Then while the blender is running, slowly stream in really cold water. You want it really cold so that the sauce is light and fluffy. I don't know the science behind why this happens…just trust me!
Pink Tahini
Nothing fancy here. Simply add about 1/2 cup of cooked red beets into the blender with the base tahini sauce. Blitz until smooth.
Herby Green Tahini
Add  a handful of green herbs to the base tahini. I used parsley, cilantro, and mint. Blend until smooth. I also threw in about a half of a cup of spinach just to give it that extra punch of color.
Ginger Tumeric Honey Tahini
This is my favorite of the bunch. Add 1 1/2 tsp fresh ginger, 1 tsp turmeric powder, and 1 tsp honey to the base Tahini. Blend until smooth. I topped my golden Tahini with dates and it was awesome.
Print Recipe
(Visited 1,339 times, 1 visits today)