When I travelled to Thailand a number of years ago, I fell in love with the cuisine. The balance of sweet, spicy, sour, funky, and fresh is amazing. My wife and I would wander the streets trying everything, and we fell in love with so many amazing dishes. This Basil chicken was one of those dishes. Nothing overly complicated with this stir-fry, but it really hits a lot of notes for me. If you have tried the Cashew Chicken recipe on my website and enjoyed it, you will likely love this one too! 
Thai Basil
Thai basil is an incredible ingredient that differs from the Italian Basil we find in most large grocery stores, at least here in Atlantic Canada. Thai basil has a flavour between Italian basil and cilantro. It's fresh, herbal, and just lovely. You can find it at most Asian grocery stores, or you can grow it in your garden!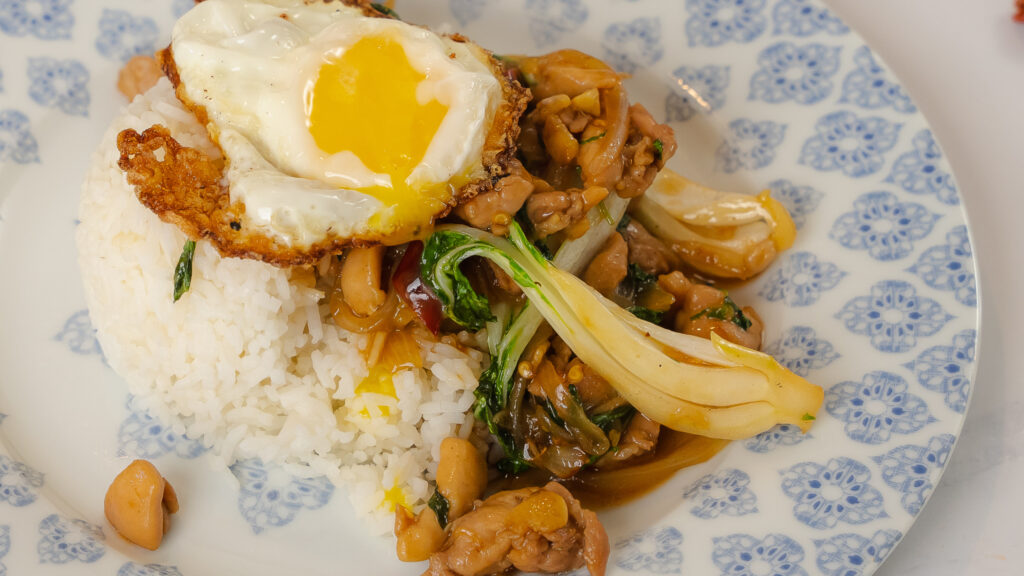 Stir fry sauce
This stir-fry sauce is made by using 5 ingredients. Oyster sauce, soy sauce, fish sauce, sugar, and cornstarch. The combination is sweet, salty, and a bit funky.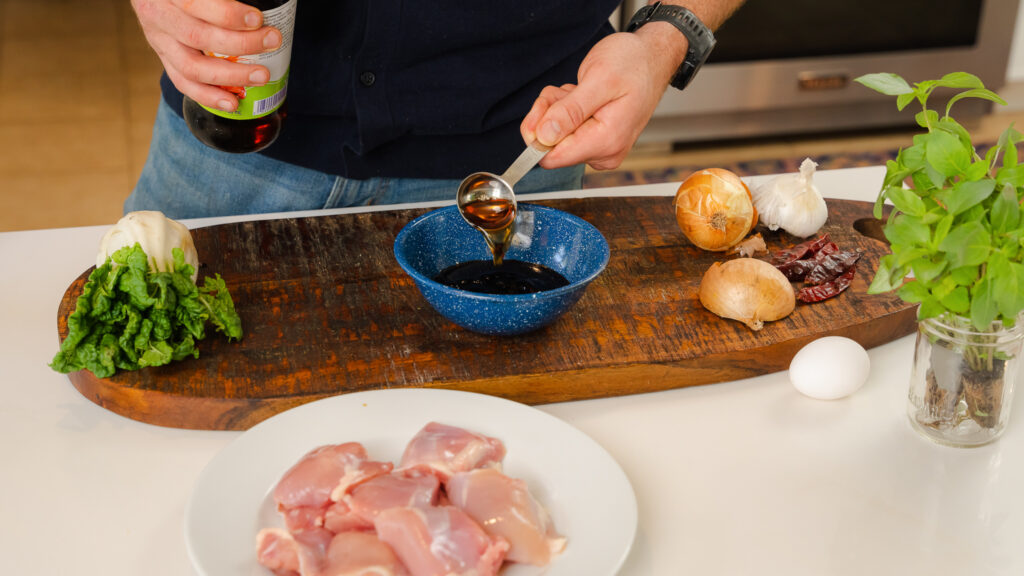 Let's Breakdown the Ingredients
Chicken Thighs- I like using chicken thighs when stirfrying as they have a bit more fat and are less likely to get overcooked.
Onion, Garlic, dried chilli- This combination is the flavour backbone of this dish. The smell alone of them sauteing is worth making this recipe. 
Thai Basil – Bright, herbal, fresh. If you can't find any Thai basil, Italian basil will do the trick. 
Baby Bok Choy- You can substitute any vegetable you like, but I love the fresh crunch provided by the baby bok choy.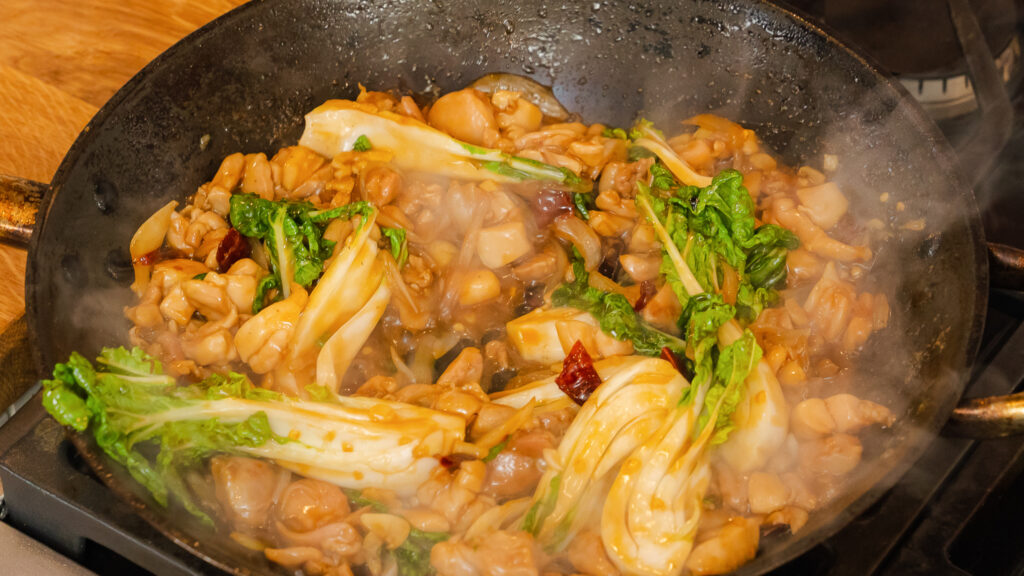 Basil Chicken Stir-Fry
Print Recipe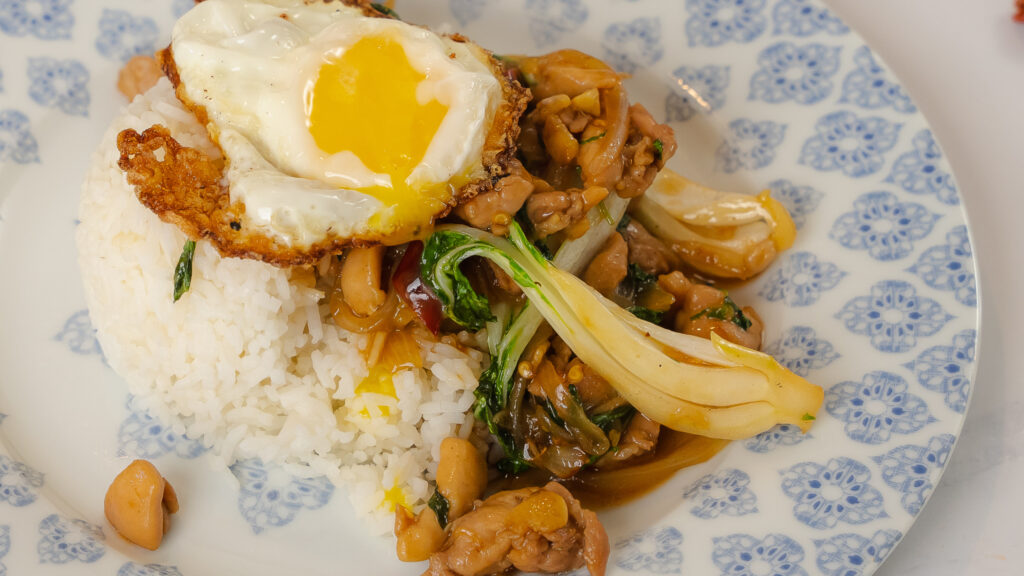 Ingredients
Stir Fry Sauce
1/3

cup

oyster sauce

1

tbs

fish sauce

2

tsp

low sodium soy sauce

1

tsp

sugar

1

tsp

cornstarch
Stir Fry
1

onion, diced

6

dried chilis

6

cloves

garlic

6

chicken thighs, sliced

1

cup

thai basil

1

baby bok choi, sliced.
Instructions
Let's start with the sauce. Into a small bowl whisk together oyster sauce, soy sauce, fish sauce, sugar, and corn starch. Set aside.

Place a large pan or wok over high heat. Pour in 2 tbs of canola oil and allow to come to temperature. Once temperature has been reached drop in the garlic, onion, and chilis. Saute for 30 seconds. Enjoy that smell!

After 30 seconds drop in the chicken and saute until the chicken begins to brown. After about 3 minutes pour on the stir fry sauce and toss until chicken is covered.

After about 4 minutes of sauteing, drop in the fresh basil, and baby bok choy. Fry for another 60 second and then remove from heat.

Serve with jasmine rice and a fried egg.
Print Recipe
(Visited 3,850 times, 1 visits today)