I love making doughnuts. If there is one thing I had to serve to people, it would likely be a fresh, warm doughnuts. It's like a hug for the soul.
I've been making doughnuts for a couple of years now, playing and tinkering around with the ratios and now I think I have it right. This recipe is THE BEST I HAVE EVER MADE!
The Best Doughnut Recipe Ever. Yeast doughnuts.
Print Recipe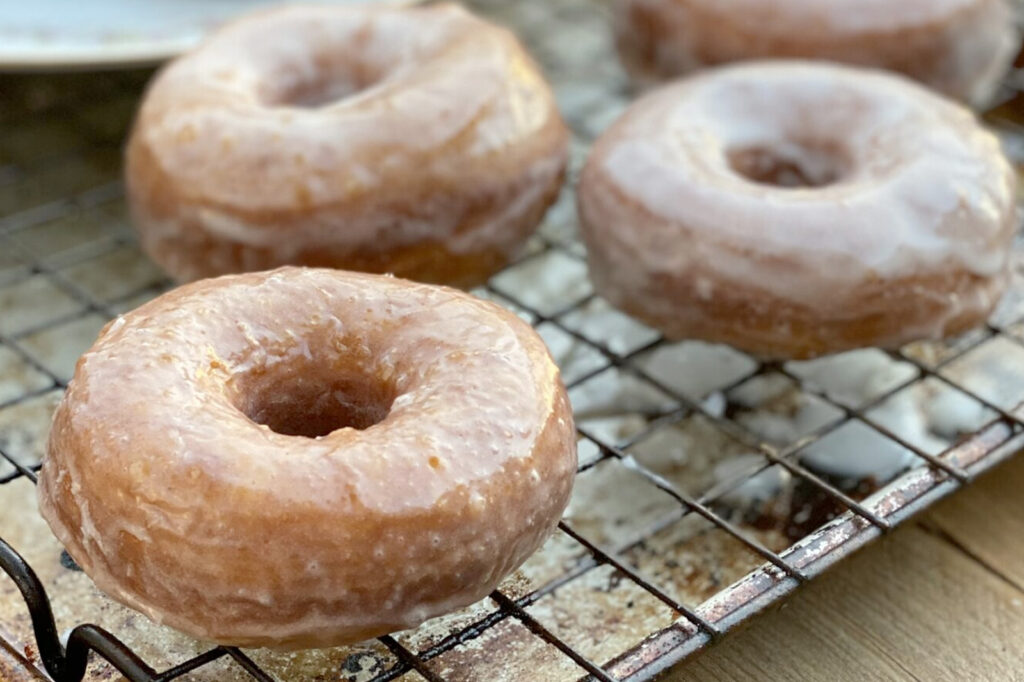 Ingredients
Doughnut ingredients
2

rounded tsp

quick rise yeast (instant)- 8g or 2 packages

1

cup

warm water (NOT HOT)

¼

cup

sugar

1

egg beaten

½

tsp

cinnamon

⅓

cup

melted butter

1

cup

milk

4½

cups

flour + more for dusting

1

tsp

vanilla

6

cups

high smoke point oil for frying
CINNAMON SUGAR TOPPING
1

cup

sugar

2

tbsp

cinnamon (more if desired)
GLAZE TOPPING
2

cups

icing sugar

2

tbs

to 1/4 cup of milk. Depends on the thickness of your desired glaze
Instructions
Let's do this! Doughnuts are so fun. First, in the bowl of a stand mixer add yeast, sugar, and water. Let rest in a cozy spot in your kitchen until the yeast bubbles a little bit. Usually around 5-10 mins.

Next up, add in the beaten egg, cinnamon, melted butter, milk, flour, and vanilla, and knead using the hook attachment. If you do not have a stand mixer, kneed by hand for 10 minutes.

After the dough is kneaded, form into a ball and place into a lightly oiled bowl. Cover with plastic wrap or a tea towel and let the dough rise until it has doubled in size. About 90 minutes.

After the dough is done its first rise, punch out the air and knead the dough again. Form into a ball, wrap in plastic wrap and place in the fridge for 2-3 hours.

After the second rise in the fridge, remove and roll dough into a 1/2 inch sheet using a rolling pin. Using a doughnut cutter, cut out doughnuts and place them onto a baking sheet. Cover with tea towel and let them rest for 20 minutes.

During the dough's final rest, heat the oil in a high walled dutch oven pot. Oil should be heated to around 335 BUT no hotter than 355.

Once the oil has reached temperature, gently drop in doughnuts, do not overcrowd the pot as the temperature of the oil will drop too much. Gently fry until each side is golden brown, around 3-4 minutes per side. Remove using a slotted spoon and place them onto a cooling rack or paper towel.

In a bowl mix together cinnamon and sugar. If doing the glaze, mix together icing sugar and milk.

While the doughnuts are still hot, drop them into the bowl of cinnamon and sugar. Toss until coated. Dip donuts into glaze.

EAT THESE NOW!!!!! Warm doughnuts are a rare thing in this world. Cherish it and give one to a friend ASAP. Nothing better than surprising someone with a fresh doughnut.
Andy's Notes
Tips for nailing these doughnuts
It really comes down to letting the dough rest. The longer you can let the dough rise and rest, the softer, more pillow-like the end result will be. For this recipe I mix all of the ingredients together, knead, and let rise for 1 hour in a cozy spot in the kitchen. After that I punch out the air, knead again, shape it into a ball, and place it into the fridge for at least 2-3 hours. Then, I take the dough out of the fridge, roll it out into a sheet about 1/2 in thick, cut out the doughnuts, and then let them rest again for about 20 minutes before dropping them in the fryer. This long rise helps develop flavour, but most importantly allows the dough to really rest and give you the most pillowy doughnuts you will ever eat.
Print Recipe
(Visited 6,198 times, 1 visits today)