These crispy potato wedges blew my mind, and I guarantee you won't regret making them when you try them! This method I'm sharing with you is one I've never tried before, and I bet neither have you.
The host served these crispiest potato wedges ever at a recent dinner party that had everyone continuously asking for more. Once dinner was over, I asked her what she did to make the wedges so crispy. And, of course, I have to share it with you guys!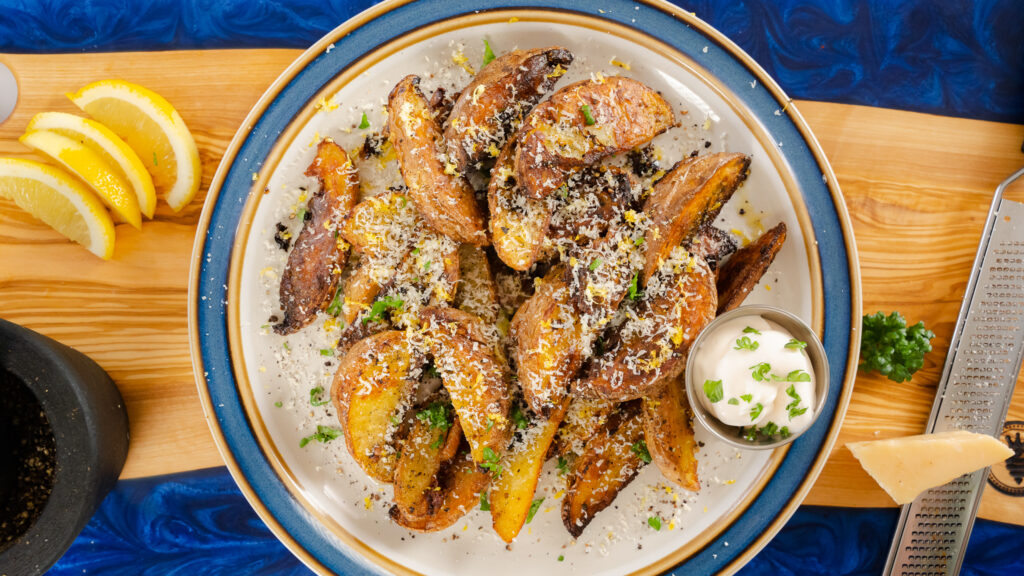 The Secret to Making These Potatoes So Crispy
This method is extremely cool, and I will 100 per cent be using it till the end of time!
The first step is to cut the potatoes into wedges and toss them into a bowl.
In the next bowl, make a mixture of equal parts water and oil and then add a bit of flour (bread flour or semolina works best due to the high protein content), lemon juice, and salt.
After the mixture is done, add it to the bowl of potato wedges and mix until combined.
Pour the entire mixture and wedges on a baking tray. There will be a lot of liquid, but it will evaporate as the potatoes cook and oil and flour will make the potato wedges so crispy!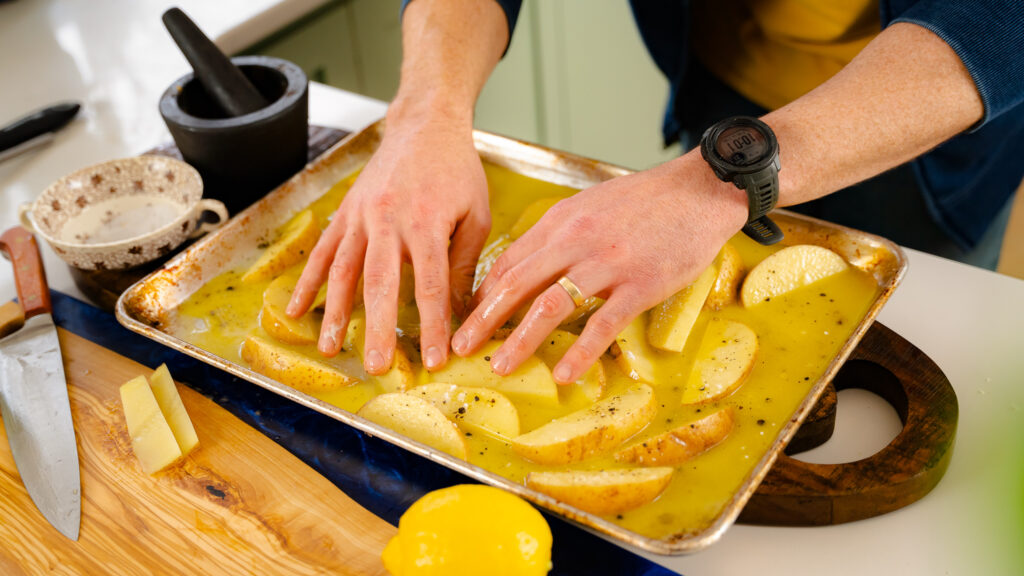 Let's Breakdown the Ingredients
The key to making the crispiest wedges you've ever eaten is using bread flour or semolina.
Bread flour has the most protein than all-purpose flour or cake and pastry flour. With the higher amounts of protein, bread flour will produce lots of gluten, making the wedges crispier.
When making these crispy wedges, semolina is an alternate option to the bread flour. It is rich in protein, rich iron, and high in folate – also known as vitamin B.
Olive oil is a great banner to combine different flavours to the wedges. When using olive oil helps form a crust on the surface of the potatoes when frying.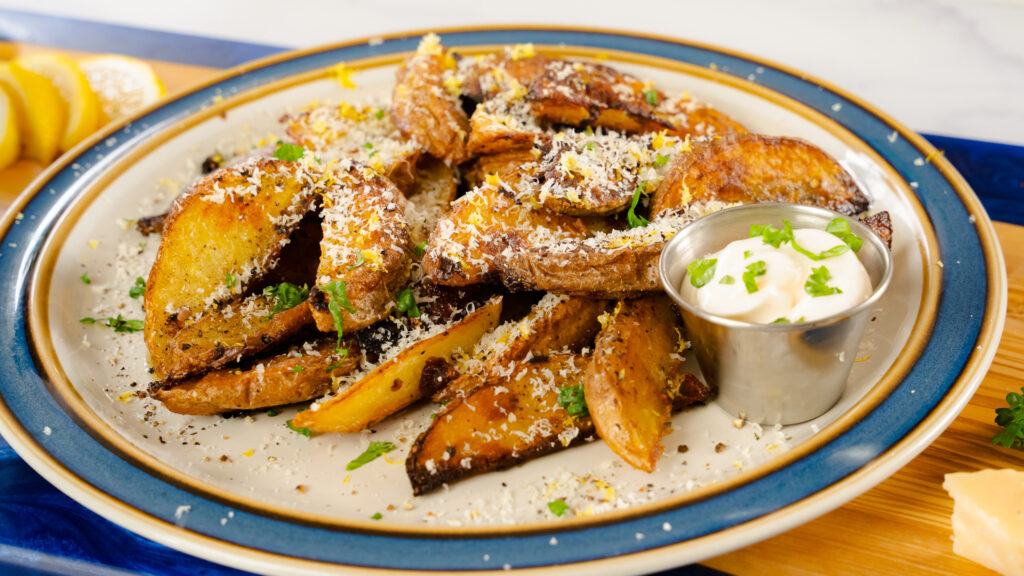 Tips For Nailing This Recipe
Don't overcrowd your roasting pan. This will cause the potatoes to steam rather than roast. It's better to use two pans if needed.
Sprinkle a bit of flour over the potatoes right as they are about to go into the oven. The flour plays a big role in creating the crunch.
Flip the wedges halfway through! Make sure you use a metal spatula as some wedges may stick to the bottom of the pan, but don't stress.
Using parchment paper on the pan would make it easier to clean up; however, I do find the flavour slightly better when vegetables are roasted directly on the metal pan. It's a small compromise.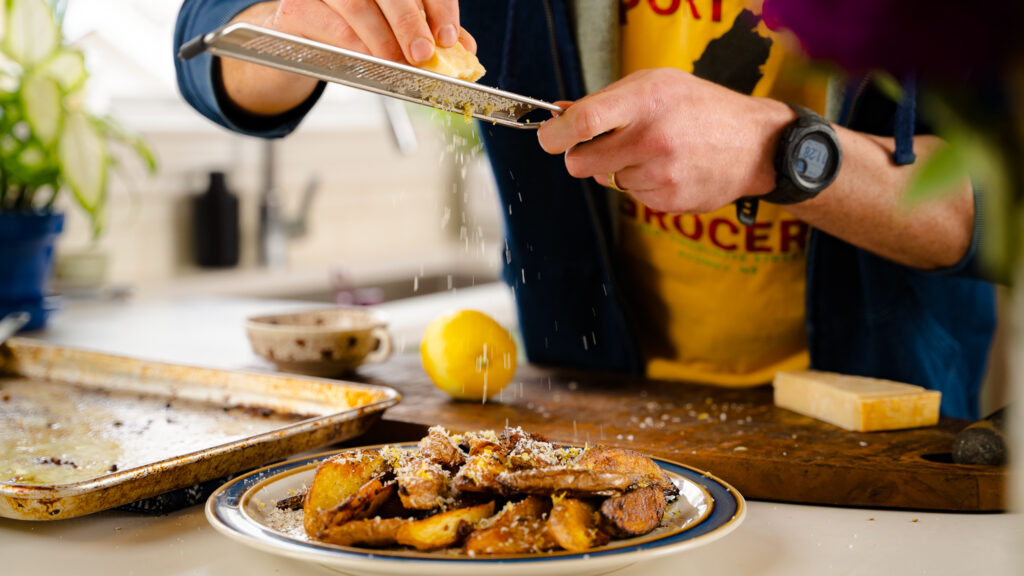 These crispy potato wedges are good as is, but I wanted to bump up the flavour a little bit. I decided to add coarsely ground pepper, zest of a lemon, and some grated parmesan. I love these flavour combinations but feel free to get creative! 
The Crispiest Potato Wedges Ever
Print Recipe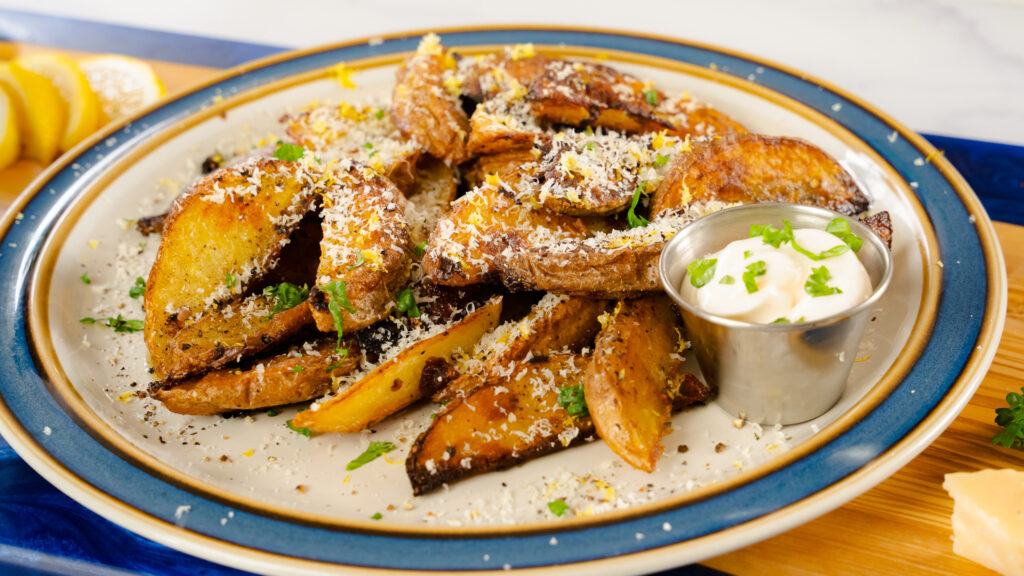 Ingredients
3

Baking Potatoes, cut into wedges

1/2

cup

Olive oil

1/2

cup

water

1 1/2

tsp

salt

2

tsp

lemon juice

1 3/4

tsp

Flour

bread flour or semolina is best
Seasoning
1/4

cup

grated Parmesan

1

tbs

lemon zest

1

tbs

fresh black pepper
Instructions
Place cut potato wedges into a bowl.

In a small bowl whisk together olive oil, water, salt, flour, lemon juice. Once smooth, pour over potato wedges and toss with your hands.

Pour potato wedges and all of the water & oil mixture onto a large baking sheet. Do not over crowd the wedges. Sprinkle a small amount more of the flour over the potatoes for extra crispiness. Place baking tray into the oven and bake for 40 minutes

After 40 minutes, remove potatoes from oven and flip each wedges over. I suggest using a metal spatula. After wedges are flipped, place tray back in the oven for an additional 40 minutes.

Once potatoes are done baking, place on a serving dish and top with crushed pepper corns, lemon zest, and grated Parmesan. Serve with a small amount of mayo as a dipping sauce.
Print Recipe
(Visited 38,596 times, 10 visits today)