Being asked to create a burger week burger is not a task one takes lightly. The pressure is intense, your heart races, and you rack your brain to figure out how you want a burger to represent you. It's your business card, your voice, your everything. After all, THIS IS BURGER WEEK.
Much has to be considered. Do you go the classic route? Well seasoned beef patty, cheese, bacon? Delicious, nostalgic, a classic for a reason. But is it too safe, too traditional? Do you go the seafood route and try to highlight the amazing bounty we have here in our waters? But is that truly representative of my ideal burger? The options are endless, and the consequences are real. But after many sleepless nights, here it is. My Burger.
The East Coast Kitchen Burger- Thai Pork Burger with sriracha aioli, pickled carrots & red onions, charred pineapple salsa, crispy onions, served on a soft milk bao bun.
The East Coast Kitchen Burger. My Creation. My soul. My #HFXBurgerWeek.
Print Recipe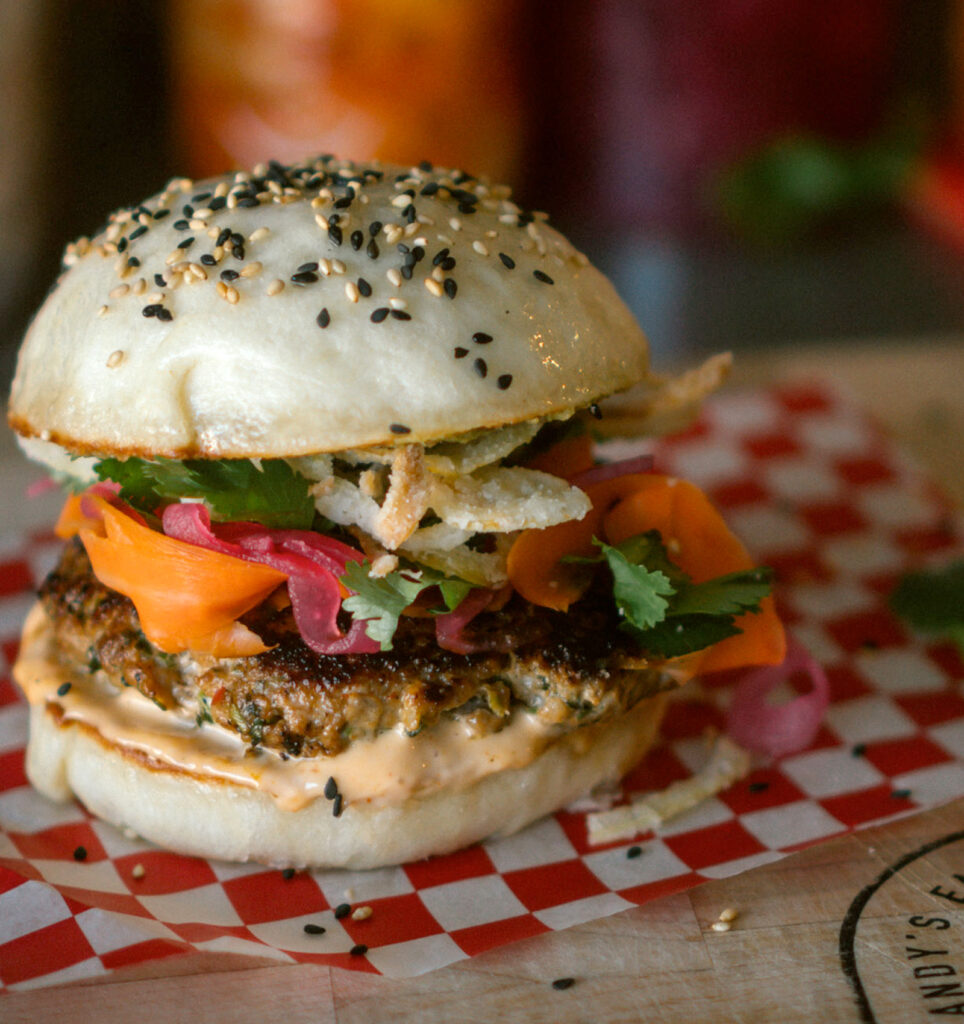 Andy's Notes
How did I come to this? Careful consideration and a couple must haves. Firstly, I knew I wanted a patty that is super flavourful. I love pork burgers as the meat carries seasoning very well.  I seasoned Getaway Farms pasture raised ground pork with garlic, onions, fresh basil, cilantro, ginger, thai chillies, soy, rice wine vinegar, sesame oil. A true flavour bomb. I wanted to add more heat to the burger so I included a house made sriracha aioli. Whenever I add heat to a dish I always like to balance it out with a bit of sweetness, which comes from the charred pineapple salsa. Next, every burger, in my opinion, should also have pickles to give a little zip, so for both flavour and colour I used pickled carrots and red onions.
So now that we have built the flavours, let's move our minds to texture. I wanted a soft bun that had a bit of sweetness. The bao dough is soft, pillowy, chewy, and has an amazing sweet flavour. In order to give it some crunch to the burger I pan fried the inside of the bun and added crispy onions. A burger must have a bit of crunch! And that's it. Asian inspired burger that is bright, spicy, sweet, chewy, crispy, and delicious.
So there it is. My Creation. My soul. My #HFXBurgerWeek.
Print Recipe
(Visited 1,261 times, 1 visits today)