Love this recipe. Super easy to do and the results are awesome. Never make dough before? Don't be scared. They are really easy. You just need a bit of time. These little guys quite literally blew my mind. A must make.
The Pretzel. This is dead easy and 100% a must try. Great food for a crew.
Print Recipe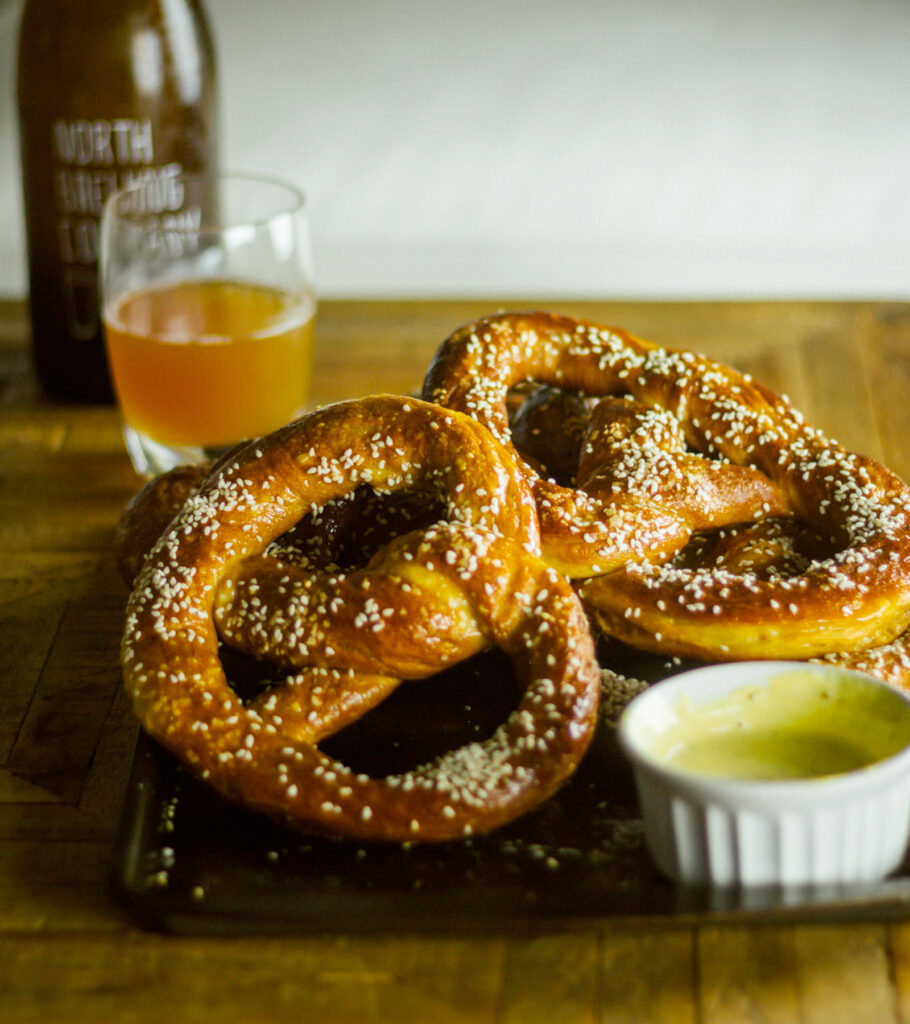 Ingredients
2

tsp

instant rise yeast

1

tbsp

honey

1

cup

+ 5 TBS of warm (not hot!!) water.

3

cups

white flour

2

tbsp

olive oil

1

tsp

salt

1

egg

⅔

cup

baking soda

flaky salt

sesame seeds

Water for large pot

2

tbsp

mayo

1

tbsp

yellow mustard

2

tbsp

grainy dijon

2

tsp

maple syrup
Instructions
Start on the dough. Combine yeast, warm water and honey in mixing bowl and let it just sit there for like 5-10 mins. You want to see the yeast wake up and get frothy. I love the smell of the yeast.

Once yeast is activated add the flour, olive oil and salt. If you have a mixer, using the dough hook and knead for 3 mins on high. If you don't have a mixer, sadly.. its by hand. Get going and knead for 7-10 mins or until the dough is smooth. Form into round ball and let it rest in an oiled bowl. Cover for about an hour.

Preheat the oven to 450F.

After the dough has doubled in size, punch the air out of the dough. Cut dough into 8 pieces and roll them out into thin ropes, twisting the two ends to form a pretzel shape. I just youtube'd how to twist these things. I suggest you do the same!

Add the baking soda to the pot of water and bring to a boil. Once at a boil add in the raw pretzels and leave them for 30 seconds. The baking soda is what gives the pretzel the nice brown colour. Could do this process with bagels as well.

After boiling all of the pretzels place them on baking sheets. Scramble the egg in a bowl and brush the pretzel with the egg. Sprinkle with salt and sesame seeds (really what ever you want) and put it in the oven for 15 minutes. Now make a dip!

In a bowl combine yellow mustard, maple syrup, grainy dijon mustard, and mayonnaise.
Andy's Notes
*For any dough newbies, it's really important to get the water to the right temperature when activating the yeast. Its not crazy sensitive, but too hot will kill the yeast and too cold won't wake the sucker up. Above room temp.
Goes without saying that you should really try to serve these hot!
Print Recipe
(Visited 211 times, 1 visits today)