My wife and I spent 6 months in South East Asia a couple years ago. The trip and the food blew my mind. When I came home I was craving dishes that I couldn't find around here at the time. This is one of them. Its become a staple in our house… well maybe minus the lobster, that's a special little addition.
This dish is bright, fresh, and delicious. The lobster and peanuts give this dish depth that make it even more crave-able.
Vietnamese cold noodle salad with lobster and seared scallops.
Print Recipe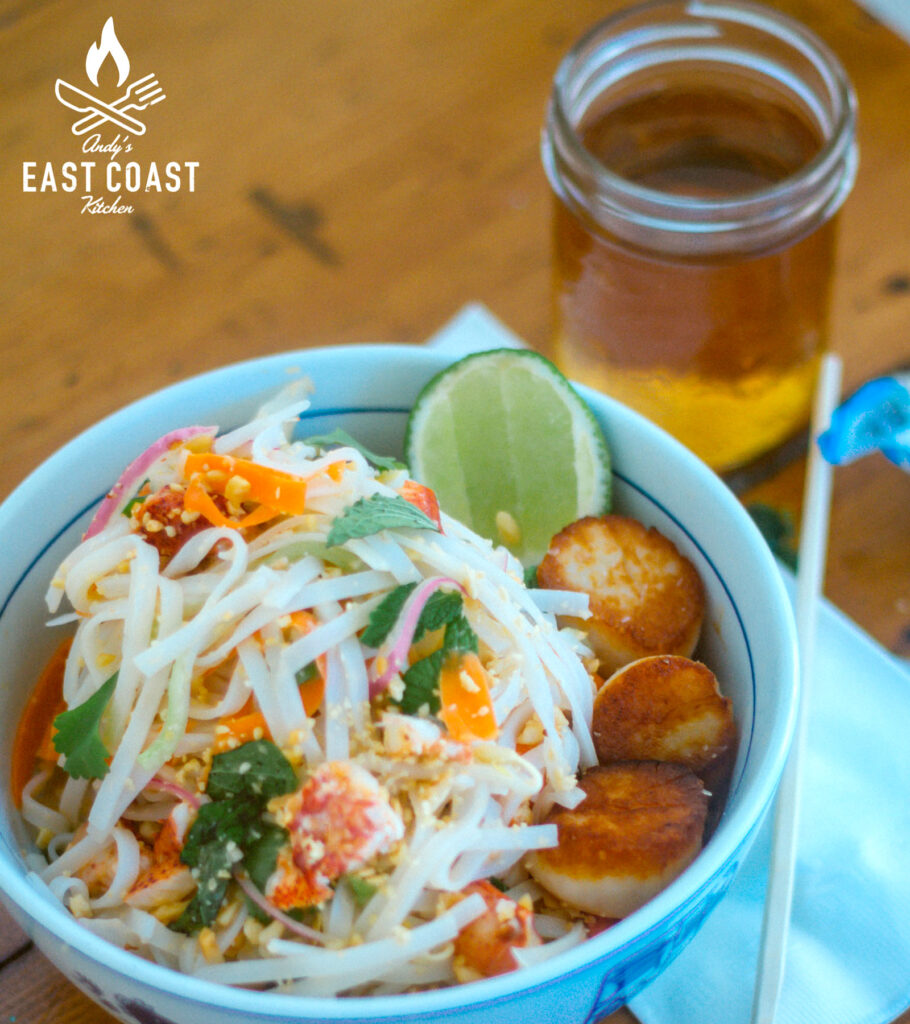 Ingredients
1

pkg

rice pho noodles

¼

cup

chopped fresh cilantro

½

cup

torn basil leaves

½

cup

torn mint leaves

2

tbgsp

sliced green onions

½

cup

matchstick carrots lightly pickled

¼

cup

slices shallots lightly pickled

½

cup

matchstick cucumbers

½

cup

roasted chopped peanuts

½

cup

bean sprouts

¼

cup

chopped pickled sushi ginger

1

cup

cold chopped lobster meat

2

tbsp

grated fresh ginger

3

cloves

fresh garlic, minced

juice of 2 limes

¼

cup

rice wine vinegar

1

tbsp

fish sauce

2

tbsp

soy sauce

3

scallops per person
Instructions
Remove noodles from package and sit them in a large bowl. Cover noodles completely with boiling water and let them sit for 3-4 minutes or until they are tender. Have a bite of one to test doneness. Drain hot water and cover noodles in cold water to stop the cooking. Drain cold water and toss with 2 tbs of sesame oil to avoid the noodles from sticking together.

In the same bowl add in the rest of the fresh ingredients. In go the herbs, the pickled carrots, shallots, sushi ginger, cucumbers, peanuts, sprouts and lobster. Toss salad together and let sit in the fridge.

In a small bowl add fresh ginger, garlic, lime juice, rice wine vinegar, fish sauce, and soy. Mix together and pour over noodle mixture.

Time for the scallops. Pat scallops dry with paper towel and ensure the tendon is removed. Heat pan over high heat and add in 1-2 tbs of vegetable oil. Once pan is very hot add in the scallops one at a time. Ensure you do not over crowd the pan. Allow the scallops to sit undisturbed for 90 seconds or until perfectly golden. Once golden flip the scallops over and let sit for 10-20 seconds. Remove scallops from pan.

Put noodle salad in deep bowls and top with scallops more fresh herbs and lime juice.
Andy's Notes
Above I mention doing a "quick pickle" of the carrots and shallots. This is dead simple and a great way to add some complexity to your vegetables. After you have your carrots match-sticked and your shallots sliced place them in a bowl and cover with a few tbs of rice wine vinegar. Let it all sit for 15 minutes.
Print Recipe
(Visited 1,767 times, 1 visits today)