I love a good soup, especially when in the cold winters we have in Canada! Packed with tons of flavours and texture, this is really the kind of meal you want on a cold day to warm your bones.
This sausage, kale, and white bean soup really hit a lot of notes for me! Firstly, this recipe is incredibly easy to make and takes only around 30 minutes from start to finish, and secondly, it tastes amazing! Serve with a freshly baked tea biscuit and I am telling ya, you are in for a cozy little dinner!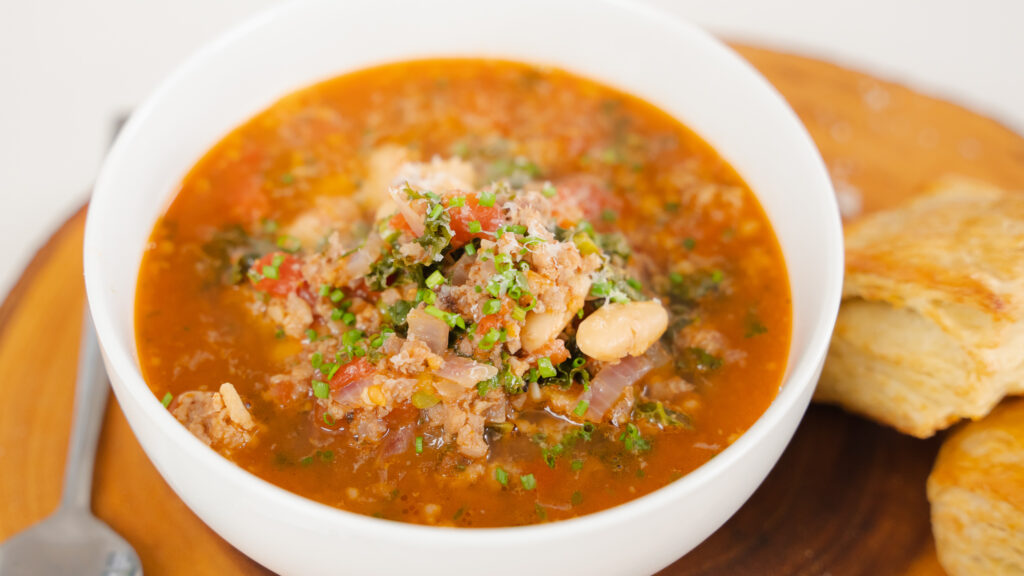 Let's Breakdown the Ingredients!
This soup highlights three important ingredients, sausage, kale, and white beans! However, there are tons of other ingredients that make this dish flavourful!
The hot Italian sausage, adds protein, a bit of heat and a ton of extra spices that have been added to the sausage itself to the recipe. Kale is a leafy vegetable that tends to be crunchy and dry, but it is rich in nutrients such as vitamin A, C and K, folate, and alpha-linolenic acid. The white beans are high in fibre and add an additional plant-based protein to the dish.
The red onions and diced tomatoes add a sweet and tangy flavour to the soup. These two ingredients have rich in nutrients and minerals that are beneficial for your health.
This recipe uses spices to help balance the other ingredients in the dish. The bitterness of bay leaves, the mild smokey and sweet flavour of smoked paprika, and the spicy and woody flavour of the black pepper really balance each other.
Topping this dish with grated parmigiana adds an extra flavour of saltiness to the taste.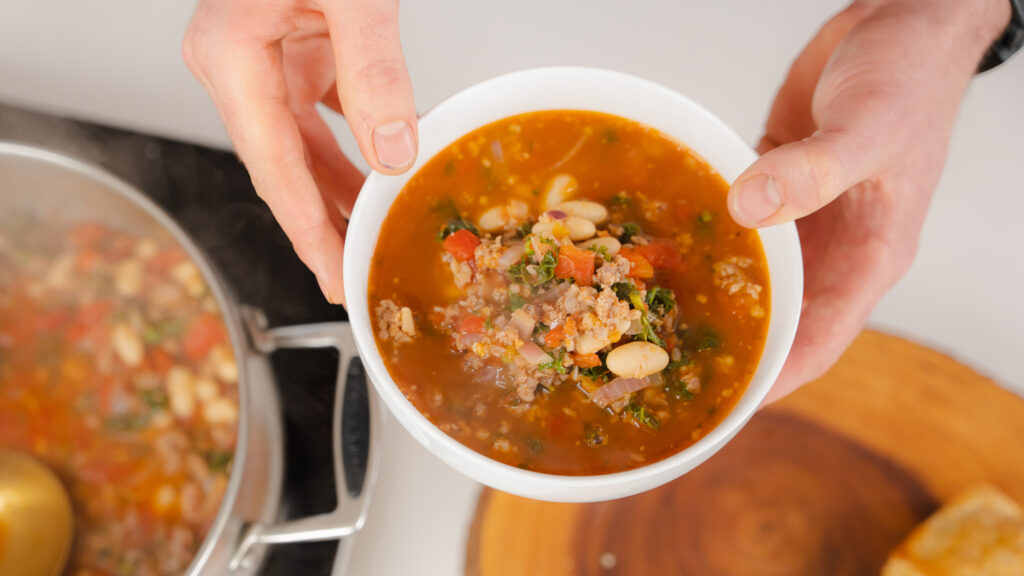 30 minute sausage, kale, white bean soup
Print Recipe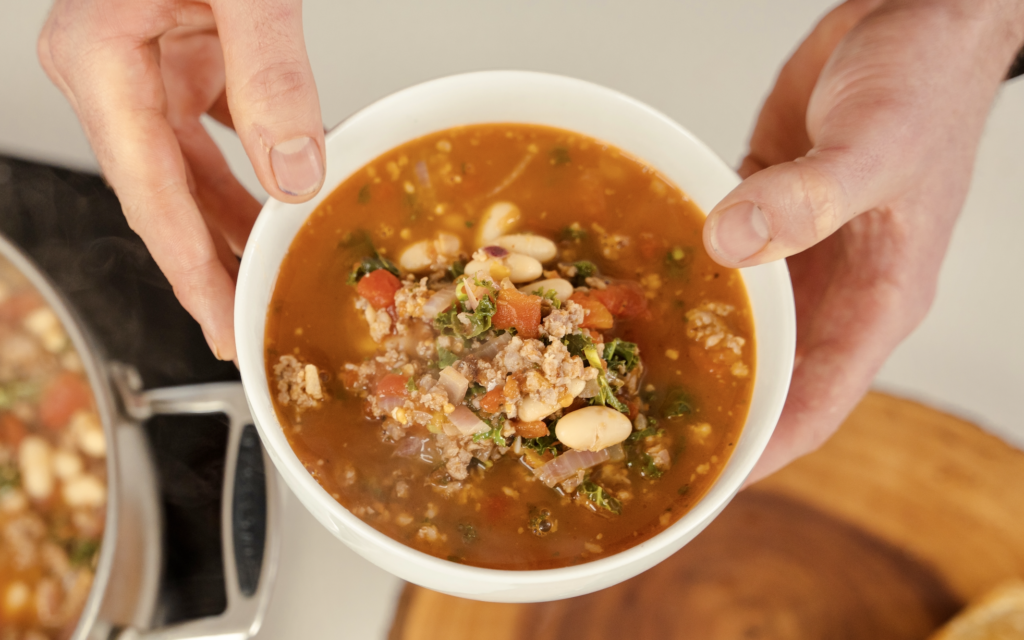 Ingredients
1

small red onion, diced

2

cloves

garlic, minced

5

Hot Italian sausages, removed from casing

1

can

diced tomatos (28oz)

1

can

white beans, drained

1 1/2

cups

chopped Kale

3

bay leaves

2 3/4

cups

low sodium chicken stock

1

tsp

smoked paprika

1

tbs

fresh black pepper

1

tsp

salt (season to taste)

2

tbs

grated parmigiana for finishing
Instructions
Place a lightly oiled pot over medium heat and once the temperature has been reached drop in the sausage meat. Cook until browned and then remove from pot and place on a paper towel to drain.

In to the same pot, add in the onions, garlic, and bay leaves. Allow to saute until the onions are soft. About 3-4 minutes.

Next up pour in the diced tomatoes and white beans. Using a wooden spoon, stir the mixture and scrape the brown bits off the bottom of the pot. This is flavour left from the browning of the sausages.

Add in the kale, paprika, pepper, stock, and cooked sausage. Stir and then cover and allow to simmer for 20-30 minutes.

Season soup to taste and then serve in a bowl with a little bit of shaved parmigiana, black pepper, and chives. Enjoy!
Print Recipe
(Visited 14,089 times, 1 visits today)